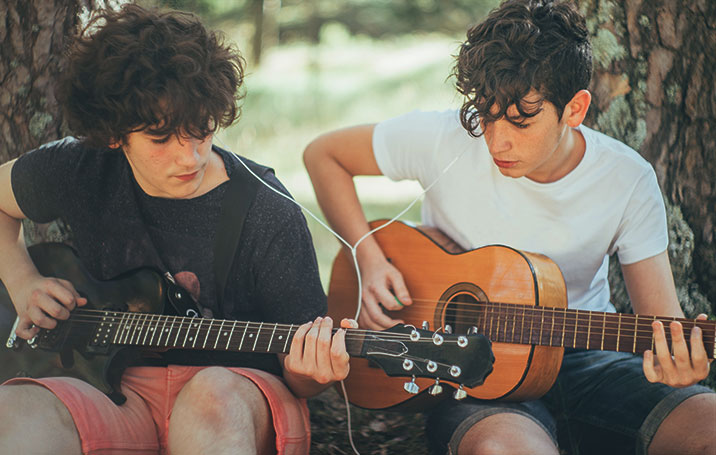 They used Pinterest to find new songs to learn
Join Pinterest to find all the things that inspire you.
50+
billion Pins
to explore
15
seconds to
sign up (free!)
Shade tree-based deck
Shades Trees, Decks Around Trees, Small Decks, Seats Area, Backyard, Trees Decks, Great Ideas, Back Yard, Covers Up
Shade tree deck. Great idea!!
A "Tree" Deck- Great idea for my big backyard
Great way to cover up exposed roots and dirt patches under trees~ I would LOVE to have this seating area in my back yard someday..
Great idea if you have trees in your backyard, but still want a small deck!
build a small deck around trees in the backyard

by poppytalk
STOP IT, I NEED ONE NOW! Outdoor Bed, Hammock Bed | The Floating Bed Co
Outdoor Hammocks Beds, Outdoor Beds, Awesome Backyard, Kids Dreams Backyard, Floating Beds, Dogs Backyard, Backyard With Dogs, Swings Beds Kids, Awesome Kids Beds
Pretty sweet. Outdoor Hammock Bed | The Floating Bed Co
Outdoor Bed, Hammock Bed | The Floating Bed Co.
Rope lighting in the landscape... love the way it glows against the rocks.
Backyard Ideas, Gardens Paths, Around The House, The Edge, Flowers Beds, Rope Lighting, Ropes Lights, Landscape, Great Ideas
Rope lighting around the garden...inexpensive, waterproof. Great idea for the landscaping around the house!
Rope lighting in flower beds. I don't want to have to deal with ANY landscaping, but this is a great idea.
lit up landscaping 32 Cheap And Easy Backyard Ideas That Are Borderline Genius! Can't afford that dream deck or in-ground pool you're dying for? There are still ways to get a beautiful backyard that's perfect for entertaining. Includes this great idea ~ Use rope lighting to line your garden.
Landscaping for behind the house. Rope lights along garden paths make your garden magical at night.
To do the edging around the house. Rope lighting around the garden...inexpensive, waterproof-
Rain barrel details
Gardens Ideas, Rainbarrel, Rain Barrels, The Families Handyman, Water Collection, Great Ideas, Rain Water, Rainwater, Diy Rain
the Family Handyman DIY rain barrel
DIY rain barrels; this is such a great idea! It would totally cut the cost on your water bill.
rain water collection with hose collection DIY rain barrel, trash can rain water collection,
DIY Tutorial: How to Build a Rain Barrel. Make use of rain water and save money at the same time. #rainbarrel
Reusing rain water for your yard, and other creative yard art and gardening ideas.
How to Build A Rain Barrel. Every gardener and garden needs a rain barrel. By harvesting rainwater you can cut your bills and water your garden for free. You'll be surprised at how easy it is to build your own rain barrels, and this simple design is perfect for any outdoor space. You can connect your hose straight to it, or fill up a watering can. I would love to do this! I wonder how long you can store rain water and if melting snow also works. #PinMyDreamBackyard
DIY - underground fire pit
Fire Pits, Brick, Outdoor Fire Pit, House, Backyard Fire Pit, Great Ideas, Outdoor Spaces, Firepit, Back Yard
Only cost $42 to make!!! Such a great idea! Brick wall and stone on top! I'd love to do this in my back yard!
Customize Your Outdoor Spaces – 33 DIY Fire Pit Ideas #diy #firepit #garden #home #house #project #compactpower #cper
Such a great idea! Brick wall and stone on top make a backyard fire pit!
Outdoor Fire Pit. Only cost $42 to make! Such a great idea!
flagstone patio
Patios Design, Stones Patios, Front Yards, Flagstone Patios, Patios Ideas, Hidden Gardens, Backyards, Yards Ideas, Small Yards
Wooly Thyme between pavers. Front yard patio maybe?
Inexpensive Backyard Ideas | ... Landscape's Blog: How Much Does it Cost - Budget & Landscape Projects
Back Yard Ideas on a Budget - Bing Images
concrete stone patio w/ groundcover
flagstone patio ideas
Gardens Ideas, Outdoor Ideas, Flagstone Paths, Backyard Ideas, Dreams Home, Walkways, Flagstone Patio, Stones Patio, Patio Ideas
flagstone-moss walkway
flagstone path
Flagstone Patio Ideas | Small Backyard Landscaping Ideas
stone patio ideas | Don't Take Stone for Granite—What Patio Stones Can Do For Your ...
firepit
Backyard Landscape, Pit Ideas, Landscape Design, Fire Pit Area, Backyard Fire Pit, Fire Pit Design, Outdoor Spaces, Firepit, Landscape Ideas
Backyard Landscaing Ideas Attractive Fire Pit Designs Homesthetics 7 Backyard Landscaping Ideas Attractive Fire Pit Designs
neat idea for fire pit area, but sitting on rocks might hurt after a few hours.
Off-Grid Home Sweet Home: Backyard Fire Pit Ideas...
Magical outdoor space - firepit
Fire Pits » Greenwood, IN Landscape Design & Installation Experts | Ambiance Gardens | Serving Greenwood, IN #firepit
backyard landscaping firepit - Google Search
SMALL GARDEN FIRE PIT IDEAS | Modern Attractive Home Fire Pit Design | Modern Home Design Gallery
DIY Firepit DIY Firepit DIY Firepit
Fire Pits, Diy Ideas, Florida Home, Outdoor Fire Pit, Backyard Fire Pit, Diy Firepit, Diy Projects, Back Yard, Yard Ideas
Build your own outdoor fire pit... I want to do this!
Backyard DIY ideas
One Method To Build A Backyard Fire Pit DIY Project. PLEASE MOM.
Dump A Day Spring Time Garden And Back Yard Ideas - 25 Pics (DIY Firepit)
Build a fire pit in the yard of your Florida home and enjoy Florida's balmy summer nights. #DIY fire pit. //. I want to do this..
Backyard Firepit Backyard Firepit Backyard Firepit
Fire Pits, Idea, Backyard Design, Outdoor Fire Pit, House, Backyard Fire Pit, Firepit, Summer Night, Back Yard
Backyard fire pit. No better place to spend a summer night with the fam.
Backyard Design Ideas: Love the firepit. Can't wait to build our house next year!! Defintly need a firepit like this!
Fire pit for back yard idea ...
Backyard Design Ideas: Outdoor fire pit in the grass
A gorgeous backyard fire pit. Cool idea for a poolside firepit