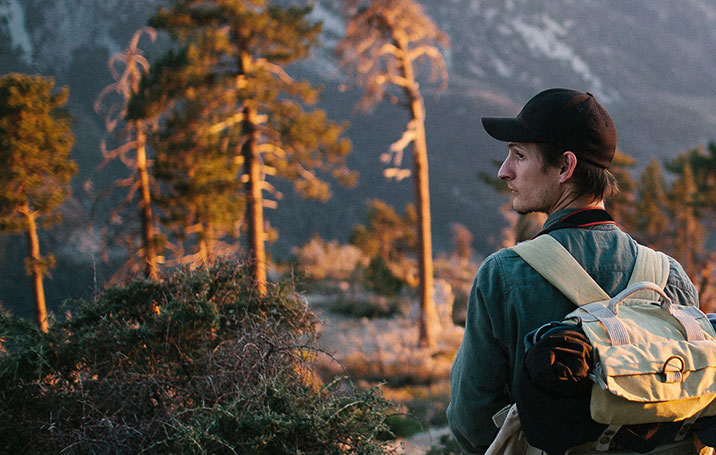 He used Pinterest to explore new campsites
Join Pinterest to find all the things that inspire you.
50+
billion Pins
to explore
15
seconds to
sign up (free!)
Outdoors
Outdoors, adventure, photography, nature.
---
Boat houses
Lakes House, Black House, Houseboats, Pools House, House Doors, Boats House, Architecture, Outdoor Spaces, Piet Boone
Gorgeous pool house - but on a dock.
boat house doors
Houseboat. Piet Boon Architecture. Location: The Netherlands.
black house
Piet Boon Styling Boat House by Karin Meyn | Different brown tones into architecture
The lake house💜
Indoor / outdoor spaces, piet boon boathouse
Howling at the moon
Dogs, Lonewolf, Lonely Wolf, Beautiful, Wolf Howl'S, Wolves, Photography, Animal, The Moon
Maybe the wolf is in love with the moon and each month it cries for a love it will never touch. #wolf #howling #mist #blackandwhite #photography
LoneWolf
lone wolf howling... beautiful.
Wolves, Wolf, howl, beautiful, wild, animals
Inspiring picture animal, black and white, dog, breath, wolf. Resolution: 500x399. Find the picture to your taste
Native American and Celtic custom regard Wolf as the way of find the deepest levels of self, of inner knowing and intuition. This is symbolized by the image of the wolf howling at the moon. Wolves are probably the most misunderstood of all wild animals. The wolf, is a symbol of the night. This time can seem lonesome and scary to us. This is a lonely path. To truly come to understand yourself, you must be alone, undeterred by other's beliefs, judgements and views to discover our inner strength.
Drive
The Roads, Big Sur California, Buckets Lists, Monterey California, Open Roads, West Coast, Roads Trips, Pacific Coast Highway, California Coast
HWY 1 road trip - Big Sur, California
Pacific Coast Highway - road trip on the California coast
Road trip West Coast / Coastal Highway / Monterey, California
Pacific Coast Highway ... Bucket List Road Trip
PCH Monterey, California- Ahh the open road
California Coast. hit the road
Fire on the lake
Lakes House, Benches, Decks, Outdoor Living, Thom Filicia, Outdoor Fireplaces, Porches, Outdoor Spaces, Fire Pit
#outdoor #spaces #dream #living #love #home #house #cabin #wood #lake #view #nature #deck #fire #candles #summer #nights
Thom Filicia's 1930s bungalow lake house in Skaneateles, New York (above) is situated so close to the water that it feels like an extension of his dock. The small landing at the end of the dock provides a second private seating area, and adds a sense of grandeur to the long, narrow dock. Soft lighting from candle-filled lanterns is a must to light the way at dusk. Thom Filicia Lake Side Deck Filicia's bench/railing would never pass code in Ontario cottage country, but I love the idea of a railing that acts as seating. So practical, and it keeps the view open. I have the same modern chimenea at my cottage, which my contractor found — they are perfect for outdoor fires. Filicia has decorated his deck like an outdoor living room, with small groupings of chairs and tree stump tables, and even an Ikea sheepskin rug to keep it cosy underfoot.
Deck overlooking lake with a fire pit and candles. Love these chairs.
Love it all. The chairs, the bench seat rather than railings and the fire. but can it e on the deck at all let alone on the bench? I would just change the steps from the deck eating into the deck space. Thom Filicia Lake Side Deck
waterside #outdoor #fireplace #deck
A La Plage by Gray Malin
Photographers, At The Beaches, Umbrellas, The Plage, Art, Graymalin, Beaches Photography, Saint Tropez, Gray Malin
Saint Tropez Tahiti club by Gray Malin
Photographer Gray Malin had a great idea: Shooting from doorless helicopters. In his series "A la Plage, A la Piscine"  he  has captured sights from  around the world from the U.S. to Brazil to Australia. From above, a simple beach or pool becomes a blank canvas that allows him  to start seeing the world as art. People and objects become patterns, creating repetition, shape and form. These photographs are a visual celebration of color, light, shape—and summer bliss.
From St. Tropez to Manhattan Beach, photographer Gray Malin has shot a series of stunning beach scenes from a doorless helicopter. Can you guess which beach is which simply based on the color of the water and umbrellas?
Umbrella's at the beach by Gray Marlin. #beach #travel #photography
Gray Malin - "St. Tropez Tahiti Club" | #graymalin #maisongray
Beach Photography by Gray Malin
Reward
Places To Visit, Cabin, Alps Switzerland, Peter O'Tool, Cloud, Swiss Alps, Alps Suizo, Photo, Planets Earth
into the clouds...
Into Heaven? Swiss Alps
Another recommended place is in the highest Britain Cabin found in the Pennine Alps, on the population of Saas Fee. She can be reached by a cable car gondola shaped until about 3000 meters Felskinn you left, where you walk across the glacier to the hut Shessjen to 3030 meters high, and where you can go to other places and see unique landscapes.
Alpes Suizos
Into Heaven? | Flickr - Photo Sharing!
Beautiful planet Earth
Beaver Brook by Noah Kalina
Wall Art, Favorite Places, Noah Kalina, Wood, Natural Beautiful, Dark Beautiful, Stream Generalphotographi, Earth, Beavers Brooks
Noah Kalina's photograph of Beaver Brook.
╬● Dark Beauty ●╬
Noah Kalina's photograph of the Brook. 65 acres of woods (mostly Eastern White Pine, Yellow Pine, Red Oak, White Oak and some Maples) in Sullivan County, NY.
"She would feel & hear a poem coming at her from over the landscape. Like a thunderous train of air it would come barreling down at her. When she felt it coming it would shake the earth under her feet & she knew she had only one thing to do at that point, run like hell to the house as the poem chased her. She had to get to a piece of paper fast enough so that when it thundered through her, she could collect it & grab it on the page." Elizabeth Gilbert on poet Ruth Stone's creative process
Forest Stream as wall art?
Peyto Lake, Lake Louise, CA
Lakes 0525, Lakes Canada, Favorite Places, Bows Pass, View Peyto, Girls Travel, Peyto Lakes, Beautiful Canadian, Beautiful Outdoor
Peyto Lake and Bow Pass by _eurotrash, via Flickr
Peyto Lake Overlook in lake Louise - Was truly Heaven in the Mountains One of my favorite places!
Great View Peyto Lake Canada

by Beth Allan