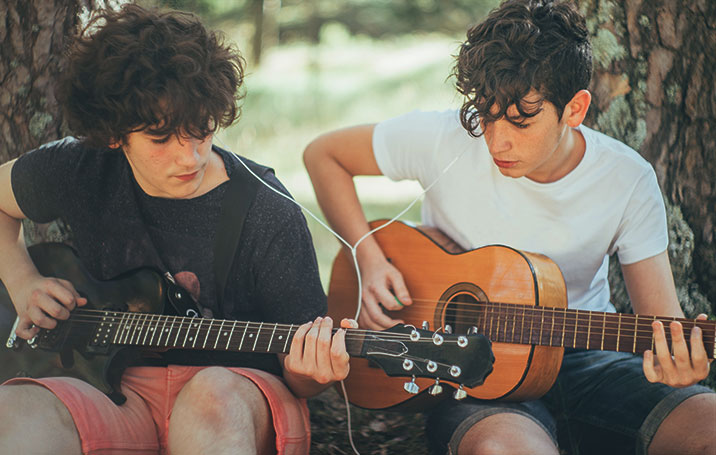 They used Pinterest to find new songs to learn
Join Pinterest to find (and save!) all the things that inspire you.
50+
billion Pins
to explore
15
seconds to
sign up (free!)
Fiber Art weaving by Barbara Rourke www.allthebellsan...
Aarhus Fib Art, Barbara Rourke, Inspiration, Art Weaving, Art Itude, Textiles Art, Be Weaving, Weaving Textiles, Fiber Art
weaving... still inspiring via HEIMELIG blog
Pinned from
Uploaded by user
Scan your kids drawings and make a book! :)
Make A Book, Kids Artworks Books, Deer Photography, Kids Drawings, Photo Books, Kid Drawings, Photo Feb 08 12 00 00 Am 4, Cool Ideas, Stores Kids
Storing kids artwork
save kids artwork in a Photo Book | Archiving Art by Paper Deer Photography
Escanear dibujos y hacer un libro | Kireei, cosas bellas
kireei.com
PEBBLES hand carved rubber stamps - handmade rubber stamp
Pebble Hands, Handmade Rubber, Hands Carvings Stamps, Hands Carvings Rubber, Hand Carved Rubber, Stamps Sets, Diy Gifts, Pebble Rubber, Rubber Stamps
hand carved stamps pebbles
pebbles. pebble shape rubber stamp set. hand carved rubber stamp. set of 6.
Super fun stamp #playeveryday
Pandas Crafts, Gifts Cards, Gifts Ideas, Cute Pandas, Pandas Stamps, Crafts Stamps, Diy, Fun Stamps, Rubber Stamps
Super fun stamp by fern
Cute panda stamp. rubber stamp - PANDA. $5,90, via Etsy. #stamp #diy
Cards & Wrap - Etsy Gift Ideas
Pinned from
boutiquelesfleurs.typepad.com
How to Use Plastic Bottles to Make Concrete Pendant Lamps (#lighting #concrete #lamps)
DIY: concrete pendant lamps. Interesting idea! And it sounds pretty easy. Made with plastic bottles
DIY concrete light made with plastic bottles.
DIY #concrete #lamps made with water bottles ♥
How to Use Plastic Bottles to Make Concrete Pendant Lamps . Let's face it, designer lighting can cost a pretty penny. Instead of spending your tax refund on a brand new ceiling lamp, make yourself an entire set of stylish concrete pendant lights with a single bag of concrete mix and some old plastic bottles. Concrete is affordable, modern, and you can make more than 15 lamps from a single $6 bag!
Pendants Lamps, Water Bottle, Plastic Bottles, Concrete Lights, Diy Concrete, Concrete Pendants, For Lamps, Pendants Lights, Concrete Lamps
a bucket of letters made from scrap fabrics
Fabrics Alphabet Letters, Fabrics Letters, Fabrics Gifts, Gifts Ideas, Fabrics Scrap, Baby Sewing Projects, Toddlers Gifts, Scrap Fabrics, Cute Toddlers
Great use of fabric scraps! Fabric alphabet, cute toddler gift idea
a bucket of letters made from scrap fabrics. Gift idea for my nieces and nephews.
Fabric alphabet letters. Cute toddler gift idea
Cute toddler gift idea. This doesn't have a link anymore, but I love this fabric basket of fabric letters! :)
paint dipped pinecones...look like clay!
Porcelain Flowers, Clear Glass, Paintings Dips, Glasses Ornaments, Pine Cones, Glasses Jars, Dips Pinecone, Centerpieces, Red Glass
Paint Dipped Pinecones. they look like porcelain flowers! Sprinkle with crystal glitter while still wet. Pretty in a clear glass bowl as a centerpiece,
Paint Dipped Pinecones - Would make a great centerpiece with some red glass ornaments mixed in a clear glass jar!... Great idea since I have an abundance of pine cones this year!
Pinned from
factorydirectcraft.com
Den smukkeste filt vimpel/ranke..!
Dennings Smukkeste, Filt Flags, Smukkeste Filt, Filt Vimpel Ranke, Crochet, Bedst Jeggings, Diy Kreativ, Jeggings Ved, Ved Blog
Den smukkeste filt vimpel/ranke..! Kunne hækles...
det bedste jeg ved blog: filt flags on a string #DIY
Pinned from
detbedstejegved.blogspot.dk
Lysestage med trækugler 1
Které Chci, Chci Vyzkoušet, Déco Design, Crafts Ideas, Lysestag Med, Fin Og, Diy Med, Diy Fun, Fun Stuff
så fin og så enkel
Lysestage med trækugler
nøgleringe 3
Diy Keychains, Keys Hangers, Keychains Llavero, Beads Keychains, Diy Keys, Diy 2, Keychains Diy, Keychains Unikarina, Keys Chains
Keychain diy
DIY | KEYCHAIN (unikarina)
wooden beads keychain
Key hangers
DIY key chain.
Top 10 Fabulous DIY Keychains
unikarina - min kreative verden
unikarina.dk