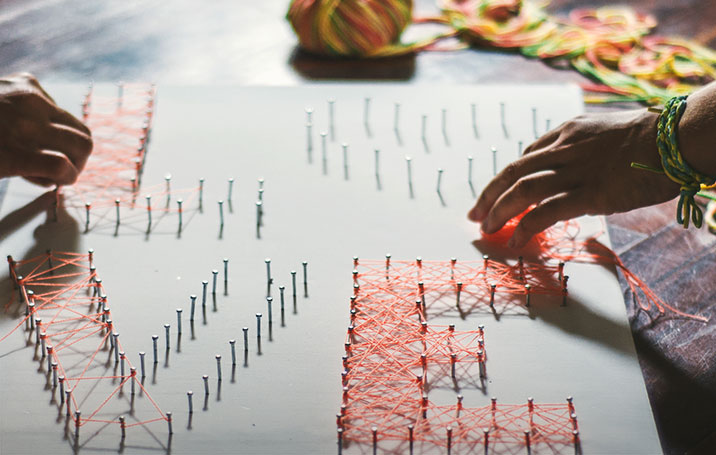 They used Pinterest to find new ways to DIY
Join Pinterest to find all the things that inspire you.
50+
billion Pins
to explore
15
seconds to
sign up (free!)
lol
Geek, Nintendo Control, Stuff, Videos Games, Plays, Control Bra, Arm, Nintendo Bra, I'M
"Stuff I want my Girlfriend to wear" lol.........only controller I'd ever want to use ;) x
A Nintendo bra @Zach Schreibeis, you'd play this video game all day, huh? ;)
I'm really tempted to make an "I'll play that all night long" joke. Oh, wait...!
Who needs a wonderbra when you can simply wear a Nintendo controller bra and press "up, up, down, down, left, right, left, right, b, a, start" for the ultimate breast power-up. Styled just like the classic NES controllers, these glorious bras are perfect for nostalgic gamers.
Nintendo Controller Bra on Etsy. I wanna play!
LittleBigPlanet 2
Little Big Planets, Old Schools, Ps3 Games, New Adventure, Littlebigplanet, Videos Games, Playstation, Mr. Big, Videogames
Amazon.com: Little Big Planet 2: Playstation 3: Video Games
Truly amazing, fun, joyful game. If you find a way to get bored with this, you were born without an imagination. If you love old school mario, this is the next level and beyond.$32.32 #littlebigplanet #littlebigplanet2 #ps3 #videogames #videogame #gaming
Nintendo Wii U Game Console
Wiiu, Delux Sets, Videos Games, Nintendo Wii, Games Consoles, Christmas, Wii U.S., Products, Nintendowii
Console Nintendo Wii U Console 32GB Black Deluxe Set #Games #Console #NintendoWiiU
In case you missed it earlier we started our 12 Days of Christmas giveaway today with an item that is ALREADY sold out for Christmas. Nintendo's Wii U!
Nintendo Wii U de 32GB Deluxe. Con su innovador mando llamado GamePad introducirá maneras completamente nuevas de jugar juegos. #WiiU
Amazon.com: Nintendo Wii U Console - 32GB Black Deluxe Set: Video Games
Nintendo Wii U - this is going to be the best product of the year.
Hunting Space invaders by Ryan Snieder, via Behance
Spaceinvad, Old Schools, Pew Pew Pew, Real Life, Spaces Invaders, Videos Games, Life Magazines, Ducks, Bangs Bangs
Duck Hunt meets Space Invaders meets real life
☆ "Hunting Space Invaders" .: Photomanipulation: Ryan Snieder :. -2009- Additional Information: Original photograph from Life Magazine ☆
Invaders - Video games meet real life. They should have put pixelated ducks instead.
bang bang
space invaders hunt #spaceinvaders
pew pew pew!
Space Invaders old school version

by Ryan Snieder
You can also never beat the running man in Ocarina of Time...I've tried
Stuff Sorta, Games Nerd, Videos Games, Legends Of Zelda, Didyouknowgaming Com, Games Facts, Games Stuff, Did You Know, Gamer Stuff
did you know gaming? crash bandicoot god of war spongebob
Il Piantissimo is the Running Man/Postman? (Legend of Zelda Mario crossover)
Ubisoft's upcoming third-person action title Assassin's Creed III looked real good at E3 this year, including the unexpected (but not unwelcome) announcement that the game would include naval battles! Now we have the first few images depicting the multiplayer portion of the title, which should provide some varied and fun characters having diverse abilities to choose from.
Creed Fans, Assassins Screed, Assassins Creed 3, Videos Games, Creed Multiplay, 2012 Multiplay, Iii Comic, Iii Multiplay, Creed Iii
A talk with the Art Director of Assassin's Creed 3: The Chinh Ngo
Assassin's Creed III Multiplayer
Assassin's Creed III Comic Con 2012 Multiplayer Screenshots
aaaaaaaa assassin screed!!!!!! this will rock
City Interactive has revealed E3 demo video for their first-person shooter title Sniper Ghost Warrior 2 powered by Cry Engine 3.
Concept Art, Videos Games, Cities Interactive, Google Search, Ghosts Warriors, The Games, Snipers Ghosts, Burning Cities, Games Wallpapers
Shoot down all those helicopters, jet planes that are trying to attack you in this cool Sniper Ghost Warrior 2 game. Be part of the game and you will know what I am talking about.
video games war ruins fire animated battles artwork games sniper ghost warrior_wallpaperswa.com_80.jpg (600×375)
sniper ghost warrior 2, sniper, burning city
Post Apocalyptic - Google Search
Video Game Wallpapers #1 - Minus
Here is a look at new E3 video released by Activision and Treyarch for their upcoming futuristic first-person shooter game Call of Duty: Black Ops 2. This trailer is 5 minutes lengthy which shows varied locales available in a single player campaign, so be sure to watch the trailer below. Call of Duty: Black Ops 2 slated for release on 13 November 2013 for PC. Xbox360 and PS3.
1 920 1 080 Pixel, Games Pc Ps3 X Boxes Ps4, Http Xboxlive Freegiftcode Com, Call Of Duty, Cod Black, Duty Black, 19, 201, 080, Black Opp, Black Ops 2 Logo2
Call of Duty: Black Ops II
CoD Black Ops 2
... Call of Duty - Black Opps