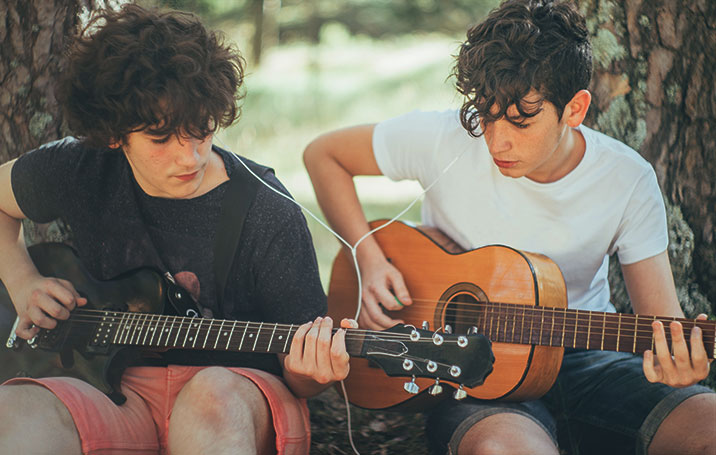 They used Pinterest to find new songs to learn
Join Pinterest to discover all the things that inspire you.
50+
billion Pins
to explore
15
seconds to
sign up (free!)
Back to
Lawn Bowls Revolution
Lawn Bowls Revolution
DIY Sod Sofa
Diy Ideas, Backyard Ideas, Lawn Furniture, Lawn Mower, Couch, Grass, Sprouts, Gardens, Sofas
Sprout a sofa - 30 DIY Ideas How To Make Your Backyard Wonderful This Summer May I mow your couch?
Sprout a sofa. Buzzfeed 33 backyard ideas
Sprout a Couch: DIY Picture Tutorial - Posted by ReadyMade: Project by Greg Tate; photos by Brian Slaughter How much oxygen did your furniture produce today? In our version of the future, the things we loaf about on indoors will be as beneficial as the stuff that grows out back. In the meantime, sculpt lawn furniture from the lawn itself. Unlike your standard-issue sofa, this lush greenery is totally organic, requires no synthetic finishes, and can be brought to life, Golem-style, from salvaged dirt. St. Augustine tiles create a seamless, living upholstery, or try wheatgrass for a durable alternative. Ask your nursery about planting tips unique to your sod. Note: Couch may require mowing.
DIY Sod Sofas. On a hot summer day, there is nothing like taking off your shoes or using sandals to expose your toes for a walk through a low garden or lawn. Taking it (literally) to the next level, sod-upholstered couches are a great way to cool down with a book in the backyard. Link has several examples of grass sofas, loungers, and bean bag chair-type seats, Such a unique and amazing element for backyard design and outdoor seating!
Sprout a sofa. Grass couch
Sprout a Couch instructions - fun idea I HAVE THIS LAWN MOWER believe it or not :)
Robot Lawn Bowling
Inspiration Octobre, Bowls Revolutions, Robots Lawn, Lawn Bowls, Knits Repin, Holidays, Inspiration Rooms, Duracel Robots, Inspiration Galleries
Duracell Plus: Garden, Bowls, Knitting repinned by www.BlickeDeeler.de
Holidays.
Which is your favourite??
Bowls Revolutions, Lawn Bowls, Photography Iphoneographi, Bowls Photography
Lawn bowling #photography #iphoneography (Taken with instagram)
The Madden Brothers give bowls a try in KFC's - Barefoot Bowls with Slats: Good Times
Good Time

by KFCAustralia
Youth find the fun in bowls
Bowls Revolutions, Lawn Bowls, Youth Finding
Pinned from
Uploaded by user
Crowd Goes Wild takes on lawn Bowls
Bowls Revolutions, Lawn Bowls

by bowlsnewzealand
Annah Mac's 'Girl In Stilettos'. Filmed at our very own Hillsboro Bowling Club
Stilettos 2012, Girls Generation, Annah Macke, Mac Girls, Favourite Sounds, Stilettos Music, Favourite Tunes
Annah Mac - Girl In Stilettos (2012)
Annah Mac - Girl In Stilettos #Music
Annah Mack, Girl in Stilletos, another Kiwi artist

by AnnahMacVEVO
Have a 'day at the races' at your bowls club!
Bowls Revolutions, Lawn Bowls, Bowls Club
Change is Coming to Lawn Bowling

by DALESTV1