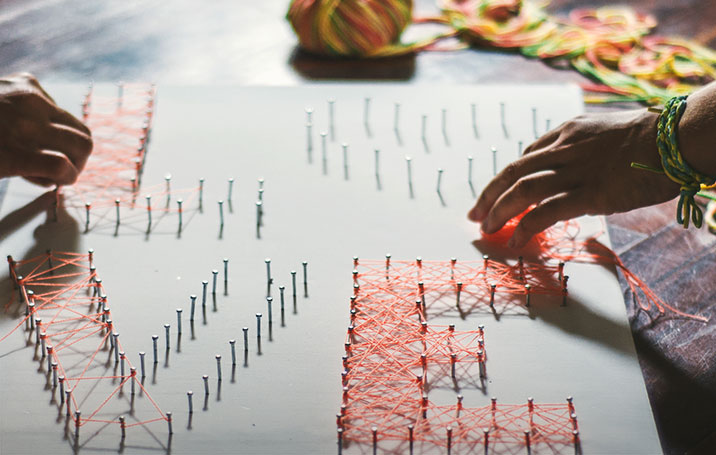 They used Pinterest to find new ways to DIY
Join Pinterest to find all the things that inspire you.
50+
billion Pins
to explore
15
seconds to
sign up (free!)
*Design Inspiration (Collateral)
Everyone needs a little inspiration -- this board features the various marketing materials that jump start our creative juices!
---
Back to
*Design Inspiration (Collateral)
*Design Inspiration (Collateral)
Eskimo Identity
Branding Design, Identity Branding, Corporate Identity, Into The Woods, Eskimo Identity, Woods Grains, Graphics Design, Identity Design, Branding Identity
Eskimo Identity. 15 Striking Examples of Identity #design #identity #branding Want something like this? Contact us at ashley@firethorne.org Or visit our website at www.firethorne.org! #branding #website #businesses #company #brand #experience #success #styleguide #guide #identity
#Identity #Branding #Design
Eskimo Identity. 15 Striking Examples of Identity wood graphic deSign idea art
Eskimo Identity: GORGEOUS! Love the wood grain
Corporate Identity for the studio "Eskimo." Design - Pavel Emelyanov, Valery Golubtsov, photo - Andrew Pleshko
Eskimo Identity #branding #identity #inspiration
Love the burnt logos and typography into the wood.
Creative Product Designs
Japan Packaging, Bananas Drinks, Packaging Design, Boxes Design, Juice Packaging, Products Design, Bananas Juice, Design Blog, Naoto Fukasawa
Banana juice packaging designed by Naoto Fukasawa
Banana drink packing
Banana Juice Box This Japanese Juice box is camouflaged from modern box designs and tries to convince consumers with its appealing 'natural' look. A schoolbook example of biomimicmarketing; marketing a product using images of old nature.
Banana Juice Packaging by Naoto Fukasawa » Design You Trust – Design Blog and Community
Sorry this is a bit dated, you've probably seen this before (but just in case!) this has to be one of my favourite packaging designs, so simple, so well executed. Banana juice - Designed by product designer Naoto Fukasawa.
Banana juice (Japan) #packaging
The Hair Tailor branded collateral | Designer: TBD
Business Card, Hairs Tailored, Identity Branding, Corporate Identity, Barbers Shops, Graphics Design, Identity Design, Branding Identity, Design Blog
THE HAIR TAILOR Corporate Identity | More identity http://www.draward.com/best-corporate-identity-design-packages-branding-projects/ | #corporate #branding #identity #logo
The Hair Tailor - #Graphic #Design #Typography #Branding #Identity #Corporate #Business #Cards
The Hair Tailor on Behance - The logo for The Hair Tailor had to convey traditional British style. With a slight nod to traditional barber shop themes, a modern clean feel was also combined to create a brand marquee that reflects the 1960's modernist fashions that Beppy herself and her targeted clientele draw their image and fashion from.
The Design Blog - The hair tailors #identity
The Hair Tailor by Pete Gardmer #stationary #identity #branding #graphic #design - really nice design, I like it very much!
A very British brand identity designed by Pete Gardner for The Hair Tailor, a hair and fashion stylist from Newcastle.
Menu layout
Menu Design, Place Card, Napkins, Weddings Menu, Place Sets, Menu Idea, Unique Weddings, Party Plans, Menu Card
Paper Wedding: 20 Unique Wedding Menu Ideas
Menu card, place card
Doing a little party planning? (23 photos) - party-planning-3
Menu Design and Place Setting Tag
Menu card which doubles as napkin sleeve place setting
Collect
Magazine Covers, Inspiration, Collection Magazines, Design Poster, Graphics Design, Covers Design, Editorial Design, Collectmagazin, Magazines Covers
#graphic #design #poster
Graphic Design inspiration
Collect magazine, issue down to earth | Magazine Cover: Graphic Design, Typography, Photography |
Beautiful Editorial Design - collect mag
Cover Design / Collect magazine cover
#CollectMagazine
Seinfood Posters!
Ocean Call, Jerk Stores, Shrimp, The Ocean, Seinfeld Poster, Funnies Commercial, Poster Quadro-Negro, Art Deco, Food Poster
poster#funny commercial #commercial ads #funny commercial ads #interesting ads| http://flower-arrangement-ideas-baylee.blogspot.com
'The Ocean Called, They're running out of Shrimp.' Seinfeld Posters
Art Deco Seinfeld posters. I want them all.
Seinfeld posters - The Jerk Store called and they're running out of you!
Seinfeld food posters: The Ocean Called...
Typography example...well done!
Plates, Food, Dinners, Graphicdesign, Retro Poster, Omnivor Delight, Craig Ward, Graphics Design, Poster Quadro-Negro
omnivore delight by Craig Ward
dinner plate
food typography
plate #Graphic Design
Playful design that's educational too!
Design Inspiration, 01 Fabriquem Emocion, Prints Design, Astrid Ortiz, Brochures Infographics, Editorial Design, Design Idea, Brochures Inspiration, Brochures Design
50 Amazing Brochure Design Examples to Get Your Inspiration Out
Fabriquem Emocions by Astrid Ortiz in Showcase of Creative Brochure Print Designs
Absolutely LOVE the retro design on this piece. And who wouldn't love a wrench to get some "weight" behind your marketing package and be remembered?
Cut Brochures, Brochures Idea, Creative Die, Cars, Creative Brochures, Design Concept, Band Merch, Belts, Brochures Design
Promotional Products: Band Merch Ideas Under $5 | Let Me See Your Package
Cool design concepts...
Creative Die Cut Brochures « DesignGet
mechanic creative brochure for Citroën
Might be a fun play on phase2 tool belt...
Car and color
Farmer's Market
Pamphlet Design, Brochure Design, Graphics Design, Marketing Brochures, Farmers Marketing, Graphics Farmers, Graphics Idea, Brochures Templates, Brochures Design
Farmer's Market Pamphlet Design
Farmer's Market brochure design
Graphic ideas
Graphic Farmer's Market Brochure Template by Ian Johnson
It's All in Your Tap Campaign
Design Inspiration, Web Design, Color Schemes, Graphics Design, Water Company, Company Brochures, Design Tips, Blog Design, Brochures Design
Brochure Design Examples - Graphic Water Company Brochure
liked the color scheme
20 folhetos Criativos para sua inspiração | Criatives | Blog Design, Inspirações, Tutoriais, Web Design
Brochure Design Tips #8 Include a call to action
Graphic Water Company Brochure by inkdphotos, via #Graphic Design| http://carsandsuch7274.blogspot.com
25 Creative Brochure Design Inspiration