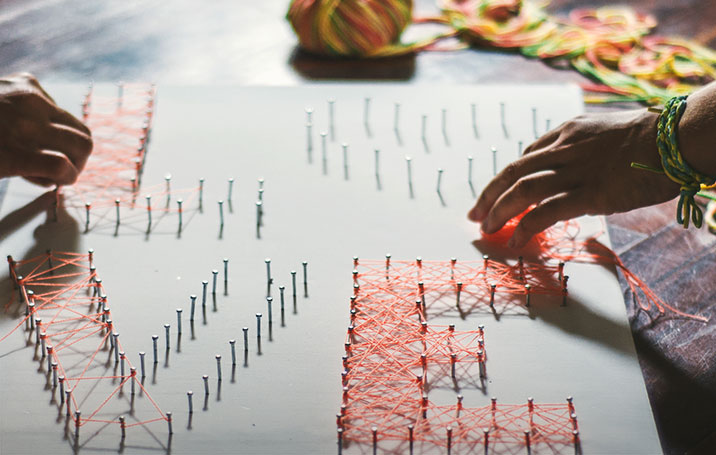 They used Pinterest to find new ways to DIY
Join Pinterest to discover all the things that inspire you.
50+
billion Pins
to explore
15
seconds to
sign up (free!)
Back to
Divisória de ambiente
Divisória de ambiente
Divisória.
Ideas, Interiors, Living Room, Gallery Walls, Gallerywall, Wall Dividers, Pictures Wall, Room Dividers, Art Wall
Basement idea - room divider and art wall in one
This space elevated a room divider into #art with a #gallerywall. By filling the entire wall, the floating wall becomes both the backdrop and the focal point for the living room. Love.
//#home design #home design ideas #interior design #living room design #home interior| http://interior-decorating-337.blogspot.com
Gallery Wall Inspirations. Cool wall divider idea.
Floor to ceiling gallery wall @ DIY House #home interior design 2012 #home design #living room design #room designs| http://homedesign148.blogspot.com
pretty picture wall separating #living room design #home interior design 2012 #interior design| http://best-home-decor-photos.blogspot.com
Divisórias em acrílico com infinitas aplicações.
De Ambiente, Infinita Aplicaçõ, Ems Acrílico, Divisória De, Divisória Ems
A Reforma do Apê 504: Estante Divisória - Um bom aliado...
Estant Divisória, Decoração Apartamento, Estant Para, Interiors Design, Decorating, Idéia Para, Bom Aliado, Apê 504, Home Offices
Home office – Um cantinho para o computador
estante para dividir ambientes!
Divisória charmosa
Window Gardens, Ideas For, Reno Ideas, Decor Ideas, Gardens Helpideasdesign, Window Ideas, Decoração Criativa, Bedrooms Ideasid, Amatista Decoración
con aire amatista "decoración y diseño"
Window garden
Una idea para la ventana
window idea
Divisória feita com garrafas PET, no famoso restaurante japonês Morimoto, em Nova York!
Restaurant Morimotoni, Garrafa Pet, Restaurante Japonês, Famoso Restaurant, Bouteilles, Restaurant Japonê, Restaurant Morimoto Ni, Japonê Tem, Garrafas Pet
Restaurante japonês tem divisório de garrafas PET
Divisória de garrafas pet
Plastic Bottle, Sculpture Projects, Water Bottle, Class Projects, Bottle Wall, Reuse Recycled, Wall Dividers, Rooms Dividers, Desks Spaces
water bottle wall ♻reduce reuse recycle
Plastic bottle room divider
Water bottle wall - group sculpture project
Plastic bottle wall divider
Separating desk space from walkways
Water bottle wall... could be a fun class project about recycling and could be used as a reading nook. Kids could "earn" the right to sit in the nook during personal reading time if they get the best grade on a test, earn so many points, etc. - Selenamarie318
Water bottle wall - something different with plastic bottles
divisória vazada e pouca iluminação.
Doors, House Dreams, Dining Rooms, Home Interiors, Wood, New Delhi, Interiors Design, Mumbai Penthouses, Colors Glasses
Paso de una estancia a otra sin puertas pero con elementos arquitectónicos que aportan ritmo
Mumbai Penthouse by Rajiv Saini & Associates
awesome dining room, kind of...
Contemporary Use of Wood and Colored Glass Details: http://bit.ly/AnAM5G
new interior design - Google Search
metal room divider #decor #iron #metal
Divisória Linda, Divisoria De Ambient, Inspiration Decor, The Metals, Divisória De, Dividers Decor, Metals Dividers, Irons Metals, Decor Irons
"Divisórias de metal: melhores do que biombos, lindas como esculturas.- A trama de vergalhões, material comum em estruturas de concreto armado, delimita o lounge e fca à mostra nesta cozinha gourmet bolada pela arquiteta paulista Evelin Sayar. Apoiada no piso e soldada no teto, a divisória de aço (1,20 x 3 m e 18 cm de espessura, da Tutto in Ferro) embute nove lâmpadas (Philips, do tipo deco globo) sustentadas numa chapa metálica." Casa
Luz indireta. Divisória linda e criativa.
Metal dividers
Divisória
Idea, Privacy Screens, Apartment Kitchens, Decoration, Window Shades, Basements Rooms, Wall Dividers, Small Spaces, Rooms Dividers
http://www.manufacturedhomepartsinfo.com/roomdividersandprivacyscreens.php has some info on how to accessorize your home with room dividers and privacy screens.
apartment kitchen divider
slat wall divider
Uuuh, even nicer idea for a room divider kitchen / living room.
great idea for small spaces
O painel com ripas delimita o espaço da cozinha mas ainda proporciona integração com a mesa de jantar. Por Ana Claudia Costa e Bianca Notari #designdecor #design #decor #decoração #interiores #interiordesign #homedecor #arquitetura #architecture
basement room divider