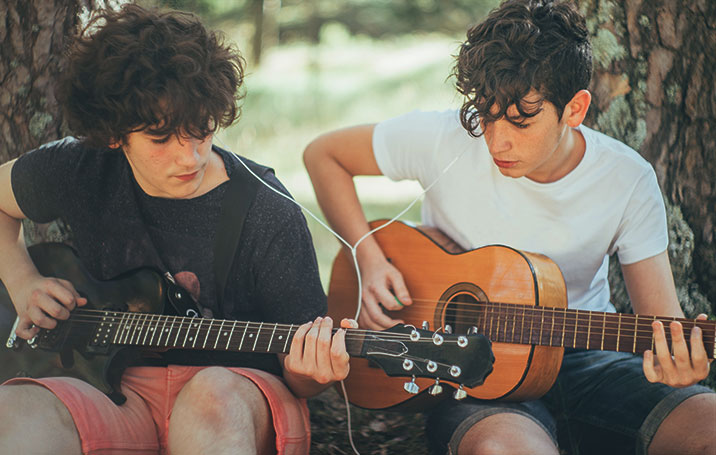 They used Pinterest to find new songs to learn
Join Pinterest to find all the things that inspire you.
50+
billion Pins
to explore
15
seconds to
sign up (free!)
.
Indooroutdoor, Big Doors, Open Spaces, Indoor Outdoor, Interiors Design, Black Windows, Small Spaces, Glasses Doors, Outdoor Spaces
BIG door - open/closed space
indoor/outdoor living...with the amazing glass door open you can see into the interior & see the Two Story Townhome. -great use of a small space
#home #interior design #home decorating before and after #home decorating #luxury house design #home designs| http://girlshoes7857.blogspot.com
open spaces
Great indoor outdoor space
black windows, small space.
//
Design Homes, Dream Homes, English Cottages, Dream House, Country House, Interiors Design, Homes Interiors, English Countryside, Country Homes
Country house with rambling dirt #interior design #modern home design #home design ideas #living room design #home decorating
Yes#home design #modern interior design #room designs #home decorating #home interior| http://interiorhousedesignbertha.blogspot.com
dream home :: english countryside
quintessential English country home
a quaint English cottage :) looks like my dream home right there!
castle
Zombies Apocalyp, Castles House, Dublin Ireland, James Bond, Ireland Castles, Islands, Travel, Place, Rocks
Castle on a rock in Dublin, Ireland… You may have seen this photo on the Internet along with the claim that "Castle House Island" is a real place in Dublin, Ireland. It's actually "James Bond Island" in Khao Phing Kan, Thailand. The castle was placed on the photo using Photoshop. The castle shown is only a portion of Lichtenstein Castle (Germany) It just goes to show how creative people can be. Photoshop is a great product!
Places / Dublin, Ireland... Castle house Island- I WILL see this when I'm there! (roombyroom.tumblr.com,dublin,ireland,castle,island,house,photography)
Dublin Ireland Castle House Island. I want to travel so badly!!
Awesome place in Ireland. HAHAHA i have seen this in another picture and it said "the best zombie Apocalypes hide out ever!!"
Castle
Beauty Pictures, Photography Abandoned, Sergey Skachkov, Art Inspiration, Fantasy Art, Abandoned Place, Medieval Castles, Abandoned Castles, Rocks Cities
#castle #fairytale #story #witchcraft #mystery #fantasy #darkness #photography #abandoned
Abandoned Castle by Marie Crazy Dove. . . . photo credit: http://fc05.deviantart.net/fs41/f/2009/003/3/2/Abandoned_Castle_by_MarieCrazyDove.jpg
'The Rock City' by Sergey Skachkov, source: http://atris.cgsociety.org/gallery/288407/
Medieval Castle
castle.
Old House, Old Homes, Secret Gardens, Vines, Old Mansions, Haunted Mansions, Ruins, Old Building, Place
I love old homes like this.
Old mansion
old houses have the best history
This reminds me of the haunted mansion!
I dreamt of such house when I was little and Secret Garden was my favourite movie.
vines
There's a Place for us...
Ruins, dilapidated, decay, abandoned, decrepit
Old buildings are great.
castle
Famous Castles, Dream House, Castles Drachenburg, Schloss Drachenburg, Germany, Architecture, Things, Place, Drachenburg Castles
Castle Drachenburg, Germany / Wonderful Places In The World
Drachenburg Castle, Germany ~ Schloss Drachenburg is a private villa in palace style constructed in the late 19th century. on the Drachenfels hill in Königswinter, a German town on the Rhine near Bonn. Today the Palace belongs to the State Foundation of North Rhine-Westphalia.
Castle Drachenburg, Germany. Wow talk about a dream house! ;)
Castle Drachenburg, Germany. Schloss Drachenburg, a fairy tale castle built in the 1880s, is an architectural mishmash that contains a fake organ, a reproduction of a Louis XIV throne and tacky murals. But it has been faithfully restored in honor of its startling history -- and because it represents a romantic yearning for a past that never was.
One thing I didn't get to see when I lived in Germany..Castle Drachenburg, Germany, it is said that Cinderella's Castle is modeled after this ;)
Neuschwanstein Castle #castle
Cinderella Castles, Castles Castles, Disney Castles, Neuschwanstein Castles, Sleep Beauty, Castles In Germany, Enchanted Castles, Bavaria Germany, Dreamy Place
Neuschwanstein Castle, Germany, the inspiration for Disney's castles :) I will go there one day.
Neuschwanstein Castle #castle. I went to this castle while in Germany. They say it was the inspiration for Disney's Cinderella Castle. Beautiful
Neuschwanstein Castle in Germany. We went here on vacation while in Italy. This is said to be the inspiration for the Cinderella Castle at Disneyland.
Enchanting Castle.
Neuschwanstein Castle #castle Germany Sleeping Beauty
Neuschwanstein Castle, Bavaria, Germany. I went there when I was about nine.
Castle Painting - castle
Famous Castles, Castles Paintings, Cinderella Castles, Castles Color, Paintings Inspirations, Art Inspiration, Disneyland Castles, Beauty Castles, Fairies Tales
Cinderella/Sleeping Beauty Castle
Disneyland castle
Castle Painting - Walt Disney World, Cinderella's Castle.
Castle colors
Fairy tale