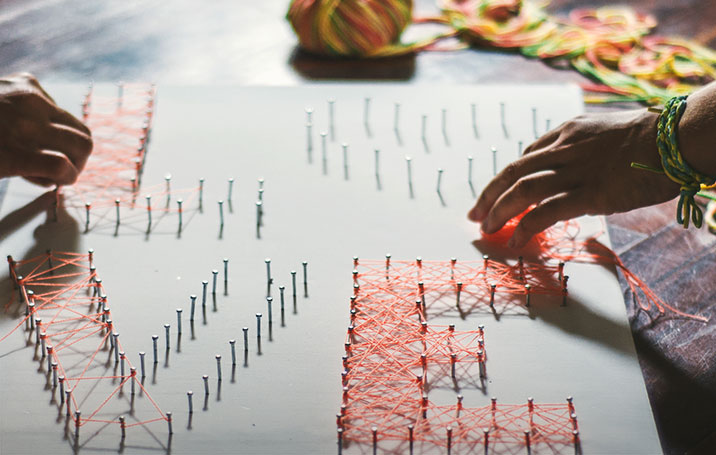 They used Pinterest to find new ways to DIY
Join Pinterest to find all the things that inspire you.
50+
billion Pins
to explore
15
seconds to
sign up (free!)
cute stuff
Decor Ideas, Crafts Ideas, Diy Mason Jar Decoration, Jars Decor, Mason Jar Crafts, Jars Ideas, Mason Jars Crafts, Mason Jars Projects, Diy Projects
50+ mason jar crafts mason jar ideas to make
Great roundup of over 50 Mason jar craft DIY projects at savedbylovecreati... - and to write on slips of paper all craft ideas and pull one out when looking for something to do
50+ DIY Mason Jar decor ideas! <3 <3 <3 I'm obsessed with Mason Jar crafts!
50 Mason jar craft DIY projects - Cannot get enough of all the mason jar projects out there!!
Book clutch.
Old Book, Book Clutches, Diy'S Crafts, Crafts Projects, Book Purses, Diy'S Clutches, Clutches Purses, Book Crafts, Recycled Book
DIY Old Book Clutch Purse
DIY: Clutch purse made out of a hardback book
Recycled book clutch purse
recycled book, purse
Recycled Book - Clutch Purse - DIY Craft Project Instructions
Painted car tires! Wow, what a great way to reuse non-biodegradable waste by incorporating it into your garden as a planter... the paint does wonders
Old Tires, Diy'S, Bright Color, Gardens Idea, Recycled Tired, Old Tired Planters, Flower Beds, Tire Planters, Flowerpot
Old Tires Planters- so cute with bright colors!!!
old tires painted into bright flowerpots!
Old Tires Planters- great gardening idea!
Color with purpose. Recycled tire planter. Definately the best use for old tires I've seen!
up cycle Old Tires Planters flower beds
DIY: Old Tire Planters!
Candy corn cheesecake! #Halloween
Halloween Desserts, Corn Cheesecake, Halloween Candy, Candy Corn, Corn Cakes, Cakes Pan, Candycorn, Halloween Treats, Halloween Party
Candy Corn Cheesecake. Cute idea for a Halloween party. Would need to buy the Checkerboard Cake Pan though...
Candy Corn Cheesecake. See the recipe and more of the yummiest #Halloween treats and sweets on: http://blog.gifts.com/holidays/the-yummiest-halloween-treats**checkered board cake pan**
I AM GOING TO HAVE TO MAKE THIS!!! Candy Corn Cheesecake! It's the best of both worlds. A delicious cheesecake made to resemble Halloween candy corn. The magic begins with our Checkerboard Cake Pan. It allows three different color batters to be baked at the same time. The results, a look of candy corn with the rich taste of cheesecake. Only treats here! Ingredients: Orange Icing Color Lemon Yellow Icing Color Golden Yellow Icing Color 2 batches favorite ...
Halloween Desserts: Candy Corn Cheesecake
Halloween candy corn cake
Candy Corn Cheesecake #fall #halloween #autumn #ideas #falldecor #halloweendecor #fallplanning #fallideas #candycorn #cheesecakes
fabric scrap tutu (or skirt with leggings!)
Tutu Skirts, Safe, No Sewing, Little Girls, Scrap Tutu, Fabrics Tutu, Dresses Up, Fabrics Scrap, Scrap Fabrics
No Sew Fabric Tutu - Scrap Tutu
fabric scrap tutu- I <3 this so much more than the tulle tutus! It's like a gypsy skirt!
Must do this with all my cute scraps. Fabric scrap tutu.
fabric scrap tutu ~~ funny me my sis and my cuzins would use my grandmas left over fabrics and make dresses and skirts and stuff for dress up like this when we were little lol never thought itd become a fad for little girls clothing lol
Fabric scrap tutu skirt - Finally ! Something I can make with all those scraps of fabric !!
No sew Fabric scrap tutu for little girls!