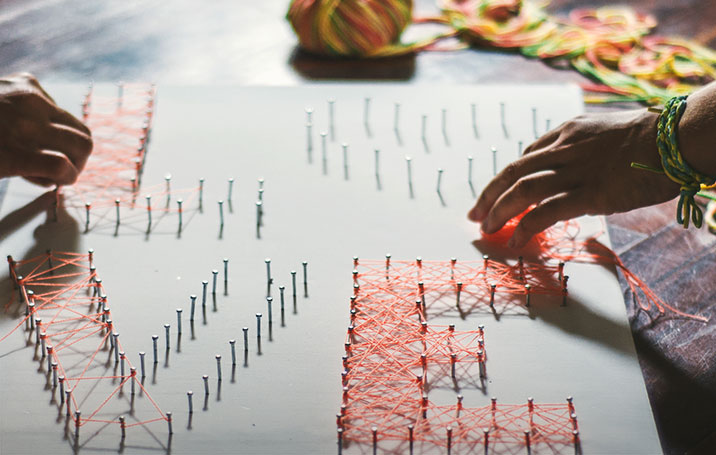 They used Pinterest to find new ways to DIY
Join Pinterest to find (and save!) all the things that inspire you.
50+
billion Pins
to explore
15
seconds to
sign up (free!)
Back to
You Clever Thing, You
You Clever Thing, You
Shower cap used to protect shoes
Showercap, Packs Shoes, Head Of Garlic, Dirty Shoes, Shower Cap, Travel Tips, Clean Shoes, Shoes Bags, Great Ideas
Great idea - showercaps equal clean shoes in suitcases - I knew there had to be a better use for shower caps. :)
My mind is blown! Travel Tip: "A throwaway shower cap is the perfect "shoe bag" when traveling. The cap keeps the dirty soles off your clothes in the suitcase, yet takes up no additional room." What a great Idea!
Throw-away shower cap keeps clothes clean when traveling with dirty shoes. Great idea.
Travel Tip: When traveling, pack shoes in shower caps to keep dirty soles off of your clothes- what a great idea! I have a phobia of the bottom of shoes and usually wrap them in plastic bags in my suitcase!
Coconut Oil treatment for your hair! Works wonders
Work Wonder, Coconut Oil Treatments, Hair Moisturizer, Moisturizer Treatments, It Work, Dry Hair, Healthy Hair, Oil Moisturizer, Hair Treatments
Another use of our favorite Coconut Oil: Moisturizing Hair Treatment! It works wonders! Here's how...
Coconut Oil Moisture Treatment | How Does She... - OK SO IF YOU KNOW ME YOU KNOW HOW MUCH I LOVE LOVE LOVE EVERYTHING COCONUT. I HAVE TRIED THIS AND IT WORKS GREAT AND LEAVES YOUR HAIR SMELLING LIKE COCONUT =). I FOUND THE OIL AT MY LOCAL WALMART.
..coconut oil moisture treatment for dry hair..
Coconut Oil Moisture Treatment for Beautiful Healthy Hair
Coconut Oil treatment for your hair! Works wondersCoconut Oil Moisture Treatment
Coconut Oil as a dry hair moisturizing treatment
Awesome Homemade Laundry Detergent that is better and cheaper than store bought!
Crystals, Diy Ideas, Decor Ideas, Awesome Homemade, Diy Laundry, Homemade Laundry Detergent, Living Green, Diy Gifts, Laundry Soaps
Welcome to living Green & Frugally. We aim to provide all your natural and frugal needs with lots of great tips and advice, Cheaper AND Better! DIY Laundry Detergent
DIY+Laundry+Detergent+#handmade #diy fashion #diy gifts #hand made #diy decorating ideas| http://best-do-it-yourself-collections.blogspot.com
DIY laundry soap with fabric softener crystals
Awesome Homemade Laundry Detergent that is better and cheaper that store #living room design #living room design #modern home design #home design #home interior| http://homedesignphotoscollection.blogspot.com
Underbed storage - and easy to make! Perfect for a kid's room
Storage Boxes, Under Bed Storage, Underb Storage, Storage Bins, Diy, Storage Ideas, Under Beds Storage, Girls Rooms, Kids Rooms
DIY underbed storage bins
Under bed storage ideas
DIY under bed storage bins on wheels
Under bed storage in a kids room for toys
DIY under bed storage boxes on casters
L2L: Resurrection Cookies Great idea for Easter
Great Ideas
Mayo to get water rings off of wood. Who knew?
Water Mark, Households, Water Stains, Watermark, Water Spots, Wood Furniture, Clean, Removal Water Rings, Water Stained
Cleaning Tips: Remove water stain marks on wood furniture
Bye Bye Water Stains | DIY for Home, Landscaping & Gardening | Interesting tip for removing water spots on wood furniture using mayonnaise. We're intrigued...!
How to remove water rings from wood. I've got water stains on an antique inlaid table...wonder if this will be safe to do?
Does your heart sink when you discover a water mark on your beautiful wood finishes? Grab some mayo and watch the magic happen. The oils in many common household items work wonders!
How to get rid of water stain marks on furniture... almost makes me want to make a watermark just to see if this works
I had a huge plate sized water mark on a table the other night. This remedy worked beautifully! ~Chell Ever make the mistake I made last week by leaving a water ring or spot on a piece of lovely *antique* or wood furniture? Here's a trick I use to make the water stain boo boo go bye bye. The Mayo Trick: 1) Don't panic 2) Apply a coat of mayonnaise to the stain, leave for at least four hours, preferably overnight. 3) Wipe away the next day, there should be no trace of the stain
DIY Laundry Drying Rack Going to get my hubby to make me one of these (he loves projects) :)
Laundry Dry Racks, Projects, Idea, Diy Laundry, Laundry Racks, Laundry Rooms, Spaces Savers, Drying Racks, Rooms Dry
DIY: Laundry Room Drying Rack. My next project! What a great idea!
DIY laundry room drying rack - I am really going to need one of these when I eventually buy a house! Such a cute space saver for small laundry rooms!
DIY Laundry Rack- great idea for our laundry room re-do!
DIY: laundry drying rack. An idea... if you have to have this rack somewhere you'd rather not give a laundry room look - you could always put some piece of art or fabric behind so it looks even prettier when not in use.
You can do these with or without the sticks.
Donuts Hole, Babycak Cakes, Idea, Cakes Pop Maker, Cake Pop Maker, Pies Pop, Cake Pops, Baby Cakes, Cakes Ball
babycakes cake pop maker in periwinkle | they also have a pie pop maker!
Cake pop maker, lots of recipes and ideas on this site. I wouldn't use it for cake pops bc the real ones you make the cake balls with frosting and they are moist. But could use this for lots of things!
Babycakes CakePop Maker The Babycakes cake pop maker brings the fun and delicious cake pops trend into your own kitchen. Bake 12 cake pops or donut holes in just minutes. Add sticks and a touch of creative decorating for perfect cake pops in no time!
Super cute idea. Maybe have as an option for cocktail hr. Not cake though so maybe mini pizzas or something. How to Make Cake Pops with the Babycakes Cake Pop Maker - lots of helpful hints
Baby Cakes Pop Maker site for recipes
"Explosive" Showerhead Cleaner: Easy, Frugal, and Effective:)
Sodas Cups, Plastic Bags, Shower Head, Cups Baking, White Vinegar, Clean Shower, Showerhead Cleaners, Baking Sodas, 1 3 Cups
Non toxic Showerheads cleaner. -1/3 cup baking soda -1 cup white vinegar -1 plastic bag -1 large bag twisty tie 1) Mix soda and vinegar in bag over sink. Caution: pour vinegar slowly as there is an "explosive" foaming action that kicks in. 2) Place bag over shower head and secure with twisty tie. Let soak overnight or at least 2-3 hours. Wipe shower head off prior to use.
Clean shower head -1/3 cup baking soda -1 cup white vinegar -1 plastic bag -1 large bag twisty tie
Showerhead Cleaner -1:-) /3 cup baking soda -1 cup white vinegar -1 plastic bag -1 large bag twisty tie Let sit several hours or overnight. -- Need to remember this!