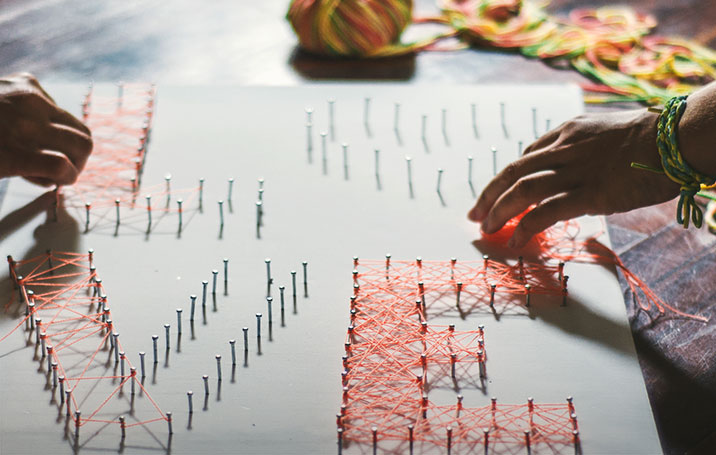 They used Pinterest to find new ways to DIY
Join Pinterest to discover all the things that inspire you.
50+
billion Pins
to explore
15
seconds to
sign up (free!)
Blacksmith Projects
All about Blacksmith Projects: Plans, ideas, tips and tricks, images, videos, etc. Share your Best Projects - No Spam, No Porn NO ADVERTISING - If you would like to be invited comment on this pin http://pinterest.com/pin/310185493055360986/ (Add me to this bord(s)). Or mail to tipsde.carpinteria+diy@gmail.com
---
Back to
Blacksmith Projects
Blacksmith Projects
Tempering standards used in blacksmithing
Irons Work, Colors Charts, Metals Work, Jewelry Metals, Black Smith, Temperance Metallurgi, Temperance Colors, Temperance Steelbut, Free Encyclopedias
Tempering Color Chart - First on the left, is normalized steel. 2'nd is quenched, untempered martensite. The rest have been tempered in a oven to their corresponding temperature, for 1 hour each. Making this heat treating, is used to increase the toughness of iron-based alloys. It's performed after hardening, to reduce some of the excess hardness, and is done by heating the metal to some temperature below the critical temperature for a certain period of time, then allowed to cool in still air..
Tempering (metallurgy) - Wikipedia, the free encyclopedia
encaixe_ perpendicular_em_tubo 2..wmv, via YouTube.
Perpendicularemtubo 2Wmv
Welding tools ... - LotusTalk - The Lotus Cars Community
Tools Jointmast, Good Ideas, Strong Hands, Cars Tools, Cars Community, Lotus Cars, Hands Tools, Cnc Ideas, Welding Tools
Strong Hand Tools JointMaster PL Series Pliers PL634 - Free Shipping on Orders Over $99 at Summit Racing
Welding tools ... - LotusTalk - The Lotus Cars Community Good idea!!!!
Welding tools ... - LotusTalk - The Lotus Cars Community
lotustalk.com
Corner Clamp. Similar clamps sell for over $100 in stores, this guy built it from scrap! Awesome job!
Welding Projects Ideas, Corner Clamp Great, Welding Ideas, Guys Built, Awesome Job, Welding Shops Projects, Clamp Welders, Clamp Sell, Ideas Galleries
Miller - Welding Projects - Idea Gallery - Corner Clamp
welding table
Benches Ideas, Cool Welding Ideas, Welding Tables, Ball Welding, Angles Irons Ideas, Adjustable Welding, Badass Welding, Angles Welding, Metals Welding Projects Ideas
Neat welding bench idea | MIG Welding Forum
Bowling Ball welding table - YouTube
Adjustable welding table
Adjustable angle welding work table using bowling ball, two brake discs, and a bottle jack.

by Claude Ouellet
Tubing Bender. Bend hollow round tubing for role cages, frames, or anything that needs a nice even bend.
Metals Work, Welding Projects, Shops Ideas, Metals Ideas, Projects Ideas, Project Ideas, Metalworking Welding, Fab Projects, Ideas Galleries
Miller - Welding Projects - Idea Gallery - Tubing Bender
Miller - Welding Projects - Idea Gallery - Electrode Grinding Dust Collector
Welding Projects, Projects Ideas, Welding Shops, Welding Tig, Project Ideas, Metalworking Welding, Ideas Galleries
Miller - Welding Projects - Idea Gallery - Grinding Dust Collector... Need to change to make safer
Hold down clamp for welding table, made from half a g clamp
Shops Welding, Welding Metalworking, Welding Tables, Welding Projects, Blacksmithing Welding Knif, Welding Machinist, Hold, Half, Welding Fabr
Hold down clamp for welding table, made from half a C clamp