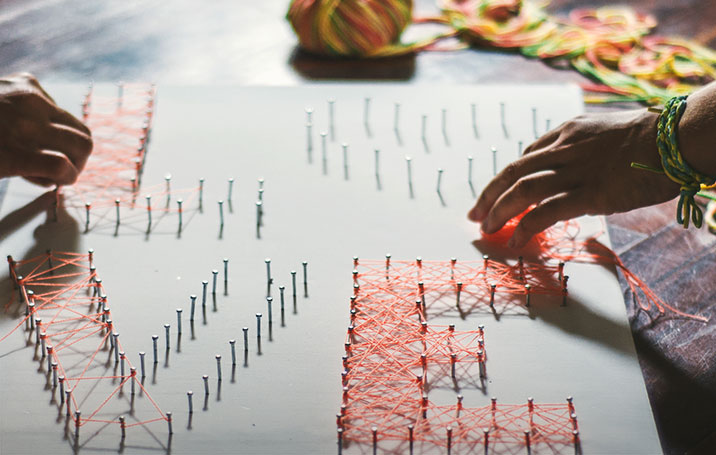 They used Pinterest to find new ways to DIY
Join Pinterest to find all the things that inspire you.
50+
billion Pins
to explore
15
seconds to
sign up (free!)
#interiordesign
Bedrooms Decoration, Bedrooms Design, Zen Bedrooms, Moroccan Bedrooms, Decoration Idea, Mary Claire, Moroccan Styles, Dream Bedrooms, Dream Rooms
One of my dream #bedroom design #BedRoom #bedroom decor| http://baby-cat-4011.blogspot.com
OMG. DREAM ROOM.
Moroccan Style Bedding | Moroccan Bedroom Decor: Ideas, Photos, Inspiration, and Tips
Bedroom: Comforting And Harmonious Zen Bedrooms, bedroom design ideas, cool bedroom decoration ~ Beacont.com
résidence st-hubert by the haturehumaine architecture design. #interiordesign #kitchen
Spaces, Kitchens Design, Stairs, Interiors Design, Woods Floors, Open Kitchens, Modern Kitchens, Dream Kitchens, Step Up
Exposed beams, beautiful wood flooring and step up to separate spaces
Dream kitchen, wood floors
HORIZONTAL DEF: makes the space appear wider and gives a restful feeling WHY: The horizontal line created by the paneling of the wood floor on the stairs really widens the entrance of the area. The support beams on the ceiling complete the widening illusion from floor to ceiling. Even the countertops and appliances are low-set and suppress any attempt at vertical action in the room. The mood is comforting and welcoming. There is nothing too overwhelming and that is perfect for a space that is meant to be enhanced by the food created in it.
kitchen, wood #kitchen decorating before and after #kitchen interior design #modern kitchen design #kitchen design| http://kitchen-interior-design-386.blogspot.com
open kitchen design
(the most perfect living room). #interiordesign
Living Rooms, Cases Study, Open Spaces, Dream House, House Interiors, High Ceilings, Eames House, Windows, Dreamhous
Light, plants, books. Eames house interior.
High ceilings, giant windows, and open spaces.
Eames house. High ceiling living room with plenty of wood...
Eames house indoor.. Dreamhouse
This is on my "must visit" list! The Eames House Living Room (1993) Charles and Ray Eames Built in 1949, the Eames House was designed by Charles and Ray Eames to be their home, a place to live and work. As #8 in the seminal Case Study House Program, the Eames House was an experiment in materials, technology, and, ultimately, a way of living that came to define the post-World War II era. It was awarded National Historic Landmark status in 2006.
High ceiling living room with plenty of wood... Doug: perhaps my favorite LR for ambiance. Killer tall windows. Esp nice if downtown SF is on the other side.
eames house-- truly THE dream house
photographed by roland persson. #interior design
Wooden Headboards, Beds Head, Zen Bedrooms, Carvings Woods, Decoration Idea, Interiors Design, Head Boards, Woods Headboards, Bedrooms Idea
Bedroom Headboard Designs | Architecture Decorating Ideas
carved wood bed head
Love the Head Board! photographed by roland persson. #interior design
master zen bedroom
Hand carved wooden headboard #wood #headboard
incredible carved wood headboard by summeryeah ~☆~
Bedroom ideas, ethnic pieces, could work.
photographs by emily johnston anderson. #interior design
House Interiorexterior, Design Inspiration, Favorite Places, Interiors Design, Purple Outdoor, Styles Files, Outdoor Decks, Gardens Design, Bedrooms Inspiration
purple outdoor deck with #garden interior #garden designs| http://beautiful-garden-decors-ethan.blogspot.com
Great design inspiration
bedroom inspiration
emily johnston anderson | the style files
by pitsou kedem architects. #interior design
Tel Aviv, Israel, Telaviv, Living Rooms, Stones Wall, Dream Homes, Jaffa Apartment, Castles, Kedem Architects, Pitsou Kedem
This majestic Jaffa apartment appeals to all contemporary minimalist lovers. I like these stone walls and neutral color palette, setting the bar for architectural asceticism around the world. This apartment is the beautiful work of architecture firm Pitsou Kedem Architects.
Modern Living Room by Pitsou Kedem Architect
#TelAviv flat. Pitsou Kedem removed Wall coverings revealing vaulted stone ceiling centuries old. @dezeen
Dream Home: Jaffa Apartment by Pitsou Kedem Architect
Castle Design New Jaffa Apartment