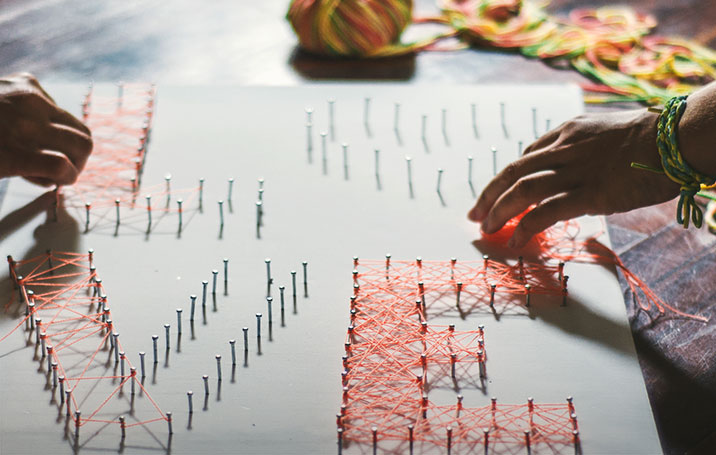 They used Pinterest to find new ways to DIY
Join Pinterest to find all the things that inspire you.
50+
billion Pins
to explore
15
seconds to
sign up (free!)
File:Lautrec confetti (poster) 1894.jpg
Toulouse Lautrec, Paris, Lautrec Confetti, Of Toulouselautrec, Art Nouveau, Kitchens Wall, Henry De, Poster, Belle Epoque
French poster | Art Nouveau | Affiche publicitario | #France #Decorative #Posters #Paris #Carteles #20s
Henri de Toulouse Lautrec Confetti
Lautrec on kitchen wall
Robert Doisneau "Le vélo du Printemps" - Paris 1948
White Photography, 1948, Photographers Robert, Vélo Du, Spring, Doisneau Le, Robert Doisneau, Le Vélo, Black
More incredible Robert Doisneau. Black and White Photography
Tumblr Robert Doisneau "Le vélo du Printemps" - Paris 1948
French photographer Robert Doisneau
One of the most beautiful night shots of the Eiffel Tower, transforming it into an Art Deco masterpiece
Tours Eiffel, Eiffel Towers, True Color, Paris, Eiffel Citroën, Lighting Show, Art Deco, La Tours, Color Photography
Tour Eiffel Citroën - 1925. From Extremely Rare Color Photography
If only this was the light show at the Eiffel Tower today!!
Art deco Eiffel Tower
Early 1900s Paris - The city of love: the streets, the architecture, the people, interiors and grand events – all of them in their true colors. Rare Color Photography were taken using Autochrome Lumière technology. It's an early color photography process, patented in 1903 and invented by the famous French Auguste and Louis Lumière, populary known as Lumière Brothers.
Big commercial by Citroen on the Eiffel tower in 1925 // Magnifique illuminations pour Citroen sur la tour Eiffel en 1925.
PHOTOS COULEUR DE PARIS- 1920 Illumination de la Tour Eiffel par Citroën à Paris, 25 oct. 1925, Léon Gimpel, autochrome, 12x9cm
Exposition at the Grand Palais in early 1900's
Hotairballoons, Léongimpel, Grandpalai, Léon Gimpel, Grand Palai, Paris France, Hot Air Balloons, Photo, Belle Epoque
Love the balloons! The first air show at the Grand Palais in Paris, France. September 30th, 1909. Photographed in Autochrome Lumière by Léon Gimpel. #hot #air #balloon #museum #photography
the first air show at the grand palais in paris, france. september 30th, 1909. photographed in autochrome lumière by léon gimpel. #airshow #hotairballoon #léongimpel #autochrome #autochromelumière #lumière
electricnest's photo on Instagram - Léon Gimpel at the 1909 Grand Palais #labelleepoque #hotairballoons #autochrome lumière #léongimpel #grandpalais #paris
The first air show at the Grand Palais in Paris, September 30th, 1909, by photographer Léon Gimpel (France, 1873–1948). Gimpel met the Lumière brothers (and their invention: the autochrome) in 1904. He modified their procedure, and became the only photographer to reproduce coloured scenes of life in la Belle Epoque. He initiated the movement to bring science to the general public using autochrome, and produced thousands of photographs between 1897-1932
A futuristic scene of Paris? Nope, that was Paris in 1900
Photography Wall, Vintage Paris, Time Travel, Eiffel Towers, Vintage Photos, Colors Photography, Vintage Wardrobe, Balloons, Rare Photos
Vintage Photo of Paris
Eiffel Tower Invalides - 1909
vintage Paris
Ballooning exhibition in Paris, 1909.
24/01/13 : De rares photos de Paris en couleurs en 1903 !
Extremely Rare Color Photography - Wall to Watch
Incredible, this photo from over a century ago could have been taken today!
Tours Eiffel, Rare Color, Exposit Universel, 1900S Paris, Trocadéro 1937, Fireworks, Paris 1937, Color Photography, Exposition Universelle
Rare Color Photography of Early 1900s Paris : La TOUR EIFFEL
Exposition Universelle – Tour Eiffel - Trocadéro 1937
History In Pictures @HistoryInPix Extremely rare color photo of fireworks in Paris, 1937. pic.twitter.com/jE9PprvKBK
tocadero, exposition universelle, paris 1937, autochrome lumiere color photography
The Moulin Rouge circa 1900
Paris1914, Red Mill, Paris France, Moulinrouge, Place, Paris 1914, Photo, Albert Kahn, Old Stuff
Moulin Rouge, Paris 1914 (color photo)
Paris1914 in Color
The original Moulin Rouge, photographed by Albert Kahn the year before it burned down - Paris, 1914 - Paris, France
The original #MoulinRouge, photographed by Albert Kahn the year before it burned down -- Paris, 1914
Neat Old Stuff's photo
Eiffel Tower as it was during the 1900 Exposition Universelle
Tours Eiffel, Exposit Universel, Paris Exposit, Paris 1900, Celestial Globes, Eiffel Towers, Paris France, La Tours, Exposition Universelle
Le Globe Celeste, Paris, 1900. - One of the great icons of the 1900 Paris Exposition Universelle was the striking image of Le Globe Celeste - the Celestial Globe - against the Eiffel Tower.
La Tour #Eiffel et les bords de Seine pendant l'#expo universelle de 1900 (en couleur !) #Paris #France #histoire
Paris Exposition Universelle 1900 / Tour Eiffel
Rare photo of Paris circs 1900
Cor-De-Rosa Photo, Colour, Old Paris, Vintage Paris, The Cities, Old Pictures, Place, Paris 1914, Color Photography
Old Paris from 1914 from the Daily Mail.
Extremely Rare Color Photography - Wall to Watch
Paris 1914 IN COLOUR. (very cool!)
Superbe photo coloriée de la place formée à la jonction de la rue d'Alexandrie (à droite) et de la rue Sainte-Foy (au fond), vers 1910. L'immeuble un peu surréaliste au milieu n'est plus là de nos jours, le reste n'a pas trop changé... (photo anonyme)
"Paris in Colour Unearthed by Retronaut, these color photos of Paris back 1914 are not only lovely to look at, they're incredibly narrative, like a visual prompt for the kind of stories that Hemingway would write about the city in the decade to come."