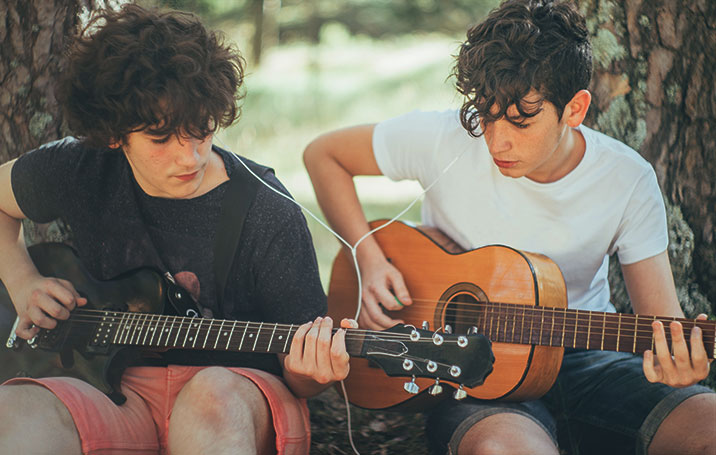 They used Pinterest to find new songs to learn
Join Pinterest to find all the things that inspire you.
50+
billion Pins
to explore
15
seconds to
sign up (free!)
Back to
I Like your Digs.
I Like your Digs.
Soap Dish.
4 5 D Portugal, Clothing 0 75 H, Dishes 14, Anthropologie Eu, Anthropology Soaps, Anthropologie Com, Sereia Soaps, House Idea, Soaps Dishes
Anthropologie- Sereia Soap Dish $14. I love mermaids!
Removable Wallpaper. WILD.
Wild Animal, Chasing Paper, Wall Paper, Removal Wallpapers, Animal Prints, Animal Wallpapers, Accent Wall, Kids Rooms, Wild Wallpapers
chasing paper, kids room wallpaper, animal print
My Menagerie print, who also goes by the name of Wild, over at Chasing Paper. Removable wallpaper tiles, people! Great for crafting, covering books, and, well, wallpaper!!!
Birds & Beasts: 10 Animal Wallpapers that are Perfect for Grown-Up Spaces - 'Wild' wallpaper from Chasing Paper, $30 per 2' by 4' panel
chasing paper - wall paper - animal print
This would make a fun accent wall in a small bedroom or bathroom at the cabin.
Wild animal wallpaper
Lisa Argyropoulos Two Feathers Shower Curtain | DENY Designs Home Accessories.
Lisa Argyropoulo, Design Homes, Curtains 89 00, Home Accessories, Feathers Showers, Curtains 8900, Shower Curtains, Showers Curtains, Homes Accessories
DIY Lego Storage! Snap together for your Scoops.
Lego Utensils, Utensils Holders, Idea, Stuff, Diy'S, Decoration, Kitchens Utensils, Lego Storage, Kids Rooms
lego storage for kitchen stuff! nice and colorful, and can be reshaped.. #giftmeapp reuse repurpose idea diy
Cute idea DIY Lego storage. Since our whole house is decorated in legos.
Wonderful Kids Room With Lego Storage Cube: Clever Storage Idea Great Lego Box For Kitchen Utensils At Checkerboard Floor With Soft White And Gray Tiles ~ cienmaneras.com Bedroom Inspiration
DIY idea ... make a LEGO utensil holder. If your kids have outgrown LEGO, this is a fun way of still using them! Even better idea would be in a kids room to begin with as a pencil /whatnot box.
Baby, you can sit in my Beatles Armchair.
Armchairs Andrew, Design Fabrics, Hands Made, 659 00, Sofa Design, Beatles Armchairs, Armchairs Etsy Com, Chairs Sofa, Armchairs Hands
The Beatles Armchair hand made in England via Etsy
Beatles Retro Unique Patchwork Chair Sofa Designer Fabrics | eBay
The Beatles Armchair Andrew Martin fabrics on Etsy, £650.00
Seeing Stars.
Eggs Nightlight, For Kids, Basements Tv Rooms, Eggs Lamps, Baby Rooms, Green Stars, Stars Eggs, Schatz Eggs, Lamps Projects
MOSS GREEN STAR EGG NIGHTLIGHT
J Schatz Egg Lamps project stars on the ceiling. Cool for a basement TV room?
Lie in bed and stare at a ceiling full of stars with our most popular Egg Lamp, the Star Egg Nightlight.
Egg nightlight for kids
Watercolor World.
Wall Art, Watercolor Art, Watercolor Maps, Canvas Prints, Urban Watercolor, Canvas Art, Art Prints, Water Color, World Maps
Wall Art: Trademark Art "Urban Watercolor World Map" Canvas Art by Michael Tompsett
"World Map Urban Watercolor" by Michael Tompsett, Castellon // A map of the world, created from watercolor painting and digital manipulation. Maps come in many shapes and forms. Although current atlas style maps are highly functional, they have lost some of the creativity and artistic flare that can be seen in many antique maps. This is... // Imagekind.com -- Buy stunning fine art prints, framed prints and canvas prints directly from independent working artists and photographers.
Places to Go with PJ. Beautiful water color map, now where do you want to go? Try this site for comparing: http://www.wildsidedestinations.com/default.asp?sid=34382&pid=57198 Michael Tompsett 'Urban Watercolor World Map' Canvas Art #alltravelersallowed
Watercolor Map of the World Map, Art Print, 18x24 inch (749)
World Map Urban Watercolor Art Prints by Michael Tompsett - Shop Canvas and Framed Wall Art Prints at Imagekind.com
Let there be Light!
Projects, Idea, Chand Saga, Lighting Fixtures, Chandeliers Saga, Diy'S Lighting, Wine Bottle Chandeliers, House, Wine Bottles
DIY Light Fixtures Using Wine Bottles
DIY wine bottle chandelier. I don't like the green ones but this is an interesting idea...
Green wine bottle chandelier - That House on The Corner: The Chandelier Saga
DIY wine bottle chandelier! Must do project for the kitchen
Ceiling eyes.
Idea, Wallart, Living Rooms, Paintings Ceilings, Color, Ceilings Medallions, Ceiling Medallions, Wall Decoration, Diy'S Wall Art
I love this idea of painting ceiling medallions for wall decor. Paint them whatever color fits your style!
Purchase ceiling medallions from the home improvement or thrift store, and paint them all the same color. #DIY #wallart
Buy ceiling medallions at Home Depot and spray paint graduated shades of color. Living room idea!
DIY wall art. Cool idea, paint ceiling medallions
Turn off the Button Lamp and Unbutton me.
Lamps Shades, Diy'S, Crafts Rooms, Crafty, Decoration, Crafts Idea, Buttons Lampshades, Sewing Rooms, Kids Rooms
Limited to decorating in your apartment? This button lampshade is a great way to add color to your space #diy #buttons #crafts #lampshade
Impressive Craft Ideas With Buttons it is so cute and easy......well itleast it looks easy (craft room or kids room)
So cute for sewing room. Use for crystal lamps shades? DIY button lampshade.
Crafty way to decorate a plain lamp shade!
Impressive DIY Craft Ideas With Buttons it is so cute and easy......well itleast it looks easy (office, small bedroom) #lamp shade