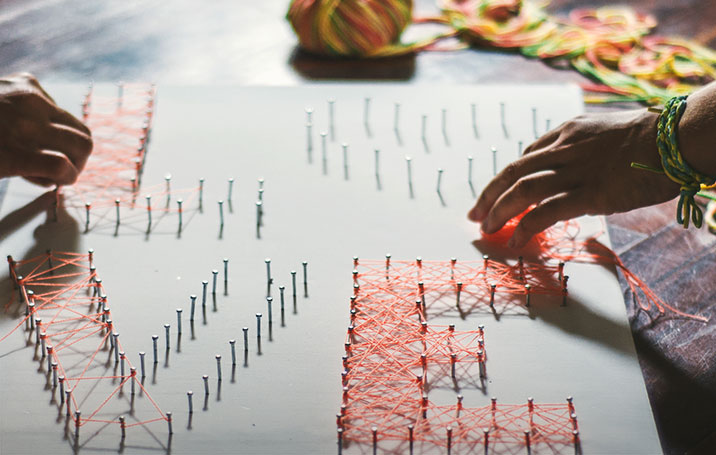 They used Pinterest to find new ways to DIY
Join Pinterest to discover all the things that inspire you.
50+
billion Pins
to explore
15
seconds to
sign up (free!)
Back to
First Birthday Party
First Birthday Party
cute banner
Fish Garlands, Paper Garlands, Circles Garlands, Paper Cakes, Sharks Parties, Fish Parties, Birthday Parties, Parties Ideas, Paper Chains
paper chain.
CAUTION: Sharks! & Scuba Birthday Party
fish garland
Circle garland
Cute shark party idea
Easy Bubble Paper Garland
Pink!
Cool Kids Stuff To Make, Kids Food Crafts, Food Crafts Kids, Food Kids Will Eating, Cool Projects To Do With Kids, Rocks Candies, Kids Science Projects, Best Kids Crafts, Cool Crafts To Do With Kids
@kalyn olson olson olson Guilloux - Make rock candy, best kid's science project ever! You get to eat the results!
make your own candy dots!
Polka Dots, Remember This, Ice Recipes, Food Colors, Homemade Recipes, Candy Buttons, Homemade Candy, Candy Dots, Candy Recipes
candy homemade recipes | Homemade Candy Buttons from Barclay Prime's Frank Urso Photo: Kirsten ...
candy.....make you could make this with food coloring and almond bark.
Polka dot buttons..<3
candy recipes - Google Search
Remember this? Candy Buttons!
Candy Buttons (w/tutorial & recipe...I use royal icing recipe)
Homemade Candy Dots
Mason Jar Party Glasses
Paintings Mason Jars, Kids Parties, Mason Jars Cups, Birthday Parties, Mason Jars Lids, Sippy Cups, Parties Favors, Parties Ideas, Mason Jars Parties
super cute for a bbq/cookout... painted mason jar lids/ with names. love.
Fun kids party idea. Used with chalk marker to write name on lid.
mason jar lids | bit of sunshine: make something monday :: mason jar sippy cups
Mason jar sippy cups - fun party favor idea
Holiday DIY: Mason Jar Party Favors
pink cake!
Lemon Cakes, Marthastewart, Pink Ruffles, Pink Cakes, Cakes Recipes, Ruffles Cakes, First Birthday, Martha Stewart, Birthday Cakes
Genevieve's first birthday: pink ruffle cake!
Kids Birthday Cake Recipes - Martha Stewart Food - Love the look of this ruffled cake.
pink ruffle cake! when a pink cake just isn't good enough.
heavenly! omg. lemon cake. pink frosting. Pink Ruffle Cake by Martha Stewart
Gorgeous pink ruffle cake via @marthastewart
these taste as good as they look!
Swiss Meringue Buttercream, Summer Cupcakes, Strawberries Cupcakesthi, Food, Sweet Tooth, Cupcakes Recipes, Pink Cupcakes, Strawberry Cupcakes, Cupcakes Rosa-Choqu
Jaelin's pink cupcakes for her bday!
strawberry cupcake recipe // #cupcakes #food #dessert #yummy
Summer Cupcake Recipe Roundup! - Spiced
Strawberry cupcakes! I have an insatiable sweet tooth these days
Strawberry Cupcakes (The cupcake recipe was just ok, they were flat, but the swiss meringue buttercream was amazing)
Striped candle holder DIY centerpiece
Candle centerpieces #crepe #paper #party #decor #votives
Baby Shower Ideas: Baby Shower Centerpieces - Martha Stewart Simply wrap streamers around votives, glasses, or vases of varying sizes, and attach with double-sided tape.
Cool idea, wrap glass candle holders in crepe paper
This would work for any type of party. Crepe paper around glass.
streamers wrapped around glass vases/votive holders #bridalshower #babyshower
Shower Ideas, Crepes Paper, Glasses, Parties, Baby Shower Centerpieces, Candles Centerpieces, Candles Holders, Diy Centerpieces, Baby Shower
,
Baby Shower Cupcakes, Cupcakes Toppers, Elephant Baby Shower, Elephant Cupcakes, Elephant Parties, Pink Elephant, Pink Cupcakes, Pom Pom, Baby Shower
sweet pink elephant cupcakes perfect for baby shower #georgetowncupcake #babyshower
Pom pom fringe with pendant
Elephant cupcake toppers
elephants. pink. cupcakes. <3 perfect.
Pink Elephant Baby Shower Cupcakes
Pink elephant party , how cute
.
Party'S, Birthday Parties, Color, Pinwheels, 1St Birthday, First Birthday, Parties Ideas, Baby Shower
Pinwheel First Birthday Theme - I have a long way for baby girls 1st birthday party, but this is adorable, and I love the colors!
Vintage pinwheel party- babyshower theme?
Vintage pinwheel 1st birthday party idea via Kara's Party Ideas - cute baby shower idea, too! www.karaspartyideas.com
.
Parties Decorations, Pretty In Pink, Pink Baby, Baby Girls, Parties Ideas, Party'S Decorations, Backdrops Ideas, Pink Elephants Parties, Baby Shower
Party decorations - Pink Pink
love this backdrop idea for the sweets table!
Pretty in Pink baby girl
Baby shower
pink elephant party. So adorable!
buffet
Candy Theme, Candy Display, Candy Buffet, Birthday Parties, Candy Table, Lolly Buffet, Parties Ideas, Parties Theme, Buffet Ideas
Colourful candy display for Willy Wonka candy shop themed lolly buffet.
Candy Buffet idea
Candy table
Birthday Party Idea
Party Themes | Candy Party| Candy Party Ideas | Thoughtfully Simple
Candy Themed Party
Our Theme!
Sweet Shoppe, Theme Birthday Parties, Candy Parties, Birthday Parties Theme, Birthday Banners, Kids Birthday Parties, 1St Birthday, Sweet Caroline, Parties Ideas Kids
Sweet Caroline!
Birthday banner
Candy Partys
Candy Themed Birthday Party | Cutie Pies Custom Creations: Candy Shoppe Themed Birthday Bash
Kara's Party Ideas | Kids Birthday Party Themes: sweet shoppe party!