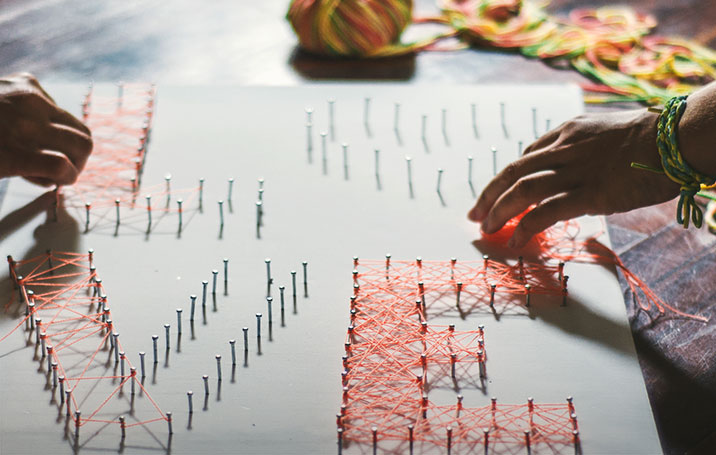 They used Pinterest to find new ways to DIY
Join Pinterest to find all the things that inspire you.
50+
billion Pins
to explore
15
seconds to
sign up (free!)
Amazing! =O
Amazing, Tiny Things, Pencil Carvings, Carvings Pencil, Heart Sculpture, Dalton Ghettos, Tiny Carvings, Pencil Sculptures, Pencil Art
Pencil carving
Tiny carved pencil sculptures - by Dalton Ghetti AMAZING
Pencil art 1
more tiny things! - by Dalton Ghetti
Great, great, great..
Cutouts, 3D Paper, Creative, Paper Art, A Thousand Years, Canvas, Paper Design, Paper Crafts, Cut Outs
Creative paper art by Peter Callesen. Originated in Japan over a thousand years ago. These intricate paper designs grace museums and exhibitions throughout the world and is becoming yet another exciting medium of expression for many designers. Posted by www.GoMadideas.com #GoMad
canvas
3d paper cuts
Cut out
cool paper cutouts
Paper Craft
Really cute idea!
Fruitsalad, Cute Baby, Baby Showers Idea, Recipe, Fruit Bowls, Fruit Salads, Showers Food, Cute Idea, Baby Fruit
Baby Fruit Salad.... cute idea for baby shower
Baby fruit! Cute baby shower food idea!
Baby Fruit Salad recipes - cute baby shower idea
#Baby | #FruitSalad | Great baby shower idea!
Cute baby fruit bowl!
Crean peluches a partir de dibujos infantiles
Christmas Inspiration, Stuffed Toys, Sweet Robots, Pretty Sweet, Child Drawings, Children Drawings, Plush Toys
Children's Drawings Become Stuffed Toys ... http://izismile.com/2011/09/27/childrens_drawings_become_stuffed_toys_18_pics.html
child drawings to plush toys! I love this
more christmas inspiration
Pretty sweet robot
Crean peluches a partir de dibujos infantiles
Stuffed Toys, Kids Drawings, Girls Drawings, Kids Pictures, Turning Children, Child Drawings, Children Drawings, Stuffed Animal, Plush Toys
My 2 favorites combined: Art & stuffed toys! Company Turns Children's Drawings Into Plush Toys
This company turns kids pictures into plush toys! I LOVE THIS!!
Kids' drawings turned into stuffed animals. These are so cute that I may invest in one when Jude's drawings become a little bit more substantial!
Company Turns Children's Drawings Into Plush Toys The Child's Own Studio will turn any child's drawing into a unique and well-crafted plush toy. The toys turn out almost identical to the original drawing. To have your special little guy or girl's drawing come to life, visit the Child's Own Studios website and upload the drawing when you #Stuffed Animals| http://stuffedanimalsfamily.blogspot.com
Crean peluches a partir de dibujos infantiles
Little Children, Stuffed Toys, Kids Drawings, Children Toys, Baby Toys, Kids Art, Children Drawings, Child Art, Stuffed Animal
so cute..make your child's art come to life!!
Custom stuffed toys out of your children's drawings
Kid art into a stuffed animal
They make stuffed dolls out of your kids drawings! cute #baby toy #children toy #kid toy
harry potter anime poster
Geek, Animal Styles, Stuff, Awesome, Harrypotter, Book, Fans Art, Fandoms, Harry Potter Animal
Harry Potter character fan art: anime style
Ok, I geeked out to this...Harry Potter Anime style
Awesome anime style #HarryPotter poster
Harry Potter Anime - Very impressive, but I think I'll stick with the original. Probably the yaoi vibe the Weasley twins are giving off that makes me feel that way.>>> i think i need to read the book now...
If harry potter were an anime #harrypotter #hp #fanart #hogwarts #illustration #fandom #kawaii #anime
harry potter anime style. this makes me so sad. they took something awesome and put it into anime. :(
Pertarungan Terakhir | Apa Saja Yang Terjadi Di Jepang?
jepang.net