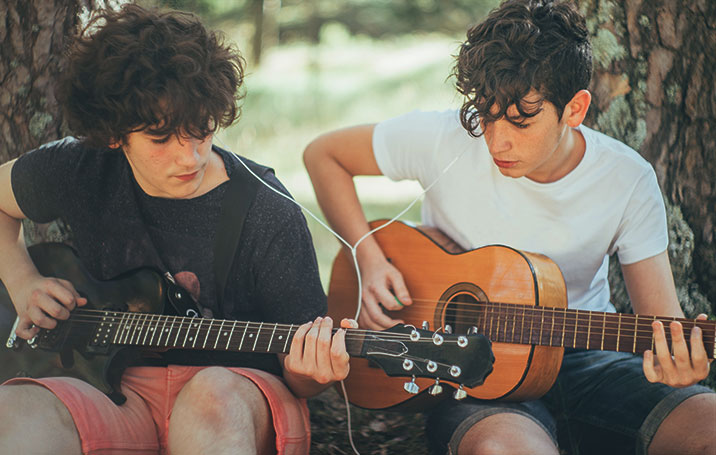 They used Pinterest to find new songs to learn
Join Pinterest to find (and save!) all the things that inspire you.
50+
billion Pins
to explore
15
seconds to
sign up (free!)
Star Wars lightsaber chopsticks. Need I say more?
Stuff, Chops Sticks, Stars War, Star Wars, Lightsaber Chopstick, Things, Lightsaberchopstick, Starwars, Lights Saber
#LightsaberChopsticks! I SO want these!!!
Star Wars lightsaber chopsticks. I'm not good at using chop sticks but if I had these I'd never use a fork again.
Star Wars. More Cool Stuff at "Geek Home and Holiday" http://www.pinterest.com/SuburbanFandom/geek-home-and-holiday/
Star Wars lightsaber chopsticks. Need I say more? <--- filed under things that make me even geekier than I actually am...
Light. Saber. Chop. Sticks. I mean... Star Wars AND sushi? yes.
Star Wars lightsaber chopsticks. Need I say more? Heck Yeah!! | #StarWars
John Deere Tango E5 Autonomous Mower
Deer Tango, Autonom Mower, Lawn Mower, Tango E5, John Deere, Koi Ponds, Lawnmower, E5 Autonom, Johndeer
John Deere Tango E5 Autonomous Mower ($TBA) You have plenty of machines in your life that require more work from you — the coffee machine, your washer and dryer, etc. — so why not spend your money on one that works for you? The John Deere Tango E5 Autonomous Mower ($TBA) is designed to give you back your weekends by keeping your grass a reasonable length automatically, automatically returning to its charging station when it's low on juice and staying out of your koi pond thanks to
Tango E5 Autonomous Mower The robotic lawn mower from John Deere
Automatic John Deere Tango E5 Electric Lawnmower Cuts Grass While You Relax #lawnmower #garden #johndeere
plug in to the dark side
Darth Vader, Cool Gadgets, Vader Usb, Stars War, Dark Side, Hub Usb, Usb Hub, Tribal Shoulder Tattoo, Starwars
Connect with the dark side! Darth Vader USB Hub #starwars
Hub USB Darth Vader, avec le son ! #StarWars
Darth Vader USB Hub #starwars @Alexa Hershey i almost always think of you when I see star wars. are we nerds or what? :)
striped paper straws
Drinks Straws, Cherries Red, Red And White, Stripes Straws So, Stripes Paper, Paper Straws, Parties Ideas, Parties Straws, Cocktails Straws
These would be fun drinking straws for summer. They also have blue and white...4th of July party?
cocktail straws
Cherry Red and White Stripe Paper Straws
Party Straws!!!! In. Love.
Merlin, I've got one of those. Need to search my parent's basement.
80S, Remember This, Memories Games, Childhood Memories, 70S, Nostalgia, Kids, Merlin, 80 S
Merlin - and i forget what this did, but it was like a Memory game, right?
More 80s nostalgia: Electronic Games « Val City Gal : Merlin
Merlin is the smart phone of the 70s.
Merlin game! Remember this!!! This was my XBox as a kid!!!!
merlin childhood memories!
i loved MERLIN! Hand-held electronic game of the 80s. Our kids would be amazed.
Geeky awesome!
Weekend Projects, Idea, Stars War, R2D2 Trash, The Cities, Trash Bins, Geek Home, House, Starwars
star wars r2d2 trash bin
Star Wars house essentials
This needs to be my weekend project while @Danielle H is out of the house. Surely the neighbors would be jealous, no?
R2D2 Trash Can... where can I get one??....too bad our trash cans are owned by the city...
R2D2 trash bin #starwars
I think I'll paint mine before my Star Wars loving son comes home for the holiday. Great idea!!