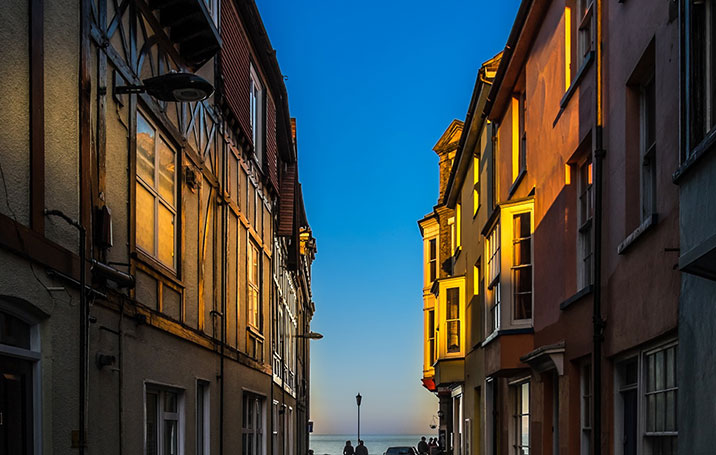 They used Pinterest to explore a new city
Join Pinterest to find (and save!) all the things that inspire you.
50+
billion Pins
to explore
15
seconds to
sign up (free!)
The Knitting Clock
Sirens Elie, Crafts Ideas, Elie Wilhelmsen, Knits Clocks, Scarves, Scarfs, 365 Knits, Stitches, Knits Machine
365 Knitting clock - The Nature of Time by Siren Elise Wilhelmsen, a young and aspiring designer from Norway. This is amazing, though hard to use to actually tell time. The point is, it produces a visible, tangible record of the time that has passed. Every half hour, it makes a stitch, so every day is one cycle around the circle of little pegs. After a year you have a 2 meter long "scarf" (if you like your scarves to have 2 layers) and you have to replace the yarn and start again.
SIREN ELISE WILHELMSEN turns clock into knitting machine. 1 year and clock has knit a scarf!
These look familiar... Sea Lettuce Scarves lucyneatby.com/...
Knits Patterns Free, Knitting Patterns, Sea Lettuce, Knits Scarves, Neatbi Sea, Scarfs Knits, Lettuce Scarfs, Lucy Neatbi, Scarfs Patterns
sea lettuce scarf pattern is on ravelry
Lucy Neatby Sea Lettuce Scarf knitting pattern from NobleKnits
My French Cancan from Quebec !
Knits Crochet, French Cancan, Knits Ideas, Knit
belle laine pour ce french cancan
Ravelry: Silk Mohair Blanket Shawl pattern by Artyarns
Artyarn Mohair, Cottages Crochet, Shawl Fashion, Blankets Shawl, Shawl Patterns, Bufanda Crochet, Silk Mohair, Mohair Blankets, Knits Projects
Artyarns Mohair Blanket Shawl Kit
Exvotos and Retablos Mexicanos blog
Dogs And Cat, Families Pet, Retablo Mexicano, Knits Furious, Start Knits, Cats And Dogs, Exvoto, Knits Sweaters, Knits Needle
Ex Voto: St. Quireria with dog and cat
I thank the Virgencita of Zapopan giving thanks for being able to knit for family pets and the anaconda down the street.
Ex voto says: "I get angry easily and I start to argue and scream; this affected my husband and my marriage that was endangered. I thank the Virgin of Zapopan for the idea to channel my anger into a pair of knitting needles. Now when I'm getting mad, I run and grab the fabric and just start knitting furiously. I knitted sweaters and scarves for the whole family and for cats and dogs and I keep knitting and knitting... Now I can be sweet with my husband and my family."
ArtYarns Color Palette planner
Color Palettes, Artyarns Colors, Colors Variations, Colors Cards, 2014 Colors, Colors Palettes, Colors Side By Sid, Colors Inspiration, Artyarn Colors
Artyarns Ensemble Light is the yarn of my DREAMS!!! Its silk and cashmere goodness and perfect for a granny square blanket for me and my boys! (I love that it comes in lots of beautiful colors and has the softness of cashmere (YUM) and the sheen of silk) If I could get my hands on some I'd make one for each of them, then we could snuggle under them at those cold winter games :o) www.fabulousyarn....
Ensembl Lights, Granny Squares Blankets, Cashmere Yarns, Beautiful Colors, Yarns Daily, Fab Yarns, Lights Yarns, Leaves Patterns, Lights Silk
Artyarns Ensemble Light silk & Cashmere Yarn
Daily Deal 4/10: Artyarns Ensemble Light + Undulating Leaves Pattern!
Artyarns Ensemble Light silk & Cashmere Yarn
Ensembl Lights, Cashmere Yarns, Woolen, Lights Yarns, Stonewash 917, Woollen, Lights Silk, Artyarn Ensembl
Ravelry.com Great Web-site
Crochet Website, Crafty, Favorite Website, Favorite Site, Fiber Art, Crochet Pattern, Ravelry Com, Knits Knits, Crafts
BEST knit and crochet website EVER!
craft booth
Knitting Knitting Knitting
My favorite website for all things knitting!
Great fiber arts website
World's most awesome search engine for knitting and crocheting patterns
Love Ravelry! One of my favorite sites for knitting!
knitting knitting knitting
Knits Funny, Fiber Farms, Knits Crochet, Red Lights, Knits Humor, Knits Witness, Knittingcrochet Addiction, Knits Pics, Knits Knits
yes I knit at red lights!
knitting knitting knitting ;)))))
Knit Pic Love
Knitting Knitting Knitting
Buckets Lists, Woolen, Pattern, Knitting, Crochet, Yarns, Learning To Knits, Woollen, Crafts
Salish Sea Market: How long has learning to knit been on your "Bucket List"?
Learn to Knit or Crochet, NO lesson fee!
KnitPicks: Great site for everything knitting and crochet related. Find yarn, kits, samplers, needles and hooks, patterns, books, tools, etc. #knitting #crochet #yarn #store #shopping #crafts