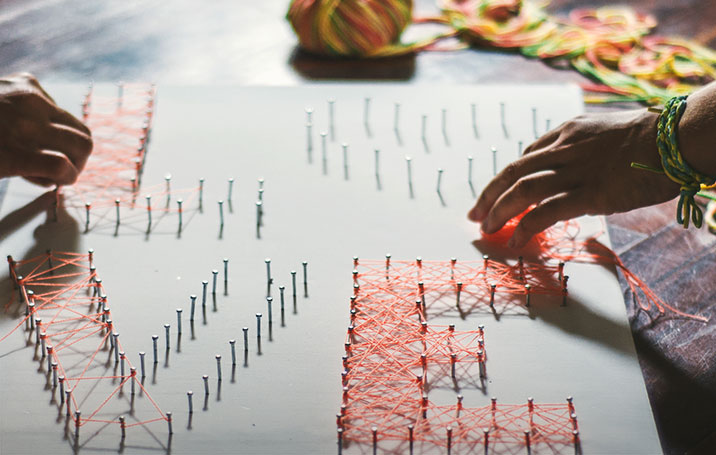 They used Pinterest to find new ways to DIY
Join Pinterest to find all the things that inspire you.
50+
billion Pins
to explore
15
seconds to
sign up (free!)
Giant-Birdsnest-by-OGE hero
Sofa, Idea, Eggs Shap, Creative Group, Birds Nests, Giants Birdsnest By Og Heroes, Birdnest, Furniture, Design
OGE Creative Group Giant Birdnest
If your creative juices aren't flowing, maybe sitting down in this one-of-a-kind sofa will hatch some ideas? Inspired by a bird's nest, Israel-based design firm OGE Creative Group created a furniture piece that's basically a giant nest for humans. Called 'Giant Birdsnest for Creating New Ideas', the structure has egg-shaped pillows and can fit as […]
The Giant Birdsnest Bed Evolves Into A Formidable Piece of Furniture. - if it's hip, it's here
ifitshipitshere.com
Puppies. Because sometimes a picture of a cute puppy is the only cure.
Doggie, Cute Overload, Adorable Puppys, Puppys Love, Cutest Puppys, My Heart, Bad Day, Puppiesss, Cute Puppys
SO MANY CUTE PUPPIES. OH MY GAHHHHH. Cuteness overload.
So many cute puppies! Love
Puppiesss!!!
My heart exploded from cuteness overload!!!!!!!!!!!!!!
a lot of adorable... #puppies #pups, #doggies #dog
OMG CUTE PUPPIES!! THE CUTEST PUPPIES EVER THE CUTEST PUPPIES EVER THE CUTEST PUPPIES EVER THE CUTEST PUPPIES EVER THE CUTEST PUPPIES EVER THE CUTEST PUPPIES EVER THE CUTEST PUPPIES EVER THE CUTEST PUPPIES EVER
If you are having a bad day, just look at these adorable puppies.
Maracas made from plastic Easter eggs!
Duct Tape, Plastic Eggs, For Kids, Plastic Spoons, Kids Crafts, May 5, Easter Eggs, Eggs Maraca, Plastic Easter
For Cinco de Mayo in Kdg. - Plastic egg maracas - plastic easter eggs, fill them with what you want (candy, beans, etc.) 2 plastic spoons, wrap in colorful duct tape or plain masking tape and hand decorate.
Maracas made from plastic Easter eggs and plastic spoons - cute and easy kids' craft.
Maracas made from plastic spoons, plastic Easter eggs, and tape. This would be so cool for kids! and practically FREE :) Think Cinco de Mayo celebrations!
A hollowed out log for a planter....great idea!
Trees Trunks, Flower Planters, Yard, Great Idea, Log Planter, Gardens Idea, Flower Gardens, Flower Beds, Logs Planters
Log Planter - great idea for the stump on the side of the yard!
Log Planter - use a hollowed out log or stump as a planter | See more about log planter, flower beds and tree trunks.
Tree Log Planter Outdoor Flower Garden Idea Inspiration
tree trunk flower planter.
Toy storage - AWESOME!!
Buckets, Plays Rooms, Zip Ties, Storage Idea, Playrooms, Toy Storage, Kids Toys, Kids Rooms, Toys Storage
Buckets - Drill a few holes and connect with zip ties - don't click the link - it does NOT take you to a tutorial, but this looks like a fun toy storage idea for the playroom
Buckets - $1.00 at Michael's (or any other craft store). Drill a few holes, zip tie together. Voila! Cute, custom toy storage for a kid's room!
Idea for Kid Toy Storage: Colorful Buckets - a dollar at Michaels or the dollar store. Poke a few holes and connect with zip ties
The benches fold closed to cover the sandbox. Love!
Convertible Cedar, Idea, Kids Stuff, Outdoor, Covers Convertible, Badger Baskets, Benches Seats, Baskets Covers, Cedar Sandbox
sandbox | badger basket covered convertible cedar sandbox with two bench seats
Convertible Cedar Sandbox. LOVE this idea. Fold in the benches at night to keep the animals out. This is going on the birthday list.
outdoor ideas for Aubrey (nw) :)
DIY project. glue. fabric. pottery
Terra Cotta, Fabrics Flower, Flower Pot, Mod Podge, Terracotta Pot, Modpodge, Clay Pot, Flowerpot, Fabrics Covers
Mod Podge and Fabric covered clay pots
Terra cotta pots + fabric + mod podge = adorable! The Party Goddess! Marley Majcher ThePartyGoddess.com #terracotta #pots #plants #modpodge #diy #spring
terra cotta pots + fabric + mod podge = adorable! #flowerpots #modpodge #fabric
terra cotta pots + fabric + mod podge = adorable! (Cute project for a COR event!) | See more about flower pots, terracotta pots and fabric flowers.
Fabric covered flower pots- all you need is fabric, mod podge, terra cotta pots, and scissors
I would argue there could be a better place for this.
Cold Remedies, Idea, Allergies Seasons, Toilets Paper, Funnies, Japanese Inventions, Crazy Inventions, Paper Hats, Runny Nose
Toilet Paper Hat for allergy season
Funny and Stupid Ideas: Weird Japanese Inventions
" 'Japanese Invention ~ :) I can't believe this! :) I so need this!!!!!! Kinda funny yet super super cool!!!!!' - oh man, is this just the most practical thing ever. No problem when you go to the bathroom and there is no toilet paper. I was just thinking that we needed to prevent runny noses but this...."-someone
Crazy Inventions (Only in Japan) - Pelfind
Cold remedy - so funny, but not ideal for using in public :-D
Elephant toothpaste science experiment water, yeast, food coloring, dish soap, hydrogen peroxide...
For Kids, Fun Science Experiments, Science Projects, Hydrogen Peroxide, At Homes, Food Color, Mad Scientists, Elephants Toothpaste, Baking Soda
Elephant Toothpaste Science Project for Kids. Hydrogen peroxide naturally breaks down into water and oxygen. Dish soap catches the oxygen and makes bigger bubbles and the food coloring makes it look cool.
Elephant Toothpaste: a GIANT step up from the baking soda & vinegar volcanoes we're used to. 1. Set a soda pop bottle in the middle of a pan to catch the toothpaste. 2. Mix these - 2 T. warm water, 1 t. yeast in a separate container and swirl together for a minute. 3. Mix these in your soda pop bottle: 1/2 c. 6+% hydrogen peroxide, 4-5 drops food coloring, squirt of dish soap. 4. Pour the yeast mixture into the soda pop bottle...and be amazed!
Fun science experiment: Elephant toothpaste. (reaction between hydrogen peroxide, soap, food coloring, and yeast/water)
Every kid has a little mad scientist hiding inside of them, and nothing is more fun than spending a little time dreaming up mixtures that bubble and steam and overflow! Here are 10 crazy concoctions you can whip up at home to satisfy their need to explore and create. I tbsp warm water, 1 tsp yeast. In bottle 1/2 cup 6% hydrogen peroxide , 4-5 drops food color,
DIY kids grocery store/market place. How cute is this! Makes me wish mine were little again.
Ideas, For Kids, Kids Room, Kids Grocery, Play Areas, Playrooms, Plays Area, Diy Kids, Grocery Stores
DIY Kids Grocery Store. cute idea for in a playroom
DIY kids grocery store/market place. I would need a separate house in order to do all the neat kids' room ideas I run across. Instead, I'll just throw all Gray's toys in a room and shut the door.
DIY kids grocery store/market place. Cute for kids play area!