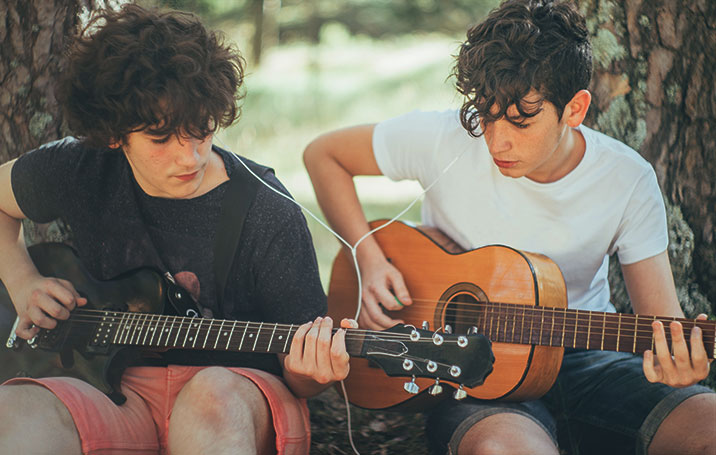 They used Pinterest to find new songs to learn
Join Pinterest to find all the things that inspire you.
50+
billion Pins
to explore
15
seconds to
sign up (free!)
Teenagers gift basket with a movie pass. This site has many gift basket ideas!
Gift Baskets, Teens Gifts, Movies Baskets, Cute Idea, Great Gifts, Gifts Idea, Gifts Baskets Idea, Teenagers Gifts, Movies Pass
Teenagers gift basket with a movie pass. This site has many gift basket ideas! Cute idea for a prize
Teenagers gift basket with a movie pass. This would be a great gift idea for many, many people!!!! This site has many gift basket ideas!
gift basket ideas! one pictured is a movie basket that includes free movie passes! clever
Teenagers gift basket with a movie pass. This site has many gift basket ideas! would make awesome teen gift
graduation cake, I'm going to attempt this one for my daughter!
Graduation Idea, Graduation Party, Graduation Cakes, Graduationcak 2092, Grad Cakes, Matte Graduation, Videos Tutorials, Cakes Idea, Cakes Cupcake Decoration
Lyds grad cake
Graduation cake idea
I want to buy this cake for Matt's graduation!!
For graduation party!
candle lit staircase
At The Beaches, Brown Paper Bags, Stairs, Decoration, Brown Bags, Candles, Paper Bags Lanterns, Beaches Weddings, Teas Lighting
Wanting to have candles at your beach wedding? This is a great idea for setup and when you use my flameless #battery operated tea light candles you won't have to worry about them being blown out by the sea breeze :) http://www.candlesrecharge.com.au #wedding
Candles, Candles everywhere! Who doesn't like the soft glow of a votive or tea light but have you checked with the rules of your reception location, or considered if your votive container or decorations on it are a fire hazard. Make sure the votive or tea lights are in glass containers or on a plate and that the flame will not contact any decorations hanging above.
On the stairs going up to the house? You could get white bags and use small battery operated candles.
candles in brown paper bags at the beach
Cheap and easy decor to really create an ambience: Brown paper bag lanterns
love simple brown bags and candles for a beach wedding
way to keep guests entertained
Gardens Weddings, Cocktails Hour, Backyard Games, For Kids, Bocc Ball, Lawn Games, Beans Bags, Guest Book, Weddings Plans Tips
Lawn games like croquet, bocce ball, cornhole and horseshoes are simple to set up and easy for kids and adults to play during cocktail hour and after dinner. Not a bad idea when there's a gap between wedding & reception, especially so people stay entertained while you get your pictures done after the ceremony.
garden wedding
It's National Backyard Games week during the last week of May. #lawn games
Give your guests something extra to do during the cocktail hour, even if its just breaking out the guest book a little early to give them plenty of time to sign it. Top-Shelf Idea: If your wedding is outdoors, set up bocce ball, lawn croquet or even a beanbag toss. Its a great option if there will be lots of kids at the reception. You could also rent a photo booth and provide fun props for guests to pose with. (Bonus: This easily doubles as a wedding favor!) #receptionactivities
Ideas for the Cocktail Hour: Lawn Games Station (croquet, bocce, horse shoes, or a bean bag toss); Photo Booth; Sign the Guest Book/Leave Advice; Open Bar; I Spy Game with Disposable Cameras; Relax & Enjoy Yourselves!
white roses and mason jars
Tables Sets, Rustic Elegant, Tables Design, Jars Candles, Weddings Tables, Rustic Weddings, Tables Runners, Centerpieces, Masons Jars
modern styling with rustic elegance- Blue mason jars, English garden roses
love the table runner and mason jar candle
Centerpieces and table setting
centerpieces and table runner
rustic wedding table design. LOVE the idea of a printed table runner!
I love the idea of serving fresh fruit in a cone at an outdoor BBQ.
Paper Cones, Snow Cones, Sweet Treats, Fruit Cups, Party Idea, 4Th Of July, Finger Food, Fresh Fruit, Fruit Cones
fresh fruit in a paper cone
4th of July Party Ideas! #chillingrillin #Fresh Fruit| http://fresh-fruit-recipe-261.blogspot.com
4th of July Party Ideas Fruit Cones would be adorable at a beach baby birthday party or kids party where trying to keep some healthy snacks available
fresh fruit cups
Use food to decorate the picnic table. Fill white snow cone cups with blue and red berries to create a sweet treat and dazzling display all in one. Great for 4th of July!
Individual portions of finger foods in snow cone cups/paper funnels
graduation party
Party Banners, Graduation Quotes, Graduation Party, Card Stockings, Graduation Banners, Party Idea, Grad Party, Felt Letters, Graduation Parties
graduation party banner
See the "George Bernard Shaw" in our Graduation Quotes gallery
Easy to fashion from card stock and felt letters, this festive garland makes a memorable congratulatory banner for a recent graduate.| See the "Graduation Banner" in our Graduation Party Crafts and Decorations gallery
See the "Graduation Banner" in our Graduation Party Ideas gallery
Grad Party Banner
Graduation Party
White Graduation, Graduation Party'S, Graduation Idea, Black And White, Inspiration Boards, Party Idea, Party Inspiration, Grad Party, Graduation Parties
Black and White Grad Party - B. Lovely Events
Black and white graduation ideas
Graduation Party Idea!
This is an awesome theme...we can add purple and gold to it. Black and White Graduation Party Inspiration Board | Tinyprints Blog
Graduation Party Ideas graduation party
Graduation Idea, Graduation Party, Idea Graduation, Kindergarten Graduation, Party Idea, Grad Party, Creative Graduation, Free Printables, Graduation Parties
Graduation Party Ideas graduation party ... Yes!
High School Graduation Ideas - Bing Images
Grad party ideas
Cute graduation party ideas - link to free printables.
7 Creative Graduation Party Ideas + Tips | kindergarten graduation