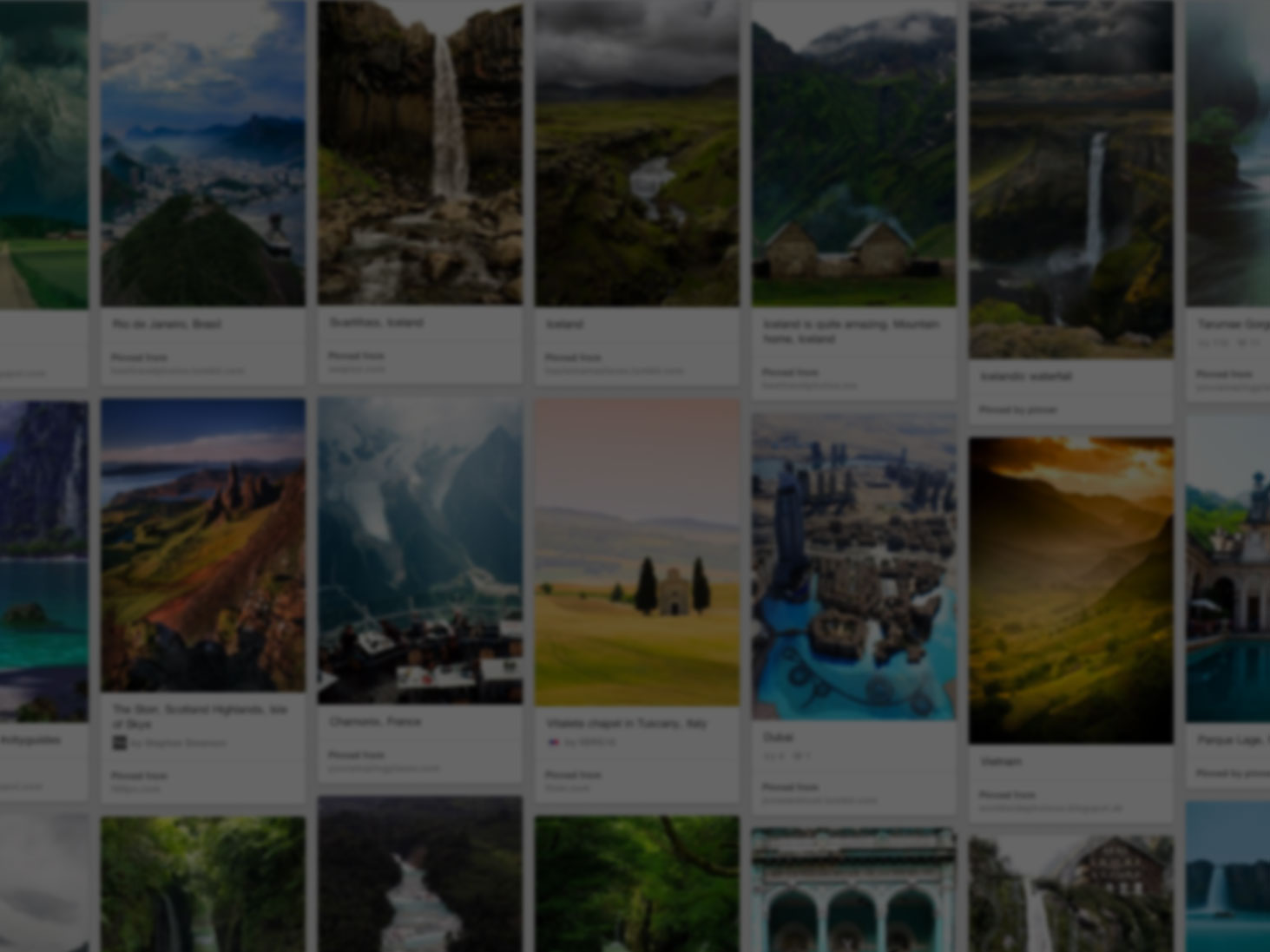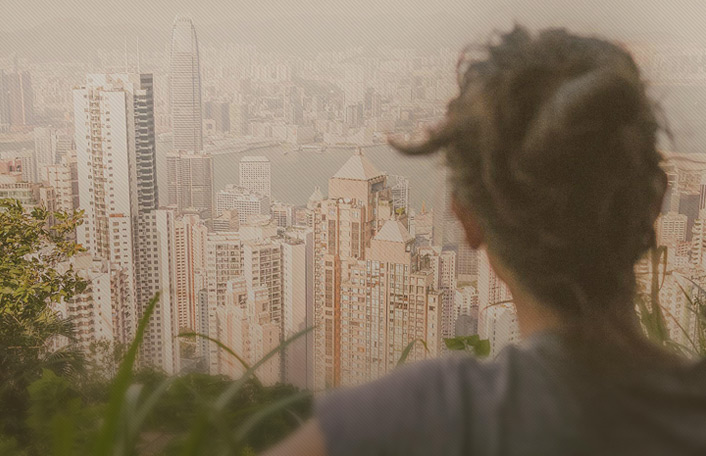 They used Pinterest to plan a dream trip
Join Pinterest to find all the things that inspire you.
50+
billion Pins
to explore
15
seconds to
sign up (free!)
Back to
Places I'd Like to Go
Places I'd Like to Go
Mongolia
Favorit Place, Buckets Lists, Mongolian Yurts, Mongolian Stepp, Mongolia Travel, Beauty Place, Mongolian Ger, Sweet Yurts, House
mongolian steppes -
Mongolian yurt...I have always been fascinated with everything Mongolian.This one must go on my Bucket list!
Mongolian yurt. #tiny_houses #Mongolia #travel
Inner Mongolia...one of the neatest and most beautiful places I've ever visited. I'd love to go back someday! Very peaceful.
Mongolia. A yurt for a house; cool!
Mongolian ger.
.NY
Favorit Place, Centralpark, New York Cities, Autumn, Dream, Fall, Central Parks, Nyc, Newyork
It is starting to feel like fall in New York City #centralpark #nyc
Central Park, New York. #NYC #NewYork #Cities #Skyline #CentralPark #Fall #Autumn
Imagining my life there... #beatgirl #dream #centralpark #newyork #nyc #newyorkcity #autumn
Fall in Central Park, NYC. Favorite place in the world.
Toronto
Ontario Canada, Rainy Day, Cities, Toronto Canada, Flatiron Building, Flats Iron, Red Umbrellas, Place, Photo
500px / Photo "Red umbrella" by harta- Toronto
Fantastic photo of the recently-sold Flat Iron building in Toronto
Toronto - Canada's great cosmopolitan city on Lake Ontario! A favorite place to visit.
Flatiron building, Toronto, Canada.
One of my favourite city landmarks. In Toronto, Ontario, Canada.
Travel
Inspiration, Travel Photo, Travel Accessories, Travel Tips, Buckets Lists Travel, Place, The Buckets Lists, Travel Quotes, Wanderlust
Bucket list travel the world
#DDBChicagoBootcamp #Application my biggest dream in life and my biggest inspiration is to travel as many places as I can
travel . wanderlust
Travel#travel things #Travel stuff #Travel Accessory| http://travel-accessory-755.blogspot.com
My Dream: to travel the world. Travel Quotes
going on the bucket list!!!
France
The Louvre, Buckets Lists, Mona Lisa, Art Museums, Paris France, Beauty Place, Louvre Paris, Place To Visit, Monalisa
The Louvre Museum is one of the largest and most important museums in the world. Love Monalisa.
The Louvre Museum, Paris. Been here Summer 2008 but never actually went inside... On the Bucket list:)
The Louvre in Paris, France | Beautiful Places to Visit
I would love to visit the Louvre. The Louvre is a gigantic art museum in Paris, France, and houses approximately 100,000 pieces of art work or artifacts. They also have the Mona Lisa, one of the most famous paintings in the world, on exhibition there. I think that I would need to spend a week there to see everything!
Saw the Mona Lisa up close and personal in the Louvre, Paris, France
Switzerland
Beautiful Switzerland, Switzerland I, Adventure, Skin Care, Favorite Places, Switzerland Travel, Matterhorn, Visit Switzerland, Alps
Our company, founded on the principles of pure, safe and beneficial, started by Petter Mørck in Switzerland .... is known for our skin care expertise ... view my website and realize the possibilities being offered to you ... https://www.ArbonneinTheBeach.myarbonne.ca your sponsor ID# 115 565 867
One of my favorite places... want to go back someday.
The Matterhorn, Pennine Alps, Switzerland
Switzerland, I have to go see where my grandpa grew up!!
Beautiful !Switzerland
Visit Switzerland and hike through the Alps.
Austrailia!
Bucketlist, Buckets Lists, Sunsets, Kangaroos, Place I D, Before I Die, Travel Tips, Dream Vacations, Travel Guide
See the sunsets of Australia for next to nothing with these travel tips!
Need to see a kangaroo before I die.
Travel Guide to Australia; Take me to your kangaroos
Kangaroo in the sunset
Love to go to Australia... To get kicked by a kangaroo is one of my things on my bucketlist.
Australia is my dream vacation
Bucket List: Meet a Kangaroo
India...
Vintage Posters, Travel Photos, India Posters, Art, India Travel, Travel Tips, Air India, Vintage Travel Posters, Airindia
Air India Poster Elephant
vintage travel poster #travel guide #travel tips #travel photos #travelling collections
Air India vintage poster
art #travel guide #travelling collections #travel photos #travel tips
I flew air India in 2004 and it felt very vintage : ) #airindia #travelphoto #travel Follow Me www.pinterest.com/colorfulvacatio/colorful-vacations/
Vintage Air India Travel Poster Ad Giclee Art by Vintagemasters, $14.95
Ireland
Irish Symbols, Favorit Place, Favorite Places, Irish Things, Ireland 2016, Google Search, Irish Stuff, Cars Stickers, Ireland Irish
Irish symbols - Google Search
Italy...
Buckets Lists, Italian Food, Rome, Italian Dinners, Travel Tips, Place, Italy Travel, Italianfood, Italy Maps
Not only does each region have its own style of #ItalianFood , but each community and each valley has a different way of cooking as well.
Recipes for an authentic Italian dinner
Italy map :) #italy #italia #map #fun #funny #venice #rome #milano
do a big Italy-Trip, stopping at: Rome, Venice, Turino, Bologna, Napoli, Firenze, Milano, Parma, Verona, Palermo (Sicily), Genova and Pisa. Also smaller but gorgeous places like Perugia and Assisi.
The Dream of Italy® Travel News Blog: March 2014
More like a bucket list place than a leap list