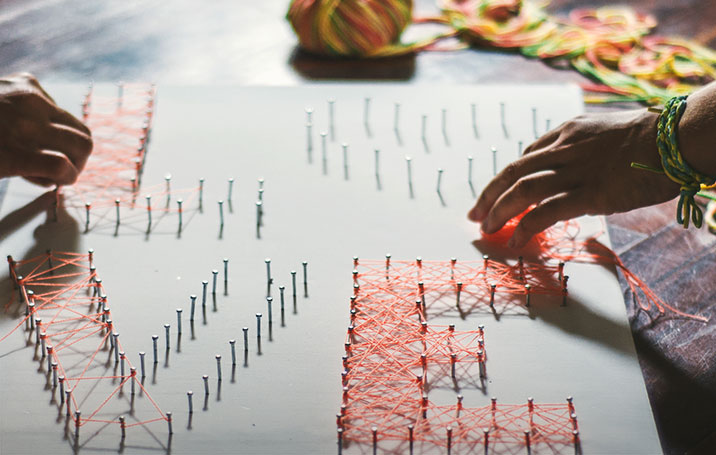 They used Pinterest to find new ways to DIY
Join Pinterest to find all the things that inspire you.
50+
billion Pins
to explore
15
seconds to
sign up (free!)
printer's case with seashells... made into a table have always wanted this.
Trays Tables, Shells Collection, Side Tables, Sea Shells, Wood Tables, Printer Trays, Seashells, Accent Tables, Printer Cases
Accent table to display your shell collection.
printer's case with seashells... made into a table...I have so many sea shells I could do this with!
Wood table for shells.
printers tray table top :)
Great way to store memories with your kids. Love this idea, I have the printers tray, shells, and old table legs, and I even need a side table in the living room!
printer's case with seashells... made into a table... maybe use for other collectables. I have the printers tray....
printer's tray for jewelry
Organizations Jewelry, Idea, Jewelry Storage, Jewelry Display, Hooks, Diy Jewelry, Printer Trays, Jewelry Holders, Jewelry Organizations
DIY Jewelry Holder: A printer's tray plus some paint and hooks.
Old printer's trays turned into jewelry display - great idea
Great list of DIY jewelry storage ideas
DIY Jewelry Organizer. Man, I need this! Thinking of using an old printers tray, that they used in the old days for random little statues and stuff. Paint a cool colour and add hooks
Beautiful organization
Crafts Roomsstorag, Crafts Spaces, Crafts Rooms Storage, Printer Trays, Craftroom Design, Crafts Studios, Storage Ideas, Printer Drawers, Crafty Ideas
printer's tray storage
Store scrapbook goodies in old printer drawer - hmmm....I have two
printers tray decorated with patterned papers
Scrapbook Paper, Types Trays, Printer Trays Ideas, Patterns Paper, Printer Traysshadow, Decor Paper, Trays Decor, Diy Projects, Printer Drawers
type tray
Nice printers tray idea.
printers tray decorated with patterned scrapbook papers
printers drawer with decorative paper background in each nook
Unique DIY project using an old printers tray: decorate with patterned papers

from flickr
I never tire of collections
Old Drawers, Printer Boxes, Families Photo, Printer Trays, Display Cases, Shadows Boxes, Bathroom Interiors Design, Old Photo, Printer Drawers
Cool old drawer wall display!
old printer boxe used as a shadow box
Printer's drawer as display case
Shadowbox-days gone #bathroom interior design #bathroom designs| http://bathroom-decorating-259.blogspot.com
Printer's Drawer~ fab shadow box of Family Photos and momentos.
Printer's tray. I love the old photos in it!
Typesetter Tray Table. Ooo, with glass on top, and cute little things in the trays?
Display Tables, Letterpresses Drawers, Art And Crafts, Crafts Traditional, Shadows Boxes, Crafts Style, Drawers Turning, Boxes Tables, Drawers Things
Arts and Crafts style display table with a drawer via Etsy
Handmade table in the Arts and Crafts tradition. A unique table that has a drawer made from a repurposed letterpress type box or printers .
ANY printer drawer things with tiny cubbies
Type drawer turned into table. A lot of woodwork went into this!
I love how they used an old printer's box and made it into a shadow box table!!
Handmade table with letterpress drawer
great use of an old printer's tray. Must do this.
Rainbows Shower, Rainbows Awesome, Rainbows Colors, Rainbows Printer, Printer Trays, Colour Rainbows, Rainbows Shadowbox, Colors Morphs, Colors Inspiration
rainbow printer's tray
Love the color morphing.
My Little Pad: Rainbow Showers Altered Printer's Tray
Rainbow Shadowbox
must start collecting old printer's trays
Art Crafts, Old Printer Trays, Romantiqu Trays, Altered Trays, Ephem Art, Graphics 45, Boxes Art, Projects Inspiration, Art Projects
jadedstudios: Le Romantique Tray
Vintage printer's tray art by Precocious Paper.
Bathroom Design, Idea, Trays Art, Shadowbox, 7 Gypsy, Printer Trays, Shadows Boxes, Crafts, Design Bathroom
Vintage printer's tray art by Precocious #bathroom design #bathroom design ideas #bathroom design #bathroom interior design| http://bathroom-design-richie.blogspot.com
7 gypsies shadowbox ideas | love the tiny banner in the corner!
Vintage printer's tray art by Precocious Paper. Great idea to make for craft room organization
Vintage printer's tray art by Precocious Paper. Cute idea for an old shadow box.

by Tessa Buys
colourful shelves
Idea, Paintings Swatch, Letter Pressed, Shelves, Colors Home, Desks, Printer Trays, Home Offices Design, Printer Drawers
Beautiful Bathroom Images Plan Gorgeous Bathroom Plans Remarkable Utensils Disposition, Colorful Home Office With A Nice Diy Cabinet At Awesome Colorful Home Office Design Ideas Cool Black White Home Office Decor Foxy Home Office Computer Desk Traditional Style
printer's tray = little storage...use the colorful idea for larger shelves and storage cubes
I have seen a lot of displays made with type trays, but the painted (paint swatch) backgrounds really makes this one interesting.
Crafty storage shadow box from letterpress drawer printer tray
I LOVE this! Great idea for one of the two printer drawers I have
magic box
Paper Cut, Idea, Shadowbox, Magic Boxes, Cut Paper Art, Printer Trays, Wood Boxes, Shadows Boxes, Paper Crafts
magic box- cabinet of curiosities
Paper gallery. Love it. #art #gallery #paper #crafts - what a cool idea for a printer's drawer.
decorate a printer's tray with handmade cut paper art
Papercuts in a Wood Box #box #paper #art #shadowbox #papercut
Have always loved printer's trays so would be good to see if I could get my hands on a small one. I love this idea of making small paper cuts to put in the little compartments.
Cute idea for a shadow box

by jenny.edwards
Earring holder.
Jewelry storage ideas
Reclaimed Printers Drawer Jewelry Display- I love printer's trays!
On the wall jewellery storage shelving unit.
Jewelry Storage, Jewelry Display, Earrings Holders, Printer Trays, Jewellery Storage, Jewelry Holders, Printers Drawer, Storage Ideas, Printer Drawers