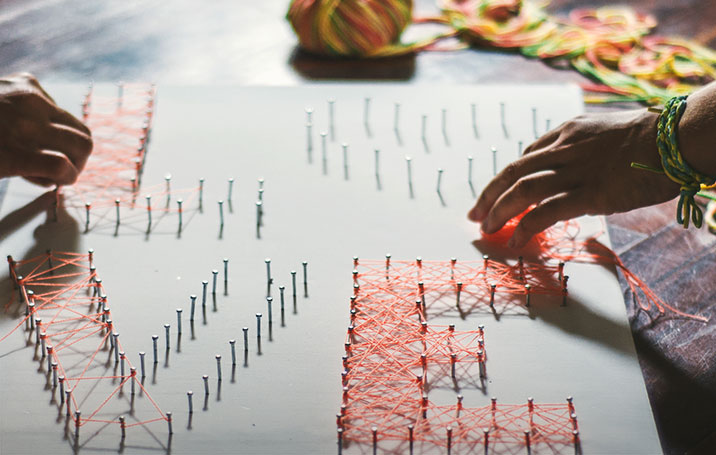 They used Pinterest to find new ways to DIY
Join Pinterest to find all the things that inspire you.
50+
billion Pins
to explore
15
seconds to
sign up (free!)
Back to
Flores y Plantitas
Flores y Plantitas
wowza
Floral Garlands, Idea, Gorgeous Floral, Hanging Flowers, Flower Garlands, Flower Arrangements, Hanging Floral, Flower Drums, Floral Arrangements
hanging flowers garland
Hanging floral garland by The Flower Drum
Spectacular Entertaining Events| Hanging Flower Arrangement | Mix Your Event Theme Into The Floral Decor| Serafini Amelia
hanging floral arrangement
hanging florals by the flower drum, idea for venue with beams in ceiling.
Gorgeous floral garland~❥
fatelondon.com love
Plants Arrangements, Decorative Vases, Decoration Vases, Droopy Plants, Eclectic Vases, Perfect Mantels, Mantles, Wild Flowers
Australian wild flowers.
Mantle.
perfect mantel decor
plants + decorative vases
plant arrangement
botanicals in eclectic vases for the home.
Droopy Plants over a fireplace
cage of succulents
Modern Gardens, Gardens Design Idea, Hanging Plants, Vintage Crafts, Succulent Plants, Hanging Planters, Hanging Succulents, Birds Cage, Hanging Baskets
Bird cage succulents!
succulent hanging basket. Or in birdcage!
Must make some hangers for plants...now those vintage craft books will come in handy, macrame anyone???
hanging planter
Hanging Succulents
hanging plants.
in the air - succulents, plants
? this #garden design #garden decorating #garden decorating before and #garden decorating #modern garden design #garden design ideas| http://advertising9571.blogspot.com
.
Cherries Blossoms, Roses Hip, Spring Flower, Inspiration, Nature, Rosehip, Spring Bloom, Blossoms Trees, Cherry Blossoms
Beautiful almond flowers #spring #flowers
spring blossom tree nature
I think I can see my next painting....thanks for the inspiration!
cherry blossom #japan #spring blooms
cherry blossom trees
Sunset Magazine, mixed pots
Plants Container, Container Gardens, Pot Succulents, Desert Plants, Plants Idea, Indoor Idea, Sunsets Magazines, Container Plants, Annual Flower
Planting ideas
love this container garden from Sunset Magazine via Poppytalk
Potted succulents
Indoor ideas
Poppytalk desert plant container gardens are my fave
instead of annual flowers, use succulents, shrubs and grasslike perrennials.  Sunset Magazine | Julie Chai | Set Styling: Birte Walter | Photo's by Thomas J. Story.
Container plants
oeh this cactus!
Inspiration, The Artists, Red White Blue, Plants, Kwangho Lee, Nature Color, Delicious, Flower, Red Cactus
Red cactus; interesting plant. Looks like wieners.
Red Succulent Flower
red cactus, apparently this is a painting. love to know the artist's name.
Natural Color
inspiring colour combos
Kwangho Lee painting red cactus
Succulent pots
Nice Colour, Color, Succulents Pot, Succulents Dining Rooms, Sleek Succulents, Small Succulents, Succulents Design, Succulents Art, Succulents Inspiration
Succulent inspirations
color
Nice colours.
Succulents- dining room table
Dahlia
Dahlia Flowers, Multi Color Dahlias, Dahlias Beautiful Bloom, Yard, Beautiful Blooms, Plants, Weddings Flower, Dahlias Beauty Bloom, Dahlias Flower
Dahlia. One of my wedding flowers & all time favorites.
puhhreeetttyyy! Dahlia flower.
Dahlia I want to plant some!
Dahlia. I love these flowers . Wish I could grow them in my yard , but the deer love them too!
curly succulent.... Moraea Tortilis - common name spiral grass.
Green Thumb, Moraea Tortili, Spirals Grass, Names, Gardens Idea, Plants, Suculenta, Curly Succulents, Flower
Curly succulent (Moraea tortilis) - commonly named spiral grass. Great potted plant for a sensory garden.
curly succulent.... Moraea Tortilis - common name spiral grass. Uff !!!! Esta suculenta es de lo más especial que conozco.
I wish I had a green thumb.
curly succulent.... Moraea Tortilis - common name spiral grass. Irdaceae family - Author: Peter Goldblatt 1977 Family: Iridaceae Habitat: Namaqualand, Southern Africa Soil: Mix Water: Medium Sun: Maximum Thickness: 2,5 centimetres Height: 10 centimetres Flower: White to Blue and Yellow Reproduction: Seeds
Purple Ranunculus
Beautiful Flower, Shades Of Purple, Deep Purple, Colors, Gardens, Dark Purple, Wedding Flower, Purple Ranunculus, Purple Flower
Deep purple ranunculus. This is my favorite shade of purple
Gothic Garden... Dark Purple Ranunculus.
deep purple ranunculus- Love this color! #flower #garden
Deep Purple Ranunculus make for a great wedding flower with their wonderful color. They also take up more space, making your table pieces look more full.
great deep purple flowers love the color
love this color! deep purple ranunculus beautiful flower!!
zucchini flowers
Colors Pallets, Nature Floral, Bedrooms Colors, Flower Colours, Floral Arrangements, Zucchini Flower, Squashes Blossoms, Nature Beautiful, Courgette Flower
Courgette flowers
Love the color pallet
zucchini flowers - bedroom colors?
Squash Blossom Fritters