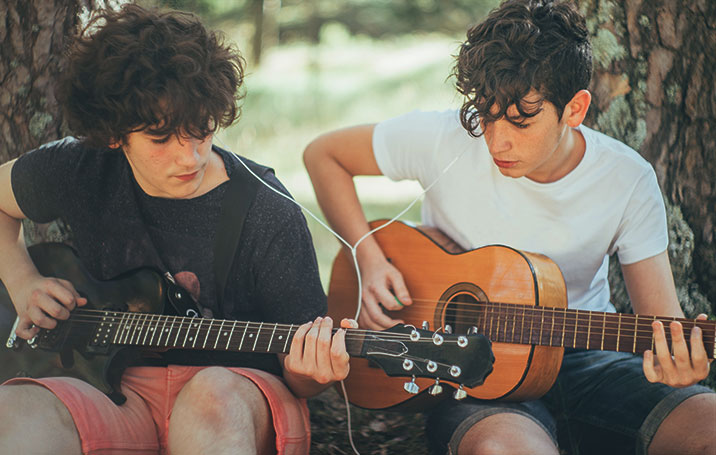 They used Pinterest to find new songs to learn
Join Pinterest to find (and save!) all the things that inspire you.
50+
billion Pins
to explore
15
seconds to
sign up (free!)
Bookcase doll houses
Dolls Houses, Diy'S, Books Shelves, Houses Ideas, Bookcases Dollhouses, Doll Houses, Crafts, Diy Bookcases, Kids Rooms
Someone let me come help make one of these in their kids' room!
diy doll house ideas
Idejas, idejas - Cool Craft Hunting - draugiem.lv
Cubby doll houses & book shelves! How awesome is this??
DIY bookcase dollhouse - cute idea. I like the wall colors, decorating ideas for our blank doll house.
Pinned from
rosalindafrank2.blogspot.com
doll house
Dolls Houses, Dollhouses Decor, Diy Dollhouses, Cute Dolls, Bookca Dollhouses, Diy Craft, Dollhouses Bookca, Pink Dollhouses, Dollhouses Ideas
Favorite DIY Dollhouses Design With DIY Pink Dollhouse Decor, Design & IdeasMatGoz.Com : MatGoz.Com
cute dollhouse idea
what a cute doll house!
Pinned from
ashleyannphotography.com
wallpapered doll house!
Wooden Dolls, Redo A Dollhouses, Dolls Houses, Dollhouses Redo, Paper Wall, Dollhouses Makeovers, Adorable Dollhouses, Dollhouses Envy, Dollhouses Ideas
Dollhouse makeover. scrapbook paper or fabric!
wooden doll house ❣
dollhouse ideas
adorable dollhouse
Pinned from
sarahjanestudios.com
Doll house
Barbie Houses, Little Girls, Dolls Houses, Building A Houses, Diy Dollhouses, Exact Dolls, Bookshelf Dollhouses, Diy Dolls, Doll Houses
diy dollhouse - he is already looking forward to making a doll house
DIY Doll House- my parents made this exact doll house for me when I was little :) if I have a little girl I plan to make her one too :)
Could I turn this into a barbie house?
Building A House… For Dolls (Part 2) I built a slimmer version of this in 1989 for my little girls Karissa and Kimi! I painted it pink, yellow and baby blue. They loved it!
Pinned from
younghouselove.com
Doll house armoire
Ideas, Little Girls, Kids Stuff, Old Dressers, Dollshouse, Dollhouse, Drawers, Dolls House, Doll Houses
Turn a dresser or armoire into a gigantic doll house and use drawers to store clothes, accessories, and dolls. I love this idea. I was always making dollhouses out of furniture as a little girl.
love this! I am always searching for tables with drawers for kids stuff - this trumps all.
Dishfunctional Designs: Fresh Ideas For Repurposing Dressers - dresser to dollshouse
Great Idea!!! Old dresser turned into doll house! Use lower drawers for storage of accessories and doll clothing!
Pinned from
funnypics221.net16.net
bookcase doll house
Bookshelves, Little Girls, Dolls Houses, Cute Ideas, Scrapbook Paper, Great Ideas, Dollhouses, Girls Rooms, Kids Rooms
Great Idea for my little girls room!! Unique dollhouse!
DIY dollhouse. (6-cube bookcase into a doll house. The project requires little more than some fun wrapping paper (or scrapbooking papers), double-sided tape and yarn. You can find all the directions on the Land of Nod blog, including some cute ideas for creating your own doll rugs and furniture from cardboard and yarn.)
Make a dollhouse out of bookshelves. What a great idea.
Cute idea for mom's house? Create a dollhouse from 6 square cube boxes and draw the roof line onto the wall. Great for playroom, children's, girls or kid's room decor. Doll house! upcycle, recycle, salvage, diy, repurpose! For ideas and goods shop at Estate ReSale & ReDesign, Bonita Springs, FL
Pinned from
frenchbydesign.blogspot.com.au
doll house
Modern Dollhouses, Little Girls, Dolls Houses, Building A Houses, Diy Dollhouses, Kids Stuff, Mouseh Dollshous, Kids Toys, Dollhouses Ideas
I love this modern dollhouse!
doll house I love this and always wanted one as a little girl! :)
Walls papered in scrapbook paper. In this pic, papering just the back wall makes it less intense. It is a kid's toy, so creating a lighter atmosphere without papering all three walls is probably a fine idea.
diy dollhouse idea
Building A House... For ...
Pinned from
casahaus.blogspot.com