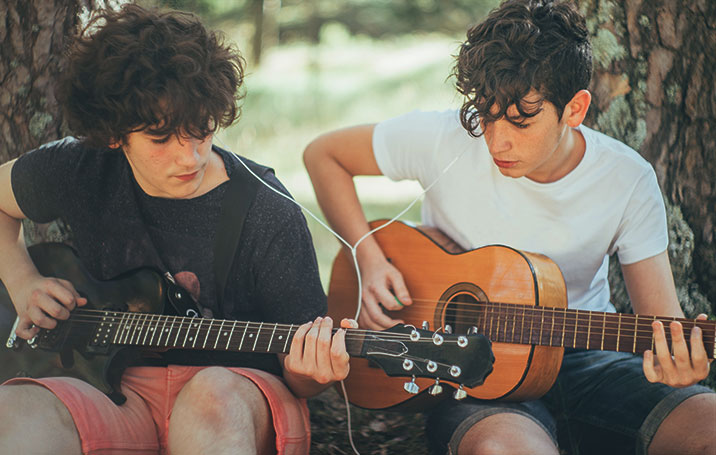 They used Pinterest to find new songs to learn
Join Pinterest to find all the things that inspire you.
50+
billion Pins
to explore
15
seconds to
sign up (free!)
I love this. When we were kids my brother slept in a cutout in his bedroom wall. Our dad built a floor-to-ceiling ladder for him to climb up to it. I wanted his bed then and I kind of want this bed now; the shelving at the side is genius. Ok I love this, but how do you change the sheets?
Cool Bunk Beds, Idea, Boys Rooms, Pallets Bunk Beds, House, Bedrooms, Bunkbeds, Built In Bunk, Kids Rooms
Super cool bunk bed idea #kids #child #bedroom
pallet bunk beds - be great for a bunk house
27 Fantastic Built In Bunk Bed Ideas for Kids Room from a Fairy Tales
Built in bunk beds! Suddenly redesigning my ideas for the second bedroom in my "dream home"...
Another neat bunk idea for the boys room
bunkbed idea - great for a co-ed bedroom! Gives each child their privacy!
bunk house "cabin" kids room.... Cute idea!
Idea: Top sealed off would be library/retreat...? Bottom would be room. Where would I put tree?>outside in SG. Top would have big window that I could get out of that led to the SG.>intricate/simple secret passage way.
Dream House, Girls Bedroom, Twin Beds, Bedrooms Idea, Girls Rooms, Girl Rooms, Kids Rooms, Cool Rooms, Dream Rooms
DREAM ROOM -C
Dream house
Cool Rooms | Cool teenage girls room idea
Perfect idea for a kids room
Teens Bedroom : Bedroom Enchanting Split Levels Room With Stairs Over Single Upholstery Bed And Small Closet Room Ideas In Twin Teenage Girl Bedroom Ideas Fancy Teenage Girl Bedroom Ideas Decor And Picture Interior Lovely Boy Girl Room Ideas : Picturesque Interior Teenage Decorating Ideas Boy Girl Shared Room. Boy And Girl Room Ideas. Boy And Girl Shared Room Ideas.
Marvelous Cool Rooms For Girls Brown Color Modern Design Ideas With Twin Bed Small Walk In Closet Floating Sitting Area
beautiful
Wedding Dressses, Gowns Dresses, Fashion, Style, The Dresses, Hair, Stunning Dresses, Lace Dresses, Lace Gowns
Stunning #dress #shoes #jewelry #lookbook #mydesigns4you #fashion #look #beauty #stylehaul #topfloor #topfloorboutique #jewellery #blue #red #purple #outfit #celebrity #style #sexy #lace
gorgeous #fashion #style #trend #women #girl #beautiful #design #dress #long #maxi $hair #hairstyle #white
Gorgeous lace dress... (12/18/2013) Women's Fashion: My Style (CTS)
Love the hair. Love the dress. Gorgeous.
Inspiring image sexy, style, fashion, fabulous, lace gown, catwalk, glamour, gorgeous, embelishments, fashion show #1152413 by korshun - Resolution 594x597px - Find the image to your taste
Holy Beautiful Gown #dresses, #fashion, #gorgeousdresses, #pinsland, https://apps.facebook.com/yangutu
Brave!!
Braves Cosplay, Halloween Costume, Red Hairs, Real Life, Merida Cosplay, Disney Princess, Merida Braves, Braves Costume, Costume Idea
Top 10 Halloween Costume Ideas
#Merida #Brave #Cosplay
Brave! real life
Brave cosplay. A Merida cosplay is another possibility...but I'd have to get some more red dye and maybe a wig...
Brave costume OMG! A Disney Princess I can dress up as.
Brave cosplay. I love her red hair <3 makes me wanna dye my hair red again :P
Merida (brave) Costume
.
Spaces Princesses, Beauty Lady, Character Inspiration, Faces W, Faces Pos, 5 Faces, Beauty Girls, Photo Idea, Art Pictures
space princess
Dress 1933 The Philadelphia Museum of Art
Evening Dresses, 1930S, Vintage Dresses, Silk Satin, Evening Gowns, Dresses 1933, 1930 S, Philadelphia Museums, Vintage Clothing
Woman's Evening Dress: Capelet, Belt and Slip Made in France, Europe c. 1933 Artist/maker unknown, French Ivory lace tulle with sequin embroidery, silk satin Currently not on view 1969-172-4a--d Gift of Mrs. Basil R. Beltran, 1969 The Philadelphia Museum of Art
1933 Dress evening gown: I know we can't get this vintage dress, but isn't it beautiful?
Vintage (1933) Silk, satin and lace/tulle evening gown from France
Evening Dress 1933 The Philadelphia Museum of Art
i love 1930s fashion! Evening Dress 1933
inspired wedding gown
You Can Haute, Lace Weddings Dresses, Couture Spring, Couture 2013, Elie Saab Spring, White Weddings Dresses, Weddings Dresss, Spring 2013, Haute Couture
Elie Saab Haute Couture Spring 2013
Elie Saab Spring Couture 2013
Elie-Saab-Spring-2013 black and white wedding dress.
lace wedding dress #justbczitsdif
Haute Couture 2013 | Elie Saab Haute Couture 2013 |
Titania - Rivendell Bridal
Fairies Weddings, Fantasy Dress, Medieval Weddings, Weddings Dresses Styles, Fairies Dresses, Weddings Dresss, The Dresses, Medieval Dresses, Fairies Tales
corseted celtic fairytale medieval wedding dress - stunning womens medieval wedding dresses. medieval dress gothic wedding dress medieval wedding dress, medieval wiccan custom wedding dresses, classic and authentic medieval wedding gowns, devil inspired medieval gothic dresses, breathtaking renaissance medieval style wedding dress, awesome renaissance medieval gothic wedding dress pagan, melisande a fantasy faery elvish medieval wedding, medieval renaissance wedding dresses design, ...
fairy wedding dresses | Gothic Fairy Dresses for Medieval Fairy Tale Wedding
The dress inspiration!
Fairy Tale Wedding Dresses | Fairy Wedding dress style: Titania
fantasy dresses
beautiful
Fairies Wraps, 35 00, Clothing, Diy'S Fairies, Fire Fairies, Fancy Fairies, Fairies Skirts, Costume, Wraps Skirts
Custom DIY Fairy Flow Skirt / Hip Belt - Designed by YOU - Build Your Own Fairy Skirt - Pick the colors and add ons and you put it together by PiecefulWorlds on Etsy
Goddess of Fire Fairy Wrap Skirt /One of a Kind Up-Cycled Festival Skirt / Yoga Skirt / Dance Skirt. $35.00, via Etsy.
Custom Made Fancy Flow Skirt - Designed by YOU Fancy Fairy Skirt / Crochet Skirt / Yoga / Dance / Beach Wear / Hip Belt by PiecefulWorlds on Etsy
I love this!!
Ooak Hippie, Hippie Happy
OOAK Hippy happy Beanie by jamiebishop3 on Etsy, $12.00
love the view
Paths, Trees, Place, Portlandoregon, The Secret Gardens, Japan Gardens, Entrance, Regions Parks, Portland Oregon
I've never seen/heard of this place .....have you ? Entrance to the Secret Garden, Portland, Oregon
forest, steps, path Entrance to the Secret Garden, Portland, Oregon , by architect41
"Entrance to the Secret Garden." Image composite by Gary Pope. (The trees are in Redwood Regional Park in Oakland, California, the stairs are in Rock City, Tennessee and Georgia, and the trees and flowers in the background are in Piedmont, California)
mysterious and beautiful
Fantasy, Magic The Gathering, Trees Homes, Magic Forests, Fairies Trees House, Art, Treehouses, Happy Halloween, Fairies Tales
WORLD OF FANTASY SUMMER CAMP! July 30-August 2, 2012 Ages 6 to 9 ~ 9am to 12pm ALL NEW PROJECTS!!! Fairies, Dragons & Gnomes Oh My! If you love all things fantasy, than this is the camp for you! Each artist will draw and paint all things magical and mysterious to their hearts content! Artists will use watercolor, chalk pastel, colored pencil and marker. All levels welcome! www.kidsstudiooff... Kids Studio of Fine Arts (Roseville, Ca) (916) 774-ARTS
Inspiring picture art, cuento, etherial, fairie, fairies, fairy tale. Resolution: 500x364 px. Find the picture to your taste!
Treehouse
magical forests | Magical forest | Art Stuff
Gorgeous fairy tree done for Magic the Gathering by Philip Straub
Fairy tree house
Tree Home
HAPPY HALLOWEEN 2010 to all the creatures that live in the Pixdaus Village tree - Pixdaus