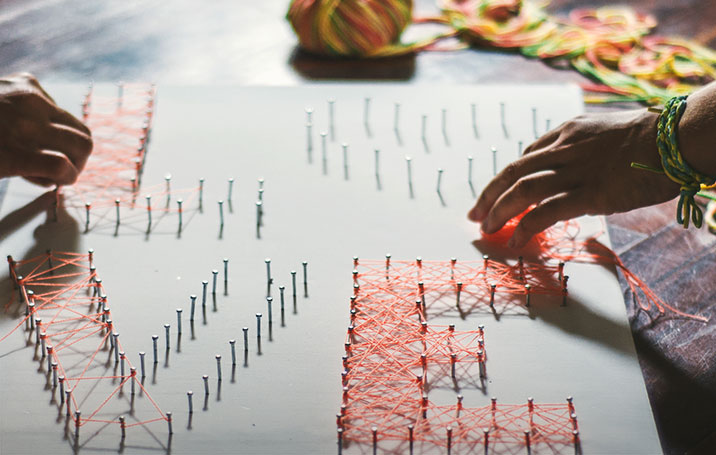 They used Pinterest to find new ways to DIY
Join Pinterest to find (and save!) all the things that inspire you.
50+
billion Pins
to explore
15
seconds to
sign up (free!)
DIY Clay Beads Collar
Diy Ideas, Polymerclay, Clay Ideas, Crafts Ideas, Clay Beads, Polymer Clay, Clay Tutorials, Diy Clay, Diy Projects
DIY Clay Beads Collar beads diy easy crafts diy ideas diy crafts do it yourself easy diy diy tips diy images do it yourself images diy photos diy pics easy diy craft ideas diy tutorial diy tutorials diy tutorial idea diy tutorial ideas clay
Polymer Clay Tutorial / Beads
DIY Clay Beads Collar DIY Projects
Polymer clay ideas.
DIY Clay Beads Collar DIY Projects | UsefulDIY.com
indulgy.com
Rickrack Rib
Rickrack Ribs, Knits Crochet, Week Stitches, Pretty Stitches, Knits Patterns, Ribs Stitches, Knits Stuff, Knitting Stitches, Knits Stitches
Rickrack Rib knitting pattern
Rickrack Rib | The Weekly Stitch
Rickrack Rib Stitch
Rickrack Rib (+ afspeellijst) #knitting stitch
This is a pretty stitch.

by iknitwithcatfur
Interesting stitch
Neck Warmers, Interesting Stitches, Book 101, Alpacas Yarns, 101 Design, Crosses Stitches, Cross Stitches, Stitch Patterns, Knits Stitches
Interesting stitch. gorgeous misti alpaca yarn in 'havasu'. From the book, "101 Designer One-Skein Wonders".
A beautiful knitting stitch Cross Stitch Neck Warmer by katilimade, via Flickr
Cross Stitch Neck Warmer | Flickr - Photo Sharing! (As per Katie's Flicker comment: Cross Stitch Pattern Scarf from the book "101 Designer One-Skein Wonders" with Misti Alpaca Hand Painted Chunky in color way Havasu).
Interesting stitch - Cross Stitch from book 101 Designer One-Skein Wonders

by katilimade
Crocheting Over Your Ends
Idea, Lion Branding Yarns, Knits Crochet, Lionbrand Yarns, Crochet Tutorials, Basic Crochet Stitches, Branding Notebooks, Crochet Knits, Yarns Blog
Here's a handy little crochet tutorial for beginners wanting to learn how to crochet over their ends. Via the LionBrand Yarn Blog.
Crocheting Over Your Ends tutorial by Lion Brand Yarn
How to Crochet Over Your Ends | Lion Brand Notebook
Excellent idea
» Tutorials
blog.lionbrand.com
provides link to actual instructions for making a scarf with a comb.
Knits Tutorials, Dollar Stores, Loom Knits, Fingers Knits, Scarfs Knits, Knits Loom, Combs Knits, Knits Needle, Hair Combs
Scarf Knit With Comb. Great idea for my niece who already knows how to finger knit.
Scarf Knit With Comb ( HAIR Comb )
Alot Cheaper than using the knifty knitter!! Knit a scarf on a dollar store plastic comb! Perfect for those like me that cant get the hang of knitting using knitting needles.
Loom knitting using a comb. #knitting #tutorial - hahahahaha
DIY; Want to knit but can't get the hang of knitting needles? This is a neat trick: use an oversized comb as a knitting loom, which is a lot like finger knitting. Over at Cut Out + Keep, user Zydonia tells you how to do it. You can knit a scarf or other small project this way!  The bigger the Comb the better and easier. Elvi Tip: use a Crochet hook instead of a toothfloss/pick to yarn over for faster result ;-) Also Great for Kids Fine Motorskills
Dollar Store Crafts » Blog Archive » Knit a Scarf with a Comb
dollarstorecrafts.com
the zig zag rib
Zig Zag, Stitches Patterns, Crafts Patterns, Knits Patterns, Rick Racks, Scarfs Patterns, Zag Ribs, Knits Stitches, Purl Bee
Ric Rac scarf knitting pattern. Rick rack. zig zag. knit stitch how to.
the zig zag rib. Purl bee scarf pattern
the zig zag rib tutorial—and a link to The Purl Bee, a web site with lots of great free knitting patterns
Rick Rack Scarf - the purl bee zig zag rib need to learn
How to make a zig zag rib stitch pattern. The Purl Bee
Rick Rack scarf with Zig Zag stitch Whit's Knits: Rick Rack Scarf - The Purl Bee - Knitting Crochet Sewing Embroidery Crafts Patterns and Ideas!
404 Not Found
purlbee.com
punto con las manos
Hands Knits, Knits Tutorials, Arm Knitting, Knits Scarves, Lang Yarns, Fingers Knits, Arm Knits, Hands Crochet, Knits Blankets
Armstricken mit LANG YARNS "MAXIMA"/ arm knitting
Armstricken mit LANG YARNS "MAXIMA" hand knitting
Arm knitting tutorial
Hand Crochet! Cant wait to try this.
arm knitting! blanket?
finger knitting tutorial video

by LANGYARNS