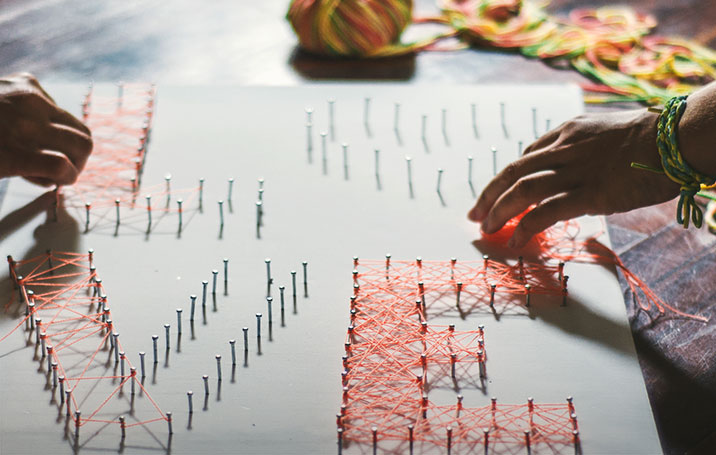 They used Pinterest to find new ways to DIY
Join Pinterest to find all the things that inspire you.
50+
billion Pins
to explore
15
seconds to
sign up (free!)
Owl mittens
Crochet Crochet, Mittens Patterns, Owl Charts, Aa Knits, Graphs Owl, Crochet Owl, Owl Mittens, Knits Projects, Owl Patterns
Owl pattern
No instructions for mittens, just graphed owl chart to add to your own mitten pattern.
ruutufillari
Ruutufillari Mittens, Knits Artemisadorn, Vanter Mittens Glow, Bicykel Ruutufillari, Mittens Knits
Bicykel ruutufillari
ruutufillari #mittens #knitting #artemisadornments
How to Work Duplicate Stitch | Video Tutorial by Jessica Joy // embroider on top of knit stitches
Knitting Tip: Add Custom Embroidery to Knits with Duplicate Stitch #knitting #embroidery #stitches #mending
Inspiring Knit Crochet Patterns and Tutorials
Add Custom, Knits Tutorials, Knits Crochet, To Work, Embroidery Stitches, Crochet Patterns, Duplic Stitches, Custom Embroidery, Knits Stitches
Fair Isle Knitting Chart with Deer, Snowflake and Pine Trees #crafts #needlework
Isles Scarfs, Fair Isles Knits Patterns, Trees Crafts, Fair Isles Patterns, Knits Charts, Fairisl, Fair Isle Knitting, Color Charts, Scarfs Patterns
JACQUARD fair isle pattern | Tricksy Knitter by Megan Goodacre: Fair Isle Scarf Pattern
Fair Isle knitting pattern
Fair Isle Scarf Pattern knitting color chart, but how cool would this be in a mosaic?
/Moose_Chart_medium.jpg
Libraries, Knits Crochet, Moose Charts, Elgjpg 170169, Knits Charts, Knits Pattern, Beads, Charts Pattern, Laurak Nelson
Ravelry: Moose Chart pattern by Laurak Nelson
Holy Cowl
Lace Pattern, Crafts Ideas, Knits Cowls, Crochet, Knits Pattern, Organic Cowls, Knits Stuff, Holy Cowls, Scarf Pattern
Knit cowl
Holy Cowl!
Seed stitch tutorial
Knits Idea, Fiber Flux Adventure, Complete Oppositional, Seed Stitch, Crafty Things, Knits Seeds Stitches, Crafts Friends, Stitches Tutorials, Crochet Knits
knit seed stitch tutorial
How to crochet edging on flannel blankets
Flannels Blankets, Knits Crochet, Flannels Receiving, Crochet Border, Edge Tutorials, Crochet Edge, Crochet Knits, Receiving Blankets, Purl Bees
Flannel Receiving Blankets - the purl bee How to Crochet edging on Flannel Blankets
Flannel Receiving Blankets - the purl bee - Tutorial on how to crochet border around a flannel blanket.
Keep warm & cute! How to crochet an edging on flannel blankets. Tutorial for Crochet, Knitting, Crafts.....Keka❤❤❤
Crocheted edging for Flannel Receiving Blankets - The Purl Bee - Knitting Crochet Sewing Embroidery Crafts Patterns and Ideas!
Flannel Receiving Blankets - crochet edge tutorial
Striped hats
Knits Crochet, Crafts Patterns, Sewing Crafts, Hats Tutorials, Knits Hats Patterns, Merino Hats, Whit Knits, Purl Bees, Stripes Hats
Whit's Knits: Super Soft Merino Hats for Everyone! - Knitting Crochet Sewing Crafts Patterns and Ideas! - the purl bee
Knitted hat pattern (all sizes) and color inspiration
Free knitting patterns
Lace Scarf, Free Pattern, Knits Scarves, Free Knits, Knits Patterns, Lace Knits, Silk Scarves, Scarfs Patterns, Knits Scarfs
Finished Measurements: 6 1/2 x 86 inches Materials 1 ball of Colinette Parisienne in 163 Vincent's Apron 2 balls of Colinette Tao Silk in 163 Vincent's Apron Straight knitting needles, US size 9 Gauge Not super important... Abbreviations rs: Right Side ws: Wrong Side K: knit P: purl K2TOG: knit 2 stitches together, as if they were one. PSSO: pass slipped stitch over. YO: yarn-over Directions Holding 1 strand each of the Tao Silk and the Parisienne together, CO 28 sts Row 1(rs): K2, *K3, YO, SL 1, K2TOG, PSSO, YO; repeat from * to last 2 sts, K2 Row 2 & 4 (ws): Purl Row 3: K2, *YO, SL 1, K2TOG, PSSO, YO, K3; repeat from * to last 2 sts, K2 Repeat rows 1-4 until scarf measures about 85 inches unblocked (or until you only have enough yarn for 1 more row). BO all stitches. We hope you enjoy this free knitting pattern. This free pattern and the associated photographs are only for personal non-commercial use and are not for resale.
Super-easy lace knit scarf pattern
Free knitting patterns - lace scarf
i hate knitting scarves, but this one is beautiful.
free knit scarf pattern