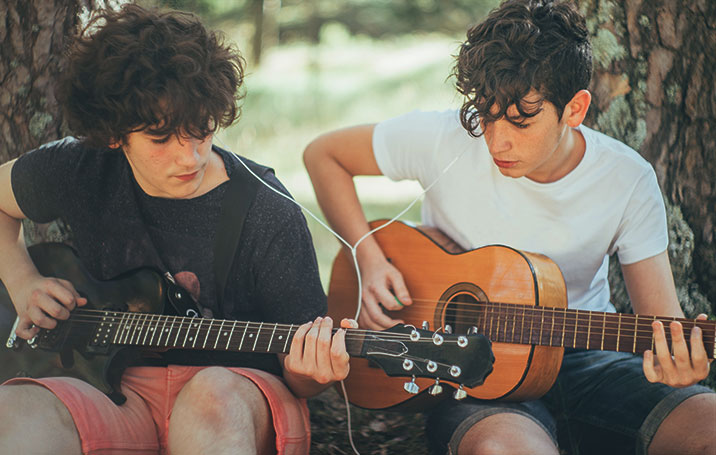 They used Pinterest to find new songs to learn
Join Pinterest to find all the things that inspire you.
50+
billion Pins
to explore
15
seconds to
sign up (free!)
fiddle-dee-dee.
Full Skirts, Scarlett O' Hara, Southern Girls, Book, Costume, Hollywood Fashion, Scarlett Ohara, The Dresses, Favorite Movie
Southern Belle Scarlett Ohara: Vivian Leigh
Gone with the Wind. i have the dress!
A real Southern Belle, Scarlett O Hara
Favorite movie and an even better book!
Crinoline inspired "Gone With The Wind" movie costume with fitted waistline and full skirt.
.I love this dress! Scarlet is a role model to every Southern girl!
.
Colors Tones, Violin, Music Instruments, Hands, Art, Cello, The Dresses, Photography Props, Green Dresses
Love the dress and the violin...
Photo prop idea. #Photography #Prop #Music #Instrument #Violin #Art
Color tones and elegance
Violin or fiddle? Depends on the player. In Lily's hands it was more than a violin...it was the voice of a goddess. Witness its song inThe Lightness of Dust, the new novel by M.L. Weaver. #book #novel #violin #goddess
violin with green dress... @Bethany Anderson
Civil War Quilts - Block 1
Quiltblocks, Civil Wars, War Blocks, Brackman Civil, Barbara Brackman, Quilts Civil War, Civil War Quilts Blocks, 4X4 Squares, Quilts Quilts Along
Civil War block
4 COLORS - 4X4 SQUARES - Civil War Quilts - Block 1 Blocks made to follow along with Barbara Brackman's Civil War Quilt's quilt-along
I like the old photos of immigrants sailing past Lady Liberty. I also really like the fact that they didn't come here looking for a free handout, for the government to take care of them, nor did they come here to try and make our country like the one they were leaving! They also did not expect us to print materials, road signs, etc., in their language. They learned English!! And, they were proud to become United States of America citizens.
Ellisisland, Cities, Immigrants Families, Statues Of Liberty, Ellis Island, New York, Newyork, Photo, Ellie Islands
Immigrant Family On Ellis Island ~ New York City how my family started here
Immigration: Immigrant family arriving at Ellis Island around 1930. #EllisIsland #history
Rear view of an immigrant family on Ellis Island looking across New York Harbor at the Statue of Liberty, 1930s. (Photo by FPG/Getty Images)
.
Two Sisters, Vintage Photos, Little Women, Group Boards, Vintage Photographers, Sisters Sisters, Vintage Hats, Vintage Lady, Vintage Beautiful
sisters, 1900 they will not let me like anything! just got of another board(s) following me same problem. THIS IS A GROUP BOARD
vintage ladies
Vintage hats
sisters #sisters #vintage_photos
Vintage photograph of long haired women
Vintage photo of young women
two sisters ca.1900
vintage beauties polyvore
..back then, genteel women, young and old, did not 'gild the lily', i.e. wear makeup or such fripperies... however, the one thing they were allowed to take pride in was their hair... remember Jo, in "Little Women", who cuts off and sells her "one true beauty"... ...so simple. Sisters
.
Ackermann Repository, Women Fashion 1800S, January 1817, Fashion Plates, Google Search, Fashion Cities, Austen Era, Regency Bonnets, Vintage Image
1817- Ackermann's Repository Series2 Vol 3 - January Issue Parisian Head Dresses
Images of Stovepipe regency era bonnets - Google Search
victorian bonnets 1800s | Fashion plate of Regency bonnets.
.
Trim Coats, Walks Dresses, Vintage Fashion, Fashion Plates, Regency Fashion, History Fashion, Collars, Full Sleeve, Mornings Walks
Regency Fashion Plate
This fashion plate from January 1813 features a morning walking dress and pelisse trimmed with luxurious ermine.
Fur trim coat
"A round robe of Cambric muslin, with long full sleeves, and simple short collar, confined in the center of the throat with a stud or broach; the same fastening the dress at the wrist. A robe pelisse of bright morone velvet formed quite plain, simply meeting in the front, with rounded collar; trimmed entirely round with spotted ermine, and confined at the bottom of the waist with a ribband of corresponding shades, tied in front. A Flora cap, ornamented with ribband and small flower on the left
.
Dame Des, Mode 1811, Journals Of, Travel Journals, Reading Journals, Blue Rose, Of Fashion, Walks In, Lady Reading
Maggie would spend quite a bit of time reading her travel journals! (The lady engrossed in her book is from Journal des Dames et des Modes, 1811).
Regency lady reading. Journal des Dames et des Modes (1811). There were a limited number of genteel occupations appropriate for the Regency lady. Reading was one such unexceptional pastime - provided the book wasn't one of those shocking Minerva press novels - and so much the better if it could be combined with a healthy walk in the countryside, like the lady pictured. The lady is engrossed in her book and her walk has been interrupted.
Blue Rose Romance - Collette Cameron Author: ROMANCE WRITERS' WEEKLY-WHAT DO YOU MEAN MY WRITING NEEDS HELP? http://blueroseromance.com
.
Silk Ornaments, Fashion Plates, Regency Fashion, Jacconet Muslin, La Belle, 1813 La, Demi Training, Belle Assemble, Floss Silk
Regency Ramble: Regency Fashion ~ May
1813 La Belle Assemblee. Frock of plain jacconet muslin, with a demi train; body of amber and white shot sarsnet, made in the same manner as last month, except that the waist is a little shorter; the sleeve, which is of a jacconet muslin, is very full, and is looped up with a floss silk ornament in the shape of a heart ..
Mothers
The Women, Little Girls, Mothers Day, Beautiful, Children, Daughters, Inner Voice, Sweet Girls, Mom
'Thinking of Ways to Harm Her': New Findings on Timing and Range of Maternal Mental IllnessBy Pam Belluck, The New York Times Postpartum depression isn't always postpartum. It isn't even always depression. A fast-growing body of research is changing the very definition of maternal mental illness, showing that it is more common and varied than previously thought. Scientists say new findings contradict the longstanding view that symptoms begin only within a few weeks after childbirth. In fact, depression often begins during pregnancy, researchers say, and can develop any time in the first year after a baby is born. Recent studies also show that the range of disorders women face is wider than previously thought. In the year after giving birth, studies suggest, at least one in eight and as many as one in five women develop symptoms of depression, anxiety, bipolar disorder, obsessive-compulsive disorder or a combination. In addition, predicting who might develop these illnesses is difficult, scientists say. While studies are revealing clues as to who is most vulnerable, there are often cases that appear to come out of nowhere. As public awareness has grown, often spiking after a mother kills herself or herbaby, a dozen states, including Illinois, New Jersey, Texas and Virginia, have passed laws encouraging screening, education and treatment, and New York and others are considering action. The federal Affordable Care Act contains provisionsto increase research, diagnosis and care for maternal mental illness. Sometimes cases are mild, resolving themselves without treatment. But a largeanalysis of 30 studies estimated that about a fifth of women had an episode of depression in the year after giving birth, about half of them with serious symptoms. Jeanne Marie Johnson, 35, of Portland, Ore., had a happy pregnancy, but she began having visions right after her daughter, Pearl, was born. She said in an interview that she imagined suffocating her while breast-feeding, throwing her in front of a bus, or "slamming her against a wall." She said she was horrified at the idea of hurting her baby, and did not carry out the acts she envisioned. Yet while overlooking a shopping mall skating rink, "I pictured myself leaning over the bridge and letting her fall and bust like a watermelon," she said. "I was actively thinking of ways to harm her." Most women experiencing such "intrusive thoughts," as experts call them, never hurt their children. Some take extreme measures to protect their babies. One woman "scooched downstairs on her butt for months because she'd imagined throwing her baby downstairs," said Wendy N. Davis, the executive director of Postpartum Support International. But studies indicate that maternal stress may undermine women's ability to bond with or care for their children, and that children's emotional and cognitive health may suffer as a result. A complex interplay of genes, stress and hormones causes maternal mental illness, scientists say. "Hormones go up more than a hundredfold," said Dr. Margaret Spinelli, the director of the Women's Program in Columbia University's psychiatry department. After birth, hormones plummet, a roller coaster that can "disrupt brain chemistry," she said. Some women are genetically predisposed to react intensely to hormone changes. And some are more sensitive to stresses like difficulties with family, finances, childbirth or parenting. Maternal mental illness is not new. It was recognized as early as the fifth century B.C., when Hippocrates proposed that fluid from the uterus could flow to the head after childbirth and cause delirium. In the Middle Ages, mothers with such symptoms were viewed as witches or victims of witchcraft. In the 1920s, one Freudian-inspired theory attributed these mood disorders to frigidity, suppressed homosexuality or incestuous urges. Scientific understanding has come a long way and continues to evolve. The Diagnostic and Statistical Manual of Mental Disorders, the established reference for psychiatric illnesses, first described these symptoms in 1994 as "major depressive disorder" beginning within four weeks of childbirth. The latest manual, published last year, said symptoms often include "severe anxiety and even panic attacks," and estimated that half of what is considered major postpartum depression actually begins during pregnancy. Depression in pregnancy can be missed because symptoms like trouble sleeping and moodiness also occur in pregnant women who are not depressed. And doctors have historically been taught in medical school that "women don't get depressed during pregnancy because they are happy," said Dr. Katherine L. Wisner, a professor of psychiatry and obstetrics at Northwestern University. In a 2013 study, the largest screening of women for postpartum depression to date, Dr. Wisner and colleagues found that 14 percent of 10,000 women had depression four to six weeks after birth, but that for a third of them it actually started during pregnancy. Other research indicated that symptoms could emerge any time in the first year. Another 2013 study assessed 461 women at two weeks and six months postpartum, and it found each time that 11 percent had obsessive-compulsive symptoms, about four times the rate for the general population of women. But it was "not the same 11 percent," said an author, Dr. Dana Gossett, the chief of gynecology and obstetrics at Northwestern. "Half got better by six months and another half developed O.C.D." Research also shows that women can have several psychiatric disorders at once. In Dr. Wisner's study, two-thirds of the women with depression also exhibited anxiety; nearly a quarter had bipolar disorder. Tina Duepner, 34, of DeSoto, Mo., had symptoms ranging from racing thoughts to suicidal feelings. She said she heard God's voice from a television, and other voices warning that her son, Landon, would be stolen from her. She said stress in her life included a previous miscarriage, premature labor requiring bed rest, and a cesarean section. Ms. Duepner said she was treated successfully, although she required three short psychiatric hospitalizations. She wanted more children, but said doctors advised against it so she had her tubes tied. Previous depression puts women at greatest risk of maternal mental illness. Having immediate relatives with bipolar disorder also increases vulnerability. Ms. Duepner did not have prior depression. But her mother, Marie Carr, has bipolar disorder, and both maternal grandparents had psychiatric illnesses, Ms. Carr said. Financial strain, isolation, breast-feeding difficulties or unplanned pregnancy can also increase risk. The Second Son Emily Guillermo, 23, of Horizon City, Tex., had a smooth, joyous experience with her first child, even though her husband spent three months deployed with the Army in Iraq and watched Christopher's birth on Skype. "It felt very natural to become a mother to him," she said. Then, despite using contraception, she conceived again. Overwhelmed, she said that she and her husband agreed to abort but reconsidered after learning she was 20 weeks pregnant. She said she descended into depression during pregnancy, feeling "like my body had been invaded." When Benjamin was born, six weeks premature, Ms. Guillermo recalled thinking, "You're not supposed to be mine. You were not supposed to be made." She had loved breast-feeding Christopher, but pumped milk for Benjamin. "I could not stand to have him at my chest," she said. "I was like a robot. I changed him, I fed him, I burped him. Because I never held him, he started to get a flat head." She fantasized about abandoning Benjamin at a fire department, or faking an accident. She imagined driving at high speed into a wall, sparing Christopher's life by intentionally wrecking the side of the car where Benjamin was strapped into a car seat. Postpartum disorders can involve more intense visions than mental illnesses unrelated to childbirth, said Dr. Wisner. Terrified she might hurt Benjamin, Ms. Guillermo said she thought about finding a family to adopt him. One night, "I just blurted out, 'I don't love Benjamin.' " She said her husband, stunned, assured her they would get her help, and said, "Until then, I will love him enough for both of us." Her first medication failed. Once, she forcibly shut Benjamin's jaw when feeding him. During several baths, "I held the water over his face until he started to flail, he could not breathe," she said. "I was hearing a voice saying, 'Do it and he will stop crying. He's not going to wake Christopher from his nap.' " Something would make her stop and put him in his crib. But for a few seconds, she could not remember "if I had killed him, or if he had drowned, or what I had done," she said. Benjamin became frightened. "When I'd walk into his room, he'd burst into tears." Suicidal, she tried to jump from a car as her husband drove, their sons in back, but she said he stopped her, telling her: "You will love Benjamin. We just need to get you on the right medication." The third drug combination she tried worked when Benjamin was 9 months old. She started feeling love toward him, and with Postpartum Support International's help, worked to improve their relationship. She said his development had regressed. Instead of distinct cries for hunger or sleepiness, he reverted to "one hysterical cry because he had grown accustomed to me taking my time to meet his needs." Benjamin is now 21 months old, and his development is back on track. "He still has a long way to go with me," she said. "I'm his mother now, and he knows that, and I think Benny loves me now too." State Legislatures Respond As more states pass laws relating to postpartum depression, the hope is to catch problems early. Symptoms are frequently treatable, though finding effective medication or therapy can take time. Only New Jersey requires screening under a 2006 law championed by Mary Jo Codey, then the state's first lady, who had had postpartum depression. That mandate has drawn mixed reviews. A study in New Jersey of poor women on Medicaid found that required screening has not resulted in more women being treated. Katy Kozhimannil, a University of Minnesota public health professor and an author of the study, said the law educated pediatricians and obstetricians, but did not compensate them for screening. There are also not enough treatment options, Dr. Kozhimannil said. "If a woman comes with a baby, and it's a place treating people with substance abuse or severe mental illness, she may be uncomfortable." In New York, State Senator Liz Krueger has introduced a bill to encourage screening and treatment, a proposal that will most likely pass and be approved by Gov. Andrew M. Cuomo, who vetoed a 2013 bill on technical grounds but encouraged the revised legislation. Jeanne Marie Johnson, in Oregon, may have benefited from state laws encouraging awareness of postpartum mental illness. At her daughter, Pearl's, two-week pediatric checkup, Ms. Johnson received a questionnaire. Her answers raised red flags and were forwarded to her midwife and a social worker. Ms. Johnson also called a number for a hotline the hospital gave her after a panic attack. She saw a social worker, but resisted taking medication for months. Afraid to be alone with Pearl, she would insist her mother come over when her husband was out. "I called the doctor hotline constantly," with nonexistent concerns, "because if I was talking on the phone I wouldn't do anything harmful." She said she felt suicidal and escaped emotionally by drinking wine or gin while taking bubble baths. Finally, after a nerve-racking emotional explosion, she agreed to take medication. That, combined with a support group and Pearl's lessening colic, helped. Until Pearl was 4 months old, "I did love her but I didn't like her," Ms. Johnson confessed. Now, her relationship with 2-year-old Pearl is loving and untroubled, said Ms. Johnson, who sees a therapist, partly to grapple with three recent miscarriages, but no longer takes medication. "I don't know if I'll need it if I have a baby again," she said. "There are still times at the end of the day where I don't have energy left. But even at really big stressful times, I haven't felt panicky feelings or intrusive thoughts. It's just a whole world of difference." For more mental health resources, Click Here to access the Serious Mental Illness Blog.Click Here to access original SMI Blog content
For my sweet girl
The way we talk to our children becomes their inner voice. Choose your words carefully.
I love this picture... beautiful mother daughter moment
"Daughter, I'm always here. Can you feel my touch? I'm the beat in your heart, That loves you so much!" -- this is the perfect MOTHER'S DAY photo. Makes me feel sniffly, thinking of my own mama, who died in 2003.
17 Things Girls Need from their Mothers I love this! I'm reading it with my 5 month old daughter asleep in my arms and am tearing up. I love being her mom and look forward to all the memories ahead. These are good things to remember as she grows up.
Claimed online to be a pm.... Maybe mother is dead - the husband killed his wife because she was having an affair, and to make sure her family didn't realise he had killed her, he arranged to have her photographed cuddling her daughter. The little girl is laughing because, even though she's being cuddled by her dead mother, her dad told her the joke 'what do you call a fly with no wings'.
.
Vintage Woman, Victorian Art, Bedrooms Window, Shabby Chic, Vintage Photographers, Lace Curtains, Paste Life, Victorian Lady, Vintagephoto
past life.
vintagephoto: Leonard Misonne, Mme Misonne at the window, photograph, 1910
#vintage, #photograph
Victorian lady looks out a beautiful window & lace curtains.................
big open bedroom window
There is such a depth of elegance and almost dreamy beauty in this wonderful Edwardian image.............. (Léonard Misonne, Madame Misonne, ca 1910). #Edwardian #vintage #woman #house #dress #beautiful #1910s
I Heart Shabby Chic: Fit for a Shabby Chic Princess 2011
Victorian art
.
1920 S, Roaring 20 S, Roaring Twenties, Dancers, Style, Bees Jackson, Flappers Girls, Roaring 20S, 1920S
Bright, Young, Roaring 20s: Bee Jackson
The Flapper Girl of the Roaring Twenties: Free from restraints of the past, Flappers smoked, drank and danced. They wore skirts that showed their legs, stockings rolled, and their lips rouged.
Bee Jackson, 1920s From the book: World champion Charleston dancer Bee Jackson wears a beaded and fringed dance dress, popular at the time, as the fringes would shimmer and shake and draw attention to movement. This dress is shorter than the typical styles of the era. Paste jewellery known as slave bracelets was often worn high up on the arm as well as the wrist. Scanned from Decades of Fashion by Harriet Wors
the flappers of the 1920s | ... and fashion magazines the 1920 s flapper style is back into vogue