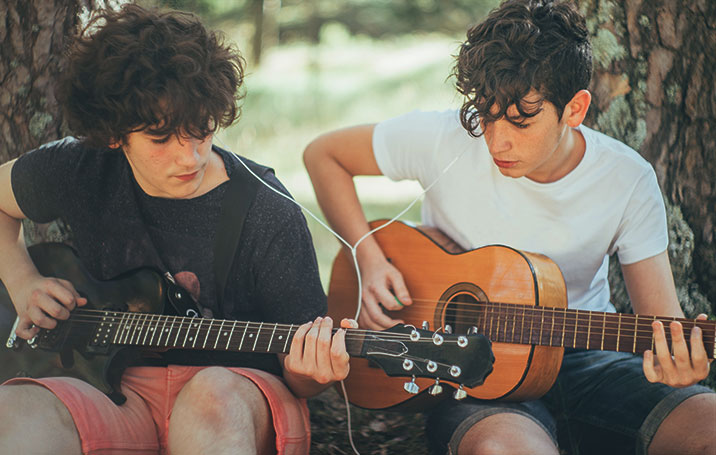 They used Pinterest to find new songs to learn
Join Pinterest to find (and save!) all the things that inspire you.
50+
billion Pins
to explore
15
seconds to
sign up (free!)
"I Scream" Sandwitch Recipe for Halloween
Scream Sandwitch, Kids Parties, Witch Hats, Ice Cream Sandwiches, Halloween Recipes, Halloween Treats, Halloween Food, Halloween Cakes, Icecream
witches hat icecream
Bewitching Ice Cream Sandwich on Martha Stewart, Halloween Sweets, halloween, halloween treats, witch, ice cream, ice cream sandwich, ice cream sand-witch, witch hat
Ice Cream "I Scream" Sandwitch Recipe for Halloween #halloween #recipe #recipes #witch #sandwich #food #great #kids #party #ideas #snacks #dessert #desserts #cool #fun
Halloween Cakes and Dessert Recipes I Scream Sandwitches - Be sure to eat quickly; wicked witches have a habit of melting -- especially these.
bridal shower
Shower Ideas, Pink Cupcake, Wedding Shower, Cupcakes Liner, Lace Cupcakes, Wedding Cupcakes, Bridal Shower Cupcakes, Cupcakes Holders, Cupcakes Wrappers
Love the lace cupcake wrapper! Bridal shower idea
Wedding Cupcakes. I love the idea of lace cupcake liners.
Lace Cupcake holders with romantic pink frosting. Bridal Shower idea :)
lace cupcake -wedding shower ideas
Pink cupcake in lace cupcake holder!
Bridal shower cupcakes, I love the lace cupcake holder! so cute.
Candy Bar!
Ideas, Candybar, Candy Buffet, Candy Table, Colors, Sweet Treats, Orange Candy, Candy Bar, Orange Parties
#color #orange #sweet treats in orange
Orange candy buffet, love the color theme ideas...
candybar with wedding colors
Candy table in color scheme
Orange Party.... Pick a color and go with it. We did. For our November teachers' luncheon, we chose orange. Parents were asked to bring in loads of treats, especially orange colors. (They were able to score candy at 50-75% off after Halloween.) We then set up a "candy bar". Nothing makes a teacher smile like candy!
Orange Candy Buffet #candy #bar #table | http://ilovecolorfulcandy952.blogspot.com
chanel cupcakes
Cakes Cupcakes Desserts, Coco Chanel Cupcakes, Cakes Cupcakes Cookies, Cupcakes Cakepops Cookies, Cups Cakes, Cupcakes Coco Chanel, Cupcakes Rosa-Choqu, Chanel Cakes, Cupcakes Fashionablefood
chanel cakes. Oh My Gosh.
Coco Chanel cupcakes
.
Cakes Truffles, Colors Combos, Cakes Pop, Cake Ball, Tiffany Blue, Bridal Shower, Redvelvet, Cakes Ball, Red Velvet Cakes
Tiffany Blue Red Velvet Cake Balls... #tiffany #redvelvet #cakeball #tiffany's
Red velvet cake balls dipped in Tiffany blue white chocolate. No recipe and already easy to make anyways but a cool color combo.
Red Velvet Cake Truffles- cake balls (like cake pops)
Tiffany blue red velvet cake balls. Tiffany's themed bridal shower
Tiffany blue red velvet cake balls. SOOO DELICIOUS!! Obsessed with cake pops!!
.
Tiffany Cakes, Idea, Tiffany Box, Minis Cakes, Cupcakes, Petite Four, Tiffany Blue, Tiffanyblue, Bridal Shower
Tiffany box mini cakes. Cutest thing ever! BRIDAL SHOWER
Mini "Tiffany Box" cakes, cute idea for a bridal shower. #food #cupcakes
Mini-Cakes in the shape of a Tiffany Box- perfect petit fours :)
Tiffany Theme Party Tiffany blue theme wedding, baby shower and bridal shower ideas #tiffanyblue
Mini "Tiffany Box" cakes, cute idea for a bridal shower. - I have a recipe for tiffany blue punch... Theme???
PERFECT. Cute little tiffany cakes ❤ Our colors are tiffany blue & ivory. I know these are probably meant for the bridal shower or something but I like these for the reception.
.
Yummy Treatz, Cookies Watermelon, Idea, Recipe, Sweet Treats, Watermelon Sugar Cookies, Food Treats, Watermelon Cookies, Watermelon Slices
now this is a watermelon slice I would eat...
Watermelon Flavored Sugar Cookies. Recipe
Watermelon Sugar Cookies love this idea great for a picnic
WATERMELON SUGAR COOKIES- Watermelon Cookies printable version Sugar Cookie Dough 3 3/4 cups all purpose flour 1 teaspoon baking powder 1/2 teaspoon salt 1 cup cold unsalted butter, cut into 1/2 tablespoon slices 1 1/2 cups granulated sugar 2 eggs 2 teaspoon vanilla extract 6 drops red food coloring 1 cup miniature semi sweet morsels Glaze 1 1/2 cups powdered sugar, sifted 2-3 tablespoons milk green paste food coloring OR 15-20 drops green food coloring
.
Pre Scoop, Ice Cream Scoop, Birthday Parties, Sticks, Parties Ideas, Smart Ideas, Wooden Spoons, Icecream, Kid
What a great, smart idea for birthday parties. Pre-scoop your ice cream, insert a small wooden spoon, roll in sprinkles, refreeze. When it's party time, it's ready! (for small kids might want to include a dixe cup...)
Martha, you think of everything! Ice Cream Scoop on a stick. Great birthday party idea.
what a great, smart idea for birthday parties. pre- scoop your ice cream, insert a small wooden spoon, roll in sprinkles, refreeze. super cute idea
Ice Cream Scoop on a Stick- What a great, smart idea for birthday parties. Pre-scoop your ice cream, insert a small wooden spoon, roll in sprinkles, refreeze. When it's party time, it's ready!
What a great, smart idea for birthday parties. Pre-scoop your ice cream, insert a small wooden spoon, roll in sprinkles, refreeze.... Better yet use homemade icecream... YUM!!
watermelon ice cream pie -a fun summer treat! #WhatTheHack
Watermelon Ice Cream Cake - Summer Desserts Recipes - Redbook
Fun Summer Dessert: Watermelon Pie Sherbet and mint chocolate chips
watermelon cake The best part…watermelon cake was super simple to make! Here's what I did! Ingredients: - Lime Sherbet - Vanilla ice cream or Pineapple sherbet - Raspberry sherbet… - Mini chocolate chips Directions: 1. For each flavor, you'll let the sherbet/ice cream soften for a few minutes before shaping. The red sherbet should be mixed with the mini choco chips.
Watermelon ice cream pie! Made using sherbert ice cream and chocolate chips! What a great summer dessert!
Watermelon Pie ~ made this June 2013. Wish I could say mine was as perfect as this. I couldn't find lime sorbet anywhere so used vanilla icecream and colored it. Suggestions: don't bother lining the pan. That's where things got messy for me. Work FAST. I used raspberry sorbet mixed with mini chocolate chips. I sliced pieces (looked much better that way) and everyone knew this was "watermelon." Reviews? Delicious!!
Cream Pies, Chocolates Chips, Summer Desserts, Ice Cream Cakes, Watermelon Pies, Watermelon Ice Cream, Watermelon Cakes, Icecream, Summer Treats
.
Fun Recipes, Sweet Treats, Summer Parties, Tasti Recipes, May 5, Ice Pop, Popsiclesoh Yeah, Margaritas Popsiclesoh, Hot Summer
Margarita popsicles. brilliant....fun for a Summer party or Cinco de Mayo:)
DIY #lemonade ice #popsicles for your hot #summer party #NCSMarket
margarita ice pops
sweet treat
Here's a Valentine treat! Heart shaped macarons with berries!
Adorable Valentines Day ideas
This Pin was discovered by Lucy Elenor. Discover (and save!) your own Pins on Pinterest. | See more about raspberry cream, valentines day food and cookie sandwiches.
raspberry macaroon hearts #valentinesday
pink raspberry macarons #valentinesday
Valentines Day Macarons with Raspberry Cream and Fresh Raspberries - Pretty in pink - Hearts - Love - Desserts and sweets.
Desserts, Valentines Day Food, Heart Cookies, Valentines Day Ideas, Macaroon, Valentinesday, Valentines Treats, Raspberries, Macaroons
Macaron cake ! ❤
French Pastries, Butter Cake, Vanilla Cake, Valentine Day, Valentine Cake, Heart Shape, Pink Heart, Heart Cake, Strawberries Cake
Strawberry cake with heart shaped macarons
Splendidly pretty Fluffy Vanilla Cake with Balsamic Strawberry Butter Icing and Pink Heart Macarons. So perfect for Valentine's Day!!! #cake #macarons #cookies #pink #decorated #food #dessert #baking #beautiful #wedding #heart #Valentines #Day
Such a chic, invitingly fantastic flavour combo: Balsamic Strawberry Butter Cake with heart shaped Macarons. #cake #food #pink #Valentines #French #pastry #dessert #hearts #macarons #MissKL and | http://dessert635643.blogspot.com
valentine, valentines, valentines day, valentine cake, valentines day cake, cake, heart cake, heart, hearts, heart macaroon, heart french macaroon, pink, love, love cake