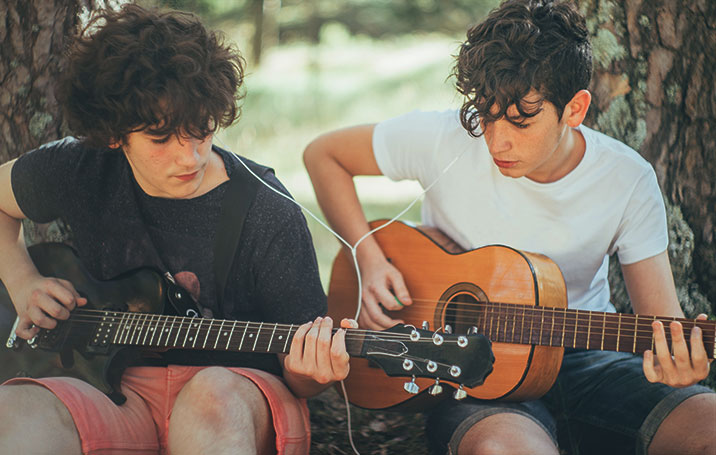 They used Pinterest to find new songs to learn
Join Pinterest to find all the things that inspire you.
50+
billion Pins
to explore
15
seconds to
sign up (free!)
Back to
Books Worth Reading
Books Worth Reading
She's Come Undone
Worth Reading, Book Worms, Book Worth, New Book, Favorit Book, New York Time, Google Book, Oprah Book Club, Wally Lamb
Shes Come Undone by Wally Lamb (1992) one of my favorite books
I Know This Much Is True - Wally Lamb - Google Books
She's Come Undone-I've read this 4 times in my life...at different ages. Seems like a new book every time
Currently on Sale @ Amazon. Named an Oprah Book Club Selection, this "ambitious, often stirring and hilarious book" (New York Times) tells the powerfully real story of Dolores Price, an overweight and fragile young woman who you won't be able to give up on — with over 1,000 five-star ratings on Amazon
50 Shades Trilogy
Worth Reading, Halloween Costume, Fifty Shades Of Grey, Christian Grey, Grey Trilogy, Book Worth, Fiftyshadesofgrey, 50 Shades, Shades Trilogy
Who should play Christian Grey? Vote #fiftyshadesofgrey #book #movies #vote
Fifty Shades Series. Books "worth" reading is a stretch...I'm just jumping on the bandwagon. The writing and Ana's character are more painful than the sub/dom references.
Fifty Shades of Grey Trilogy I don't know what to do now that I'm done with it!
50 Shades Trilogy- SO WORTH READING!
50 Shades of Grey trilogy for sale : When literature student Anastasia Steele goes to interview young entrepreneur Christian Grey, she encounters a man who is beautiful, brilliant, and intimidating. The unworldly, innocent Ana is startled to realize she wants this man and, despite his enigmatic reserve, finds she is desperate to get close to him. Unable to resist Ana's quie...
Wicked
Broadway Show, Musicals, Favorit Music, Book, Movie, Plays, Wicked Broadway, Things, Poster Quadro-Negro
Wicked Broadway ~ saw this with Holly in Ohio with Broadway Across America - such a beautiful story - the music couldn't be any better :) ~ Kaylene Wish it was a MOVIE!!!!!
Wicked by Gregory Maguire. All I can say is thank you for this book. It is a crazy twist on a classic story that literally changed my world! And the play is even better! Hands down best broadway show I've ever seen. The visual effects, acting, and singing are spectacular. So, read the book. See the play. Get Wicked!
I did NOT like this book but I read the whole darn thing to make my mom happy.
Wicked Broadway Musical Poster- amazing show!!so my favorite musical ever!
One of my favorite musicals and books!
Curious Incident...
Book Relations, Awesome Book, 2011 Booklist, Book Nerd, Book Galor, Book Movies, Amazing Book, Book Jackets, Book Heavens
this is an amazing book.
Awesome book relating to Autism and their point of view.
Pinned from
Uploaded by user
World Without End by Ken Follett
Worth Reading, World Without End, Ken Follett, Book Worth, Worldwithoutend, Favorite Book, Reading Lists, Kenfollett, Book Reviews
World Without End, on my 'to read' list
Quick Book Reviews - World Without End by Ken Follett is centered around the people living in Kingsbridge a whole two hundred year after they constructed their great cathedral. This time around, we follow the adventures of four young boys whose lives are changed as they witness a brutal murder.
World without end by Ken Follet. My favorite book (by Ken Follett I mean) after Pillar of the earth
Prequel to Pillars....not as good as the first but worth reading.
#WorldwithoutEnd @KenFollett
.
Worth Reading, Ken Follett, Book Worth, Amazing Book, Favorit Book, Pillar, Great Book, Good Book, Historical Fiction
Pillars of the Earth by Ken Follet. Such a good book.
The Pillars of the Earth, by Ken Follett- AMAZING book.
The Pillars of the Earth by Ken Follett Historical fiction... no no! don't yawn. one of my very favorite books :)
The Pillars of the Earth - Books worth Reading.
The Pillars of the Earth, Ken Follett - Great book!
the other bolyn girl - Google Search
Worth Reading, Philippa Gregory, Boleyn Girls, Girls Generation, Book Worth, Movies, Great Book, Dust Covers, Historical Fiction
The Other Boleyn Girl by Philippa Gregory - The book that ignited my love for historical fiction. Can't get enough Philippa Gregory. I sold it back when I was done reading it and re-bought it less than a month later. It will always be one of my favorites. A little disappointed by the movie... (despite my unyielding love for Jim Sturgess).
Yeah, this was that movie where little Natalie Portman stole the king from her prettier sister and then got herself beheaded for trying to seduce her brother... I admit, the movie was terrible, but this is a great book with a lot more depth than made it to the screen. Phillipa Gregory has other books in the Boleyn series also worth reading.
The Other Boleyn Girl by Philippa Gregory. Great book. Terrible movie, sadly...
I Know This Much is True by Wally Lamb
Worth Reading, Good Reading, Book Worth, Wallylamb, Mental Health, Favorit Book, Great Book, Reading Lists, Wally Lamb
Great Book!
#WallyLamb - I know this much is true
Adding this to my reading list based on pinner's review below: I Know This Much Is True- One of the most acclaimed novels of our time, Wally Lamb's I Know This Much Is True is a story of alienation and connection, devastation and renewal, at once joyous, heartbreaking, poignant, mystical, and powerfully, profoundly human. I have read this one and LOVED it! Not to be missed, IMHO.
Most Favorite Book: I Know This Much is True by Wally Lamb
It's been a while since I read it... and we know my memory sucks but I read the whole thing so I know it's worth reading
Pretty sure of a good read with Wally Lamb!
Heaven
Astound Stories, Amazing Stories, Book Club, Worth Reading, Amazing Book, Good Book, Little Boys, True Stories, Quick Reading
Amazing book definitely worth your time! It's a quick read too!
Heaven is for real! Everyone should read this amazing story of this little boy, Conner. So inspiring and moving!
Heaven Is for Real : A Little Boy's Astounding Story of His Trip to Heaven and Back ... haven't read this yet but I heard it was an amazing book :)
good book
heaven is for real media-cache8.pint... jeannealexandra books worth reading
This is an AMAZING book! You should so read this! A true story!
Heaven is for real! This is the book I am picking for my book club :-)