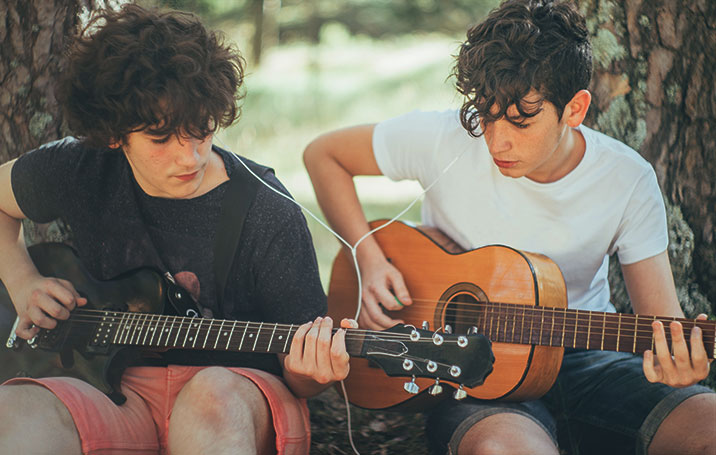 They used Pinterest to find new songs to learn
Join Pinterest to find all the things that inspire you.
50+
billion Pins
to explore
15
seconds to
sign up (free!)
Inspriation from the birds
---
Back to
Inspriation from the birds
Inspriation from the birds
Reminds me of Charley Harper.
Tony Buckland, Birds Logos Design, Geometric Birds, Design Challenges, Geometric Design, A Geometric Graphics, Graphics Design Patterns, Graphics Birds Illustrations, Birds Icons
Geometric birds / Tony Buckland
Geometric birds. Make it a design challenge with geometric shapes - (idea for menu. geometric fruits?)
feather duster
Film, Movie Posters, Natalie Portman, Swan 2010, Blackswan, Black Swan, Natalieportman, Swan Lake, Cisne Negro
Black Swan , starring Natalie Portman, Mila Kunis, Vincent Cassel, Winona Ryder. A ballet dancer wins the lead in 'Swan Lake' and is perfect for the role of the delicate White Swan - Princess Odette - but slowly loses her mind as she becomes more and more like Odile, the Black Swan. #Drama #Mystery #Thriller
#BlackSwan (conocida en español como El cisne negro o Cisne negro. Directed by Darren Aronofsky. With #NataliePortman, #MilaKunis, Vincent Cassel,#WinonaRyder.
Black Swan 2010 movie poster in Japan
Black Swan - Cisne Negro. Natalie Portman é outra excelente atriz, admiro muito o trabalho dela. Especialmente, em Cisne Negro, a última cena do filme na qual ela mostrou porque mereceu ganhar o Oscar! (Já deu pra perceber que gosto de atrizes premiadas hahaha.)
Feather Duster She sweeps with many-colored Brooms And leaves the Shreds behind-- Emily Dickinson
Morgu Fractals, Fractals Abstract, Math Morgu, Colors, Fractals Fantastic, Fractals Art, Abstract Energy, Fantastic Fractals, Fractals Designs
feather wreath
Decor, Christmas Wreaths, Idea, Chairs, Rustic Wreaths, Feathers Wreaths, Fall Wreaths, Holidays Wreaths, Winter Wreaths
what is cozier than a wooden chair and a beautiful Christmas wreath?
wreath, winter, wood, chair, feathers, berries, festive, decorations, holiday
saipua fall wreath // feathers + #Christmas Decor| http://christmasdecorstyles386.blogspot.com
Blackberries and feathers wreath - and that chair
Holiday Wreath
Rustic wreath.

by Sarah Ryhanen
Birds of a feather
Paintings Art, Patterns Tattoo, Birds Of Paradis, Feathers And Arrows Tattoo, Tattoo Patterns, Tattoo Design, New Tattoo, Feathers Tattoo, Design Tattoo
cute feather tattoo ideas
Feathers 2 8 x11 print by anavicky on #painting art #painting| http://awesomepaiting.13faqs.com
New #tattoo #tattoo design #tattoo patterns
Birds of #tattoo design #tattoo patterns #tattoo| http://tattoo781.blogspot.com
Feather Alphabet Jakub Konvica
Design Inspiration, Alphabet Jakub, Feathers Alphabet, Art Journals, Konvica Pictures, Jakub Konvica, Graphics Design, Artists Inspiration, Yearbooks Inspiration
Birds of a Feather
Vintage Books, Birds Prints, Decor Ideas, Crafts Ideas, Birds Art, Fields Guide, Birds Plates, Vintage Birds, Photo
bird art
An idea for the old Audubon book of bird plates!
Vintage bird prints for easy decorating. This would be great in a reading nook.
vintage bird watching field guide book pages
Buy vintage books and tear out your favorite illustrations, tack to your wall, and ta-da
Martha Stewart .com feather wreath
Fall Decor, Fall Mantles, Feathers Crafts, Falldecor, Autumn Decor, Feathers Wreaths, Martha Stewart, Fall Wreaths, Leaves
martha stewart fall wreath
Beautiful wheat and feather wreath! #falldecor #thanksgiving
What a great idea for Fall decorating! Feather Wreath
autumn decor
Fall mantle with feather wreath and candles
Golden Feather Crafts - Martha Stewart Centerpieces
martha stewart wreath, magnolia leaves, turkey feathers and wheat.
Golden Feather Wreath -Martha Stewart
Feather dress! jenniferandreas
Homecoming Dresses, Cocktails Dresses, Dresses Fashion, Parties Dresses, Jovani 5857, Cocktail Dresses, Feathers Dresses, Shorts Dresses, Jovani Cocktails
I want a short dress!
Jovani 5857 cocktail dress
$460 Jovani cocktail dress 5857 - Jovani Homecoming dresses 2012 http://www.netfashionavenue.com/jovani-cocktail-dress-5857---jovani-homecoming-dresses-2012.aspx
Reliable party dress. Feathers, beads, and a short hemline? Check! Also try something with an embellished neckline or color-mixing patterns.
feather bracelet
Leaf Rings, Boho Chic, Wraps Bracelets, Leave, Fashion Jewellery, Inspiration Pictures, Sterling Silver, Feathers Rings, Feathers Bracelets
leaves
silver leaf ring by michaelLionel on Etsy - StumbleUpon
Sterling silver feather ring.
#boho chic bracelet or armband
beautiful, bracelet, fashion, jewellery, sheet - inspiring picture on Favim.com
feather wrap bracelet
feather medallion lamp
Beautiful Lampshades, Feathers Medallions, Lamps Shades, Feathers Shades, Shades Anthropology, Medallions Shades, Decor Inspiration, Prints Lampshades, Feathers Lamps
feather shade - anthropologie
Feather Medallion Shade #anthropologie
beautiful lampshade
block printed lampshade
Feather lamp Shade
paper feather tutorial. So cute and easy.
Decor, Books Pages, Projects, Crafts Ideas, Paper Feathers, Sheet Music, Make Paper, Music Sheet, Old Books
What a fabulous craft idea! I love when sheet music is involved. : )
How to make paper feathers. tuck into Christmas tree!!! Bebe'!!! Tuck sheet music feathers into your tree or arrangements or wreaths to relate back to other sheet music decorations!!! Perfect for a music room!!!
Craftsman paper project or Artist construction -"how to make paper feathers.... pretty!"
"how to make paper feathers from music sheets or old books
How to make paper feathers - use music paper or old book pages.
angel wings shirt applique !! tooo cute!
Diy Ideas, Gap Tshirt, Crafts Ideas, Angel Wings, Wings Appliques, Adorable Ideas, Wings Patterns, Shirts Appliques, Wall Inspiration
The Little Giggler: Little Angel Wing Applique
Applique inspiration
Angel Wings Pattern & Tutorial