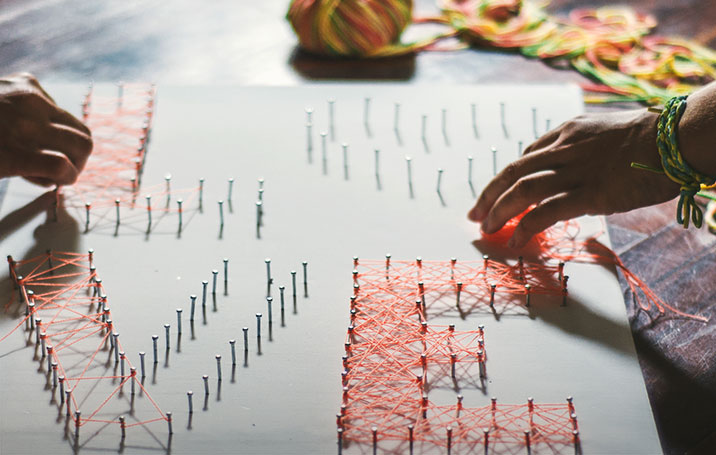 They used Pinterest to find new ways to DIY
Join Pinterest to find all the things that inspire you.
50+
billion Pins
to explore
15
seconds to
sign up (free!)
Back to
It's all in the Eyes
It's all in the Eyes
When you bring intimacy into your life, you are no longer content to behave in a way that merely covers up a painful emotion that has controlled you in the past. You become a fearless explorer of your own inner terrain. There, you delight in all that you discover, including your fears and the way they come to you. Your joy, gratitude, and love are also combinations of ways energy is processed in your energy system --Gary Zukav
Faces Art, Inspiration, Faces Paintings, The Faces, Facepaint, Hairs Color, Festivals Makeup, Dark Hairs, War Paintings
face paint perfection (also hair color I want)
war paint. dark hair.
facepaint
not on the face
face art
Character inspiration (Lacey)
Festival makeup
"Those of you lucky enough to have your lives, take them with you. However, leave the limbs you've lost. They belong to me now."
Cowboys Hats, Kill Bill, Uma Thurman, Umathurman, Cowgirl, Beauty, People, Celebrity Portraits, Actresses
Uma Thurman is an amazing actress =] Kill bill fo life
One of my favorite actresses. Beautiful Uma Thurman!
Celebrity Portraits - Uma Thurman
The Best! Uma Thurman #UmaThurman #fotografía #photography
Uma Thurman. Cowgirl gets the Blues.
Uma Thurman in cowboy hat
Mila Jovovich, Photographed by: Frank Ockenfels 3 © FW03
Mila Jovovich, Beauty Women, Celebrity Photo, Celeb Portraits, Actresses Supermodels, Frank Ockenfel, Photography Portraits, Vintage Photography, Milla Jovovich
Milla Jovovich, Photographed by: Frank Ockenfels 3 © FW03 #millajovovich #singersongwriter #actress #supermodel #mother
Mila Jovovich by Frank Ockenfels 3
stunning
Afghans Girls, Nature Beauty, Beauty Eyes, Human Rights, Black And White, Tiziana Pielert, Charcoal Drawings, Beauty People, Portraits
Beautiful Eyes l Portrait Photography
The pain in her eyes ......Amazing black and white portrait- The Afghan girl by Tiziana Pielert
Human rights
Next charcoal drawing?
Natural beauty
beautiful people...
By Lee Jeffries on Flickr here: www.flickr.com/...
Homeless People, Faces, Leejeffri, Art, Lee Jeffries, Portraits, Black, Photography, Eyes
#lostangels by #leejeffries #photography #blackandwhite #portrait #people #kid #child #love #travel #art #innocence
A truly breathtaking black and white portrait of a young girl. The emotions in this image are incredible and her eyes speak volumes. Image by Lee Jeffries.- MORE AWESOME POSTS - http://www.pinterest.com/cannycole/ #CannyCole
I am amazed by this photography: Can ugly be beautiful? Lee Jeffries, an amateur photographer proved it with his uncompromising photography. Lee started in 2008, photographing homeless people in powerful black and white giving a drama to his portraits. (Words not by me).
photos of faces of homeless people | Stunning portraits of homeless people by Lee Jeffries

by LJ.
By Lee Jeffries on Flickr here: www.flickr.com/...
Homeless People, Inspiration, Faces, Leejeffri, Lee Jeffries, Portraits, Jeffri Photographers, Eyes, Photographers Lee
text inspiration
Untitled by #LeeJeffries
Powerful portraits of homeless people by photographer Lee Jeffries
Lee Jeffries (I love eyes in art...and real life)
These impressive portraits are full of emotions. The models in Lee Jeffries' photographs are homeless people that he has met in Europe and in the United States: «Situations arose, and I made an effort to learn to get to know each of the subjects before asking their permission to do their portrait.» – Lee Jeffries. Expressive, expression, hands, powerful face, intense, portrait, photo b/w.

by LJ.
Dan Winters Esquire cover of Christopher Walkin.
This Man, Covers Magazines, Famous People, Esquir Covers, Inspiration Photography, Covers Photo, Christopher Walken, Magazines Covers, Esquir Russia
esquire russia: christopher walken
Esquire cover - Christopher Walken
I love this man. Christopher Walken is my homeboy.
Esquire #magazine #cover Christopher Walken
An #impressive cover photo!!
Hannah by Cara O'Dowd.
Cute Fall Fashion, Antiques Styles, Make Up, Dream, Makeup, Red Lips, Necklaces, Rogue, Cara Odowd
necklaces + red lips
Hannah by Cara ODowd for Fashion Gone Rogue Hair and Make up Merton Muraemi #hair
Antique Style Jewelry
Fashion Gone Rogue Day Dream
makeup & necklace - Emelia & Hannah by Cara O'Dowd for Fashion Gone Rogue