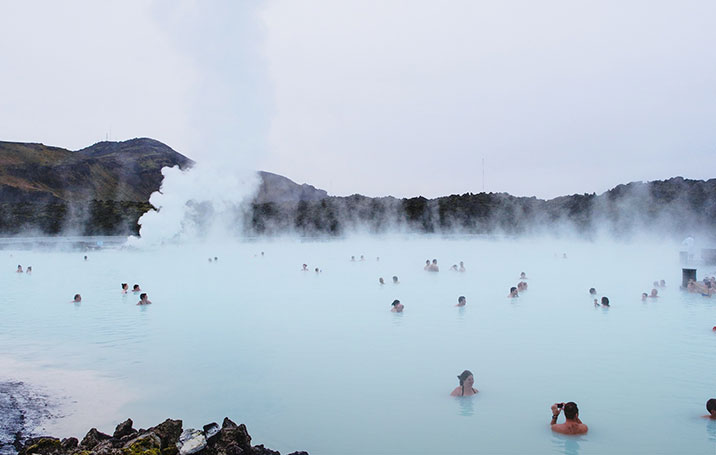 They used Pinterest to find new places to visit
Join Pinterest to find all the things that inspire you.
50+
billion Pins
to explore
15
seconds to
sign up (free!)
Almond pulp body scrub--I just made this with the leftover almond pulp from my homemade almond milk, mixed with coconut oil. Amazing!!!
Almond Milk, Faces Scrubs, Almonds Faces, Homemade Almonds Milk, Pulp Body, Almonds Pulp, Body Scrubs I, Homemade Nature, Body Stuff
Just started making home made almond milk and was wondering what to do with the left over pulp. Making an almond face scrub seems like a great way to use every part of the almond. There's also plenty of resources out there for making cookies, breads, pie crusts and dips from the left over pulp.
In Style - 50 Best Hair Tips from Around The World - Avocado Hair Mask: Combine two egg whites with half of a mashed-up avocado; leave it in hair for 15 minutes, then wash and condition. It's a fast and inexpensive natural remedy that leaves hair super-smooth.
In Style - 50 Best Hair Tips from Around The World - Avocado Hair Mask: Combine two egg whites with half of a mashed-up avocado; leave it in hair for 15 minutes, then wash and condition. It's a fast and inexpensive natural remedy that leaves hair super-smooth.
Avocado Hair Mask, Eggs White, Nature Remedies, Avocado Hairs Masks, Hair Masks, Around The World, Hairs Tips, Weights Loss, Hair Tips
DIY Facial with only 3 ingredients that almost everyone has...yep, I'll try this one. Thanks again LC!
Crafts Paintings, Beauty Hairs, Brown Sugar, Diy'S Facials, 1 2 Cups, Pies Honey, Diy'S Hairs, Random Pin, Sugar Pies
I adore beauty DIY projects so you can imagine how excited I was when discovered Karly Goins' recipe for a seriously sweet fall facial, an Oh Sugar Pie Honey Bunch Facial that is… Below are Karly's directions. Give it a try and let me know how it goes! This facial is mildly exfoliating (can be made more abrasive with more sugar), anti-bacterial and moisturizing! It is smooth and creamy, and can be warmed up in the microwave for cold dry skin in the winter (This does however melt the sugar so it becomes an even creamier mix.) All you need are a couple basic kitchen staples and it's as easy as that! What you will need… •1 cup of brown sugar •1/2 cup of honey •1 tbsp. of milk (the higher the fat percentage, the better) How to make it… 1.Pour sugar into a bowl, slowly stirring in the honey, and add quantity of milk desired (the more milk the looser the consistency). 2.Pat mixture onto skin (avoiding eye area, it makes eyelashes sticky and the sugar is harsh on delicate skin). Leave on for 10-20 minutes (whatever you like best and have time for) this mask will not dry on your skin or become tight or hard, it will stay moist and sticky, I suggest wearing an old t-shirt while wearing this in case of any "sticky situations." 3.Rinse the mixture off with lukewarm water; you may use a wash cloth or facial cleansing brush to assist you if you like, but make sure to clean extra well around your hairline or some of the honey might dry in hard sticky clumps. Eew no thank you! 4.I also like to soak cotton pads/rounds in some of the same type of milk I added into the mixture, I put on some relaxing music, and lay on m bed for 5 minutes with the pads/rounds layer on my face! The lactic acid from the milk will help to slough away dead skin, while the fats & proteins in the milk help to strengthen and plump the skin. 5.Then rinse, apply moisturizer (don't forget to put one on that has SPF if you're going out in the sun after this facial!), Look at yourself in the mirror and SMILE! You are beautiful, and now you're soft, glowy, clean skin is a little bit more beautiful too! Thanks for sharing this great DIY with us Karly! Are you going to give Karly's fall facial a try? XO Lauren
Sugar Pie Honey Bunch DIY Facial
no "poo" hair..think I'll give this a try..my hair wants to be curly always ends up frizzy. Jennifer Newton, you should try this also!
Apples Cider, Homemade Shampoos, Nature Hairs, Cider Vinegar, Baking Sodas Shampoos, Hairs Care, Curly Hairs, No Shampoos, Hair Care
No Shampoo! Curly hair Care
Natural Hair Cleanser- 8 homemade shampoo recipes for beautiful hair (even one for curly hair)
All Nautural Hair Care for curly hair. Baking Soda Cleansing 1 quart boiling water 1/4 c. baking soda Add the soda to the water and mix or shake until dissolved. Cool prior to use. Apply liberally to hair and scalp, shaking first if necessary. Massage into scalp and hair then rinse well. Apple Cider Vinegar Rinse 3/4 c. water 1/4 c. apple cider vinegar 2 T. aloe vera gel 1 T. honey 8 drops peppermint oil 8 drops tea tree oil Combine all and shake well. After cleansing, squirt all over scalp and hair. Allow it to sit for a few minutes and enjoy the tingle. Rinse well. (You may use more to combat the harsh apple cider vinegar scent if you'd like. Smell your concoction, it should be somewhat pleasingly minty, but will still have a slight vinegar undertone.)
All Natural Hair Care ~ Baking Soda "Shampoo", better-smelling Apple Cider Vinegar Rinse, Citrus Hairspray -i always do this, I use regular white vinegar. I have never used citrus hairspray. I can not say my hair has changed that much, but it keeps my hair from getting grease as fast! -emma-
A HUGE collection of bath and body recipes. Wow, like really HUGE
Body Recipe, Diy Bath, Face Scrubs, Beautiful Recipe, Homemade Bath, Homemade Beautiful, Bath Recipes, Sugar Body Scrubs, Diy Beautiful
This will link you to an awesome collection of DIY bath & beauty recipes
DIY shampoos, body splashes, natural fraganced soaps, body lotions, night facial-creams, body creams, and lots of other homemade bath & body recipes for all my needs! fraganced body & facial soaps, body&/or face scrubs, face masks, lipsticks, gloss, balms, seed cleansers, spa facials, hair masks, conditioner recipes, milk bath recipes, recipes for acne and other home-made treatments!!
DIY Beauty - Lemon Sugar Body Scrub Recipe
Soap Delicatessen homemade beauty recipes!
Homemade hairspray?! Awesome! Another thing to help my orange tree output not go to waste
Homemade Products, Hairs Sprays, Fun Recipes, Alcohol, Homemade Hairspray, Lavender Essential Oils, Diy'S Hairs, Homes Made, Lemon
Homemade Hairspray 1 orange or lemon 2 cups water 1/4 cup rubbing alcohol or clear grain alcohol (vodka, gin, etc.) 6-8 drops of lavender essential oil * I'll add sugar to the solution to increase its hold
home made hair spray
Homemade Hairspray. Also a great blog for other homemade products.
diy hair spray - without all the chemicals
How To Make Your Own Deodorant (A Very Simple Recipe)
Cornstarch, Baby Powder, Nature Deodorant, Homemade Deodorant, Powder Jars, Baking Sodas, Simple Recipe, Diy'S Nature Deoder, Corn Starch
the easiest homemade deodorant I've seen yet. 1 part baking soda & 6 parts corn starch placed in a jar and shaken vigorously for 1 minute. Apply lightly with a cotton ball or cosmetic brush. Done. So cheap & easy. Slightly skeptical.
1 part baking soda + 6 parts cornstarch in an Antique Powder Jar
How To Make Your Own Deodorant (A Very Simple Recipe) - 1 part baking soda, 6 parts corn starch.
FOR PREGNANCY AND BREAST FEEDING: DIY Natural Deodorant for women: In a resealable container, mix 1 part baking soda with 6 parts cornstarch. Close the container and shake vigorously for 1 minute to thoroughly mix the two powders. Dab a small amount to the skin of your armpits with a soft cotton cloth, cotton ball, or cosmetic applicator. Apply as if you were lightly applying a dusting of baby powder to your underarm.