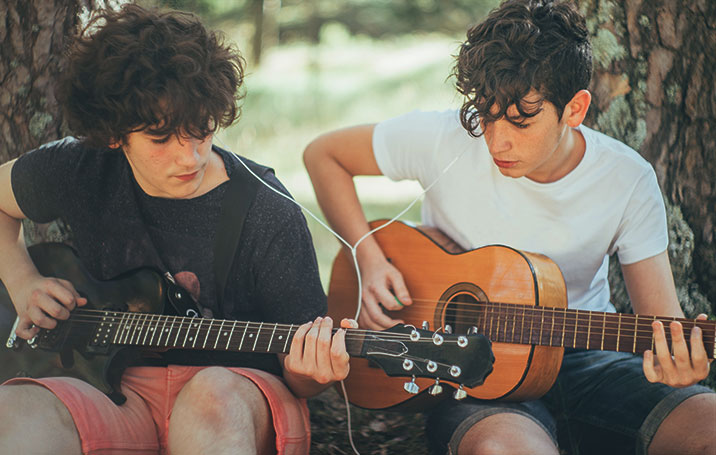 They used Pinterest to find new songs to learn
Join Pinterest to find all the things that inspire you.
50+
billion Pins
to explore
15
seconds to
sign up (free!)
Back to
Problemas de lenguaje
Problemas de lenguaje
Charla Desarrollo del Lenguaje
Del Lenguaje, Charla Desarrollo, De Lenguaje, Desarrollo Del

by Recursos para maestros de apoyo
Libro: El habla del niño de Jerome Bruner
El Habla, Del Infante, Terapia Del, Del Infants, Habla Del, Jerome Bruner, De Jerome, Del Niño, De Lenguaje
Classroom DIY: DIY Phonics Phones
Whisper Phones, Duct Tape, Idea, Student, Diy Phonics, Classroom Diy, Pvc Pipes, Phonics Phones, Whisperer Phones
Whisper phone, made of PVC pipe and patterned duct tape. Another great idea from this site: make a baggie quilt out of gallon or sandwich size baggies and strategically placed duct tape. Could be used for displaying students work (big bags) or a variety of centers, like Boggle! :) Can punch holes in top and hang from Command hooks! Looks like a fun, easy project too.
Classroom DIY: DIY Phonics Phones These will work great as "whisper phones" for kids to read and revise their writing! Awesome idea!
Articulación fonema M | Desván de palabras
Letra, Lectoescritura, Alphabet, De Palabra

by yomgl80
EL BLOG DE L@S MAESTR@S DE AUDICION Y LENGUAJE: NUEVA COLABORADORA DEL BLOG_SONIA VILLAR
Dislalia Rotacismo, Dislalia S Z, Del Habla Lenguaj, De Lenguaj, Los Fonemas, Isabel Menéndez, Clínica Isabel, Del Lenguaj, Discriminación De
Dislalia (rotacismo) r suave y rr | Clínica Isabel Menéndez Benavente
Discriminación de los fonemas r-l-d, s-z | Clínica Isabel Menéndez Benavente
EL BLOG DE L@S MAESTR@S DE AUDICION Y LENGUAJE: RECOPILACIÓN MATERIALES PARA TRABAJAR LA DISCRIMINACIÓN DE LOS FONEMAS S-Z
De L S, Of The, Blog De, Fonemas S Z, El Blog, Dislalia Fonema, De Audicion, Discriminación De, Estimulación Del
Test de evaluacion de lenguaje de Bertha Derman
Test De, Gluten Exposure, Bertha Derman, Gluten Intol Sensitive, Alliance Acda, Fails Test, Language Test, Gluten Free, High Schools
Nevada: 75 Percent of Illegal Aliens Fail Test for Driving Card - http://thosedamnliars.com/2014/01/06/top-lies/nevada-75-percent-of-illegal-aliens-fail-test-for-driving-card/
Language Tests
High School without tests