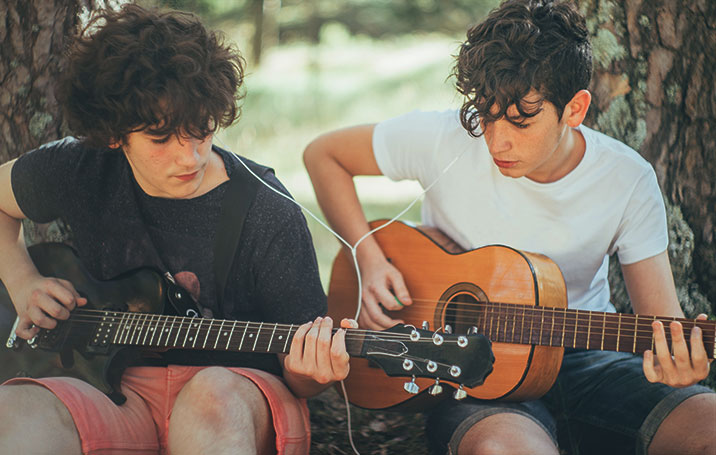 They used Pinterest to find new songs to learn
Join Pinterest to find (and save!) all the things that inspire you.
50+
billion Pins
to explore
15
seconds to
sign up (free!)
Adam Levine's Minion…
Laugh, Adam Levine, Random, Funny Stuff, Humor, Adamlevine, Minions Adam, Things, Levine Minions
#AdamLevine as a #Minion
#minions Adam Levine Minion! @Bailee Brooke
Adam Levine Minion. I laughed, felt super awkward about laughing, then laughed again haha
Adam Levine minion!!! That has to be the best thing invented...
Random dope ish
Pinned from
themetapicture.com
Dirty Things
Funny Image, Funny Pics, Funny Picture, Funny Quotes, Funny Stuff, Dogs Houses, Funny Photo, Funny Animal, Dirty Things
Dirty Things In My Ear
hahahaha...he's in the dog house!
Funny Stuff
Made in Vagina
Laughing, Kids Wear, Baby Outfits, Funny Stuff, Future Baby, Baby Shower Gifts, My Children, Things, So Funny
I cannot stop laughing! so wrong yet so funny
Best baby outfit ever!! LOL lol made me laugh
So funny! Great baby shower gift!
omg....one of the funniest things I have ever seen. bahaha I would never let me kid wear this !
The things I plan to put on my children someday... LOL
This is the sort of thing I want my future baby to wear.
FUMAGA: funny stuff++ - made in vagina barcode baby outfit
Cutting edge knife holder!
Cut Edge, Unique Knives, Neat Stuff, Knifes Holders, Ex Unique Knifes, Holders Sets, Knifes Sets, Funny Stuff, Knifes For The Hom
Unique Knife Set
Knife Holder Set
Pinned from
cashcashpinoy.com
teamwork
True Friendship, Cat, Teamwork, Best Friends, Ice Cubes, Helpful Hands, So Funny, Animal, Team Work
Teamwork. All I want is an ice cube.
Now that's teamwork!! I want a dog and a cat so bad so they can be best friends!!
Teamwork, we all need a helping hand sometimes!!!!!
Teamwork. OMG so funny!
Art true friendship animals
Team work! And what is that animal? It looks like a cat with flippers.
Pinned from
photos.ellen.warnerbros.com
In real life...
Funny Things, Quirky Quotes, Funny Pictures, Funny Stuff, So True, Bananas Peel, Smile, Random Stuff, True Stories
Right?NO! I have seen a 5 year old completely wipe out on a banana peel.
true story.
So true!
Dogbread
Puppies, Funny Dogs, Pet, Pugs Loaf, Breads, Funnies, Things, Funny Animal, So Funny
nawwwwww.......... pugs are the cutest! #pug #adorbs #pets #lol #funny #animals #dogs #pugloaf
This is just funny! The poor thing looks like a loaf of bread!
funny bread of funny dog?
pug bread. so funny!!!
Omg, we always say Noodle looks like a "pug loaf" when sleeping... CLASSIC!! It looks like a loaf of bread... But it's not =) Retweeted collections of funny images in 2011 « GaijinPot In Japan Blogs
it's funny 'cause this dog looks like BREAD! poor puppy....
Pinned from
justthrowmeasmile.tumblr.com
Not a bad idea for tdy's and deployments ;)
Idea, Arm Pillows, Boyfriends Pillows, Funny, Boyfriendpillow, White Elephants, Man Pillows, Dead Man, Forever Alone
Husband / Boyfriend pillow, for all your "forever alone" needs. HAHAHAHA and he will never try and get fresh with you love this idea
'Dead Man Pillow' is the name..this is a great idea and uber creepy all at the same time
Dead Man Pillow: Funny Picture | lolpark.com
Someone pleeeeease buy me this! Hahaha #boyfriendpillow
I have found my next white elephant gift!! "Boyfriend Arm Pillows are a wonderful solution for women who are lonely and craving for physical or manly comfort while sleeping or relaxing. If you are feeling lonely because you do not have a boyfriend or because your husband or boyfriend is away from you then the Boyfriend Arm pillow can be your perfect companion." HAHAHAHAHAHA! :) What a ...man pillow
Pinned from
overstock.com
just so we're clear.
Laughing, Families Pictures, Funny Stuff, Awkward Families Photo, Humor, Funnies, Awkward Family Photos, Things, Child Protective Services
Awkward Family Photos - 20+ years in social work has twisted my sense of humor..
Awkward Family Photos #funny
the 1st one is cute but the other 2 not so much..lol funny stuff.
Lololol Awkward Family Photos- just laughed out loud
ABSOLUTELY THE WEIRDEST THING THAT HAS MADE ME LAUGH OUT LOUD.
A simple guide to cute and appropriate holiday family pictures... funny!
My friend Erin would find this very funny seeing how she works for child protective services
Pinned from
keepcalmkeepfunny.com
bwahaha
Funny Cakes, Naughti Cakes, Cakes Decor, Funny Stuff, Eating Cakes, Honest Cakes, Gardens Parties, Divorce Cakes, Birthday Cakes
Todd's next birthday cake lol For really any occasion. | 21 Painfully Honest Cakes For Every Occasion
Fuck Off Cake - how great would a vulgarities garden party be???
Reminds me of the divorce cake the crew bought me 25 years ago..."Freedom at Last"!
Funny Cakes 5
Let them eat cake!