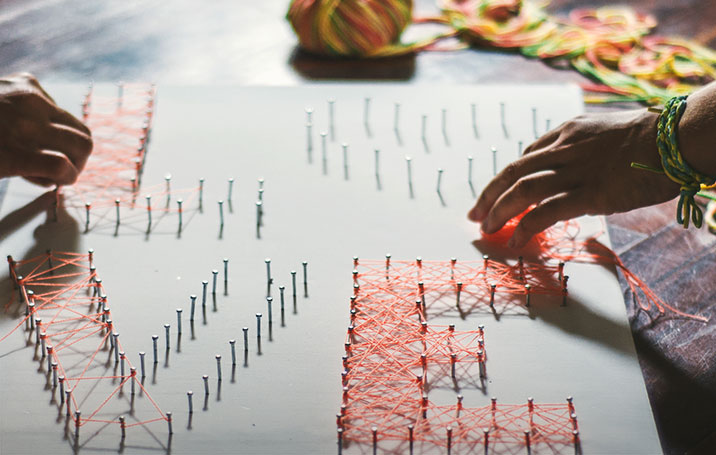 They used Pinterest to find new ways to DIY
Join Pinterest to find (and save!) all the things that inspire you.
50+
billion Pins
to explore
15
seconds to
sign up (free!)
Help with meandering
Quilting Designs, Better Stippling Meand, Stippling Patterns, Stippling Ideas, Machine Quilts, Machine Quilting, Stippling Design, Fmq Stippling, Quilts Ideas
Stippling or meandering machine quilting
This is a cool FMQ stippling practice technique by azwendyg I found this @ http://www.quiltingboard.com/tutorials-f10/paths-better-stippling-meandering-t177072.html.Since none of my other methods worked, this is worth a try.
stippling idea
Free motion quilting design
Stippling pattern
draw a big stipple design and meander along it
Pinned from
quiltingboard.com
hand-quilting vs machine quilting
Hands Sewing, Crafts Hands, Crafty Things, Hands Quilting, Hands Quilts, Machine Quilts, Machine Quilting, Purl Bee, Quilts Tutorials
hand-quilting vs machine quilting. my personal preference is hand quilting!!!
learn a new craft (hand quilting)
Hand quilting tutorial by Purl bee. handquiltpopknot.jpg
I have been looking for a good apron to make and this one looks great. This web site has all sorts of things to make.
Adjustable Aprons, Crafts Patterns, Adjustable Unisex, Simple Dishtowel, Aprons Patterns, Dishes Towels, Molly Sketchbooks, Unisex Aprons, Purl Bees
Adjustable unisex aprons! I also like the matching dish towels !
Mollys Sketchbook: A New Adjustable Unisex Apron and Simple Dishtowels - The Purl Bee - Knitting Crochet Sewing Embroidery Crafts Patterns and Ideas!
Since making my Adjustable Unisex Apron last summer, it has become a real staple in my kitchen! It is now worn-in and soft from repeated washes, and it proudly displays fabric ink smudged across the chest and spaghetti sauce stains on the pocket. Somehow these battle scars just add to the apron's beauty. I've been hankering to make another one because, as I mentioned in the original post, I wear aprons all the time, and I love to stock pile favorites! Purl Soho recently got some incredible new fabrics from Japan that begged to be my next Adjustable Apron, but choosing proved difficult! There  was a light Linen Blend Solid in beautiful natural colors, a heavier Upholstery Weight Solid, and an absorbent, soft, and totally unique Herringbone. I loved each more than the next! And so, I used all three and ended up with an awesome new apron and a lovely set of three simple dishtowels finished with pretty Cotton Chambray Ribbon. I'm especially excited about the dishtowel pattern, because if there's one thing I use more than my apron, it's dishtowels! Don't be fooled by their professional finish; they're totally easy! The apron and dishtowels together would make an incredible housewarming or wedding gift. The apron adjusts to fit anyone, and the dishtowels are pretty enough to be special and sturdy enough to use everyday. Best of all, the whole shebang can be sewn in an afternoon! Thanks!-- Molly If you'd like to make an apron you can find the  Adjustable Unisex Apron Journal here. Thanks!-- Molly
Adjustable Unisex Apron Pattern
Sesame Street Gift Bags...too cute!
Kids Parties, Sesame Street, Treats Bags, Gifts Bags, Sesamestreet, Birthday Parties, Elmo Birthday, Favors Bags, Parties Ideas
From the StreetPlanning a Sesame Street soiree? Your party favor bags are covered. Order up some ready-made treat bags, like these made using card stock from Buggy's Basement, or start snipping and create your own. Done!
We love these Sesame Street gift bags for your next kiddie soiree. #birthday #kids #party
sesame street birthday party ideas | sesamestreet
Sesame Street first birthday party ideas for gift bags.
Sesame Street Elmo Birthday Party Gift Bags - Party Favors
Elmo Birthday Party - Sesame Street character favors bags
Pinned from
olderandwisor.blogspot.com
Spaceship
Pirates Ships, Tables Tent, Cards Tables Playhouses, Plays Tent, Card Tables, Plays Houses, Felt Cards, Card Table Playhouse, Outer Spaces
sweet space themed card table play house
card table tent
It's a cover for a card table! They've also got a pirate ship, houses, fire stations!
felt card table playhouse - if we didn't have a play tent, I would totally try to make something like this
outer space felt card table playhouse. Super idea
Pinned from
olderandwisor.blogspot.com
Cute playhouse cover for card table.
Cards Tables, Bluebirds Cottages, Fabrics Playhouses, Cardtabl Playhouses, Plays Tent For Kids Playhouses, Tables Playhouses, Plays Houses, Cheeful Red, Pvc Playhouses
Super Size Bluebird Cottage in Cheeful Red by missprettypretty, $355.00
Card Table Play House
Card Table Playhouse Ideas
PVC Playhouse
a fabric playhouse made to fit over a card table,,,,love this idea
cardtable playhouse. Miss Pretty Pretty has a few designs for boy/girl
Super Size Bluebird Cottage 48"x48" (standard card table is 34") - You will need to build a frame of PVC or wood
Pinned from
olderandwisor.blogspot.com
It's alive! One of the coolest science experiments ever!- cornstarch and water mixture moves to sound so kids can visually experience sound waves.
Visual Experiment, Dance Oobleck, Experiment Sound, Sound Waves, Cool Science Experiment, Water Mixtur, Mixtur Moving, Coolest Science, Kid
Dancing Oobleck!! It's alive! One of the coolest science experiments ever! Cornstarch and water mixture moves to sound so kids can visually experience sound waves. Add a little food coloring for even more fun. Seriously, how cool is this?? I have to try it!
Dancing Oobleck- Very cool science experiment! Cornstarch and water mixture moves to sound so kids can visually experience sound waves.
Pinned from
housingaforest.com
wonderful how to make magnets tutorial.
Glasses Tile, Tile Magnets, Crafts Ideas, Magnets Tutorials, Photo Magnets, How To Make Magnets, Gifts Ideas, Tile Crafts, Glasses Magnets
Make glass tile photo magnets
how to make glass magnets tutorial.
Nice gift idea to create!
How to make magnets - great tutorial. - DIY Craft Ideas
glass tile magnet tutorial... this is a good way to do it too
wonderful how to make magnets tutorial. (1" glass tiles)
Pinned from
celticmommy.blogspot.com