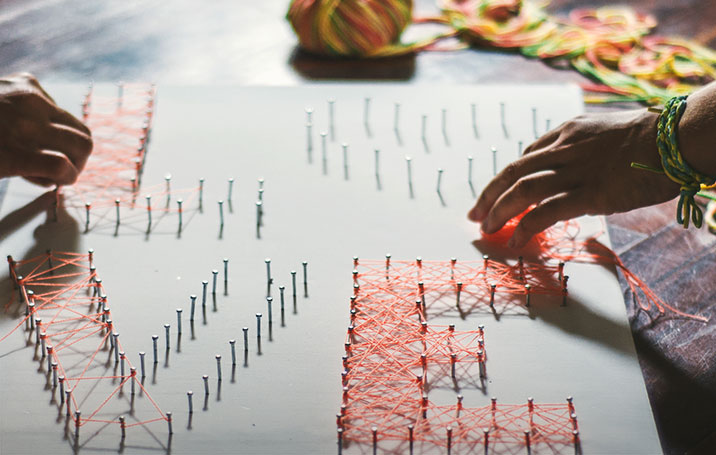 They used Pinterest to find new ways to DIY
Join Pinterest to discover all the things that inspire you.
50+
billion Pins
to explore
15
seconds to
sign up (free!)
Back to
Creative Inspiration
Creative Inspiration
Stay patient and trust your journey.
BODYROCK.tv | Fitness Advice, Workout Videos, Health & Fitness
bodyrock.tv
"Silence is so accurate." — Mark Rothko
Favorite Artists, Grand Artists, Abstract Art, Portraits Tattoo, Mark Rothko, Artists Quotes, Red Art, Markrothko, Consuelo Kanaga
Portrait of Mark Rothko smoking a cigarette. #tennesseerep #red #art #theatre #markrothko #rothko #nashville
Possible a portrait tattoo of this man- one of my favorite artists
Artists Quotes | "Silence is so accurate." | Mark Rothko
Via constantarrival.tumblr.com artnet: Remembering Rothko "Silence is so accurate." — Mark Rothko  The artist was born Marcus Rothkowitz on this day in 1903, in Dvinsk. His family left Russia and settled in Portland, OR, in 1913. It was towards the late 1940s and 1950s, that he painted the works for which he is best known for: blocks of color in luminous washes that create large, contemplative forms on canvas. Rothko also spent several years concentrating on works for a chapel in Houston, reinforcing his unwavering belief in the spiritual and emotional qualities of Abstract Art. In 1970, Rothko, who suffered from depression, took his own life. Rothko's No 14 is on view at SFMOMA.
Mark Rothko photo by Consuelo Kanaga
Water jar, about 1880, New Mexico, Acoma Pueblo.
Museums Mobiles, Acoma 1880, Art Pottery, 1880 Geography, Water Jars, Metropolitan Museums, Pueblo Pottery, New Mexico, Acoma Pueblo
Art Object | The Metropolitan Museum Mobile
acoma 1880
Water Jar Date: about 1880 Geography: United States, New Mexico Culture: Acoma Pueblo Medium: Ceramic
Water Jar | Acoma Pueblo | The Metropolitan Museum of Art
metmuseum.org
leslie matthews
Porzellan Ceramics, Matthews Beautiful Form, Accessories 配饰, Art Accessories, Leslie Matthews Beautiful, Leslie Matthews Au, Products Object, Ceramic Vas, Metals Object
Movies.
Cakes Mixed, Idea, Kids Birthday, Rainbow Cakes, Colors Cakes, Rainbows Cakes, White Cakes, Ties Dyes Cakes, Birthday Cakes
Rainbow cake or color cake. Art birthday or rainbow birthday.
Rainbow cake. Good Kids Birthday cake idea.
Rainbow cake Sunny Day Rainbow Cake 2 boxes white cake mix 24 oz of clear diet soda (2 cans, ginger ale and sprite work well) gel food colouring 16 oz whipped topping 2 oz instant fat-free sugar-free pudding mix (2 smallish boxes) The Dieting Mix the cake mix with the soda according to regular instructions on box. It will be lumpy afterward. Again, you can use any white cake recipe you want, this is just how I do it. The Rainbowing Measure the total volume (by my estimate, 64 oz), then divide by 6 and measure into separate bowls. There are 8 oz in a cup, so 64/6 = 10 to 11 oz, or 1 cup + 2 tbsp. Stir colour into each bowl with its own spoon. For the first colour into the pan, measure out 2/3 to 3/4 of your mix (in this case about 1 c) as close to the middle as you can. Drop in your first three colours, then work on the other pan with the last three colours. So if you're doing rainbow order, the first pan should have red, then orange, then yellow, and now the purple, blue and green go into the second pan. As a recap, this is so both layers are roughly the same size. Bake the cake for however long the box tells you to bake it. Check it when the box says to, but usually it'll need an extra 5 or 10 minutes or maybe more because of the density of the soda method. Just keep baking, checking back every 5 minutes or so until a toothpick to the center comes out clean. Let cool completely before moving to a wire rack. The Frostinging Meanwhile, make your frosting. Just mix the pudding mix in with the whipped topping for a few minutes. Dye if you're into that. Frost your fat-free cake with your fat-free whipped frosting. Eat. Edit 1 (one week later) No children were harmed in the making nor consumption of this cake. People seemed to miss the point that I am a 25-year-old woman on a diet with no kids. Since kids don't really need fat-free anything, there's no need to use the soda recipe if you don't like the idea, and if you don't like dye, don't make this for dinner for them every night for a month. Okay, folks, thanks for the allowance to disclaim. Edit 2 (two weeks later) A note to Weight Watchers (the people on the diet, not the company): WW has long advertised 1/12 of a cake mix with diet soda to be a "one point cupcake." I have no idea why they insist this is the case when according to the "as packaged" nutrition information, this much cupcake has 170 calories, 3g fat and no fiber . . . by my calculation, that's 4 points. That said, 1/12 of this recipe, (2 box mixes + 16 oz whipped topping + 2 oz or so pudding mix) works out to 10 points a slice. Not bad considering that a comparable cake would be 14 points. Edit 3 (two months later) FAQ Here are questions I get over and over again about this cake. I just don't want to answer any more emails about it. These questions apply to any cake, so please don't blame your epic fail on me. Omg my cake burnt! Next time don't bake it for as long. My cake stuck to the pan! Grease your pan better next time. My cake burnt/stuck to the pan/was underdone/crumbled. Is this because of the food colouring I used? No, the food colouring has nothing to do with the failure of your cake. You baked it too long/didn't grease enough/didn't bake long enough/moved it before it was cool. I'm making this for my kids, can I use non-diet soda for this cake? I don't know why you would, you certainly wouldn't be saving much in the way of calories, and I don't really think your kids need more sugar. Just make a regular cake and then put food colouring in it, it will look the same, promise. If I don't make it with soda, will the colours run? No. In fact, like I keep saying, please just use whatever the hell cake recipe you like. Please. The rainbow part has nothing to do with Weight Watchers. The frosting, it's so thick! Yes, buy a tub of Duncan Hines frosting as a backup plan. The cake, it fell apart! Let it cool before you move it, and more importantly, don't jostle the thing about. I don't like the cake this made, blech! You probably aren't on a diet, so I don't know why you bothered to make diet cake. I don't get it, you make two cakes and then you put them on top of each other?! Yes, it's called a layer cake, and pretty much any cake you buy at a grocery store is constructed in the same manner. But I don't *like* food colouring. Well, you're wasting your time reading this, aren't you? I totally saw this on Something Awful's Goons with Spoons Rainbow Cake thread, way to steal the idea, asshole. Me too, fellow goon, me too. And in fact, I posted my original rainbow cake there. If you have no idea what I'm talking about and would like to see about a hojillion rainbow cakes, and a rainbow cheesecake, please check out the thread that put this on my radar.
Save Big On Designer Bags, Check Here Waterfall Braid
Peace, love & music!
John Lennon poster imagine Mixed Media music fine by Artistico
art i like
Waterf Braids, Hanging Pictures, Music Posters John Lennon, Peace, Mixed Media, Lennon Posters, Design Bags, Posters Imagination, Art I Like
Walt Whitman
Words Of Wisdom, Remember This, Waltwhitman, Color, Whitman Quotes, Favorite Quotes, Walt Whitman, Wise Words, Good Advice
words of wisdom..
Toward the sunshine WARMS. #WaltWhitman #Whitman #quote #sunshine #shadows #outlook #perspective
Wise words from Walt Whitman to kick off this bright Sunday morning...
walt whitman favorite quote
-walt whitman good advice.
"Keep your face always toward the sunshine and the shadows will fall behind you." Walt Whitman quote.
remember this
Autumn colors/ Sun & Shadows Keep your face always toward the sunshine and the shadows will fall behind you. Walt Whitman
creative design
Nailart, Nails Design, Tribal Nails, Nails Art Design, Tribal Prints, American Nails, Tribal Patterns, Aztec Nails, Native American
tribal print nails
tribal #nailArt
native american nail art designs | BEAUTY | 15 Colorful Nail Art Designs To Try Out This Summer
Tribal nail design.
Multi Aztec Nail Designs
Tribal patterned nails
native american nail designs - Google Search
A Cup A Week: Irodori acupaweek.blogspo...
作って います, Irodori窯 Patterns Pottery, Ceramics Pottery, Cups Design, Ceramics Cups, Irodori Patterns, Patterns Cups, 作品 アップ, 作品アップの画像 Irodori窯 Patterns
irodori pattern pottery
love this cup design
pattern cup by IRODORI