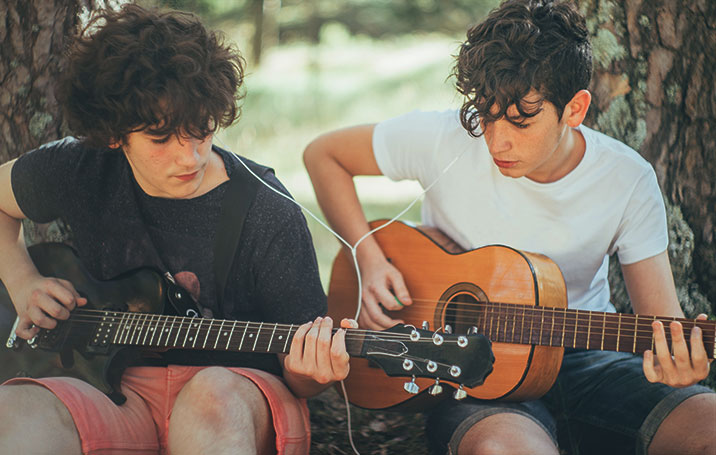 They used Pinterest to find new songs to learn
Join Pinterest to find (and save!) all the things that inspire you.
50+
billion Pins
to explore
15
seconds to
sign up (free!)
garland
Crochet Ti, Crochet Buntings, Crochet Sewing, Sweet Garlands, Buntings Crochet, Crochet Stitches, Christmas Decor, Crochet Knits, Crochet Garlands
Sweet garland
Crochet garland for #Christmas Decor| http://my-christmas-decor-styles.blogspot.com
crochet bunting!

by *Mirre*
this makes me want to give up. so cute
Cute Little Girls, Hipster Kiddo, For Kids, Hair Styles, Future Grandkids, Hippie Style, Bandit Kids, Future Kids, Braids Headbands
love the hair style
Cute little girl
cute little hippie style.
Little hipster kiddo, oh loverly!
I love this simple braided headband, i love the idea of it on a little kid too! Thief & Bandit Kids
Totally dressing my future kids like this.
adorable headband for kids
paper mache animal heads
Books Pages, Zebras Petals, Zebras Head, Paper Mache, Dwell Studios, Papier Mache, Kids Decor, Kids Rooms
Dwell studio pink paper mache zebra head
Love these papier mache heads for a kids room from Dwell Studio
Dwell Studio's papier-mache zebra head is handmade in collaboration with a Haiti-based nonprofit organization. Each head is made with vintage French book pages and finished with an oil-based varnish so you can just wipe it clean.
Zebra Petal Papier-Mâché Head - contemporary - kids decor - DwellStudio
Dwell Studio Papier Mache Zebra Head - Pink
Pinned from
dwellstudio.com
baby jumper pattern
Babies, Sewing Projects, July Blog, Baby Jumpers, Vintage Patterns, Mccall 6930, Jumpers Patterns, Kids Clothing, Baby Rompers
baby jumper pattern -- modify for dolls; Simplicity vintage pattern 6693
julies blog: Baby Jumpers pattern
Baby romper pattern: vintage Mccalls 6930
Kids clothes from | http://beautiful-skirts-785.blogspot.com
julies blog: Baby Jumpers | McCalls 6930
julies blog: sewing projects - baby jumper!
Pinned from
juliegillrie.blogspot.com
heat tights
Decor Ideas, Diy Heart, Diy Fashion, Heart Tights, Black Shoes, Diy Clothing, Diy Gifts, Diy Clothessss, Happy Valentines
Heart tights- 18 Adorable DIY Clothes and Accessories for Valentine's Day
#diy decorating ideas #diy gifts #diy #do it yourself| http://doityourselfcollections92.blogspot.com
Happy Valentine day
#do it yourself #hand made #diy fashion #diy decorating ideas #handmade
Pinned from
chictopia.com
feather headband...
New Stuff, Feathers Headbands Leana, Head Bands, Feathers Handband, Headbands Colour, Dresses, Baby Todd Wear, Headbands Leana Leo Sierra, Diy Kids
feather handband
Feather Headband colours
Head band
Pinned from
monkeyandthebug.com
make
Akiko Hairclip, Clip Ideas, Christmas Belle, Ideas Accesorio, Sweet Christmas, Baby Fashion, Atsuyo Et Akiko, Girls Hair, Crafts
Barrette Atsuyo et Akiko Grelot
atsuyo and akiko hairclip
for a little girls hair for christmas!
Craft
Christmas bells
sweet Christmas clip idea
Pinned from
fr.smallable.com
make with vintage pillow cases
Pillows Cases, Pillow Cases, Idea, For Kids, Movie Night, Sewing Pillows, Pillowcases, Pillows Beds, Diy Pillows
Sew pillow cases together, then insert pillows, then sew ends of pillow cases shut. Love this idea for nap mats, movie night floor mats, stargazing, laying out by the pool...etc. Be sure to use enough pillows to make it long enough for kids or adults!
DIY pillow bed. Sew 5 pillowcases together, put pillows in and roll it up and tie with a big ribbon. Movie night, sleepovers, gifts?! Great idea for camping trips
Floor cushions out of pillowcases craft craft ideas diy crafts crafty diy projects diy pillow cases
receiving blankets
Crochet Blankets, Crafty Baby, Sewing Receiving Blankets, Sewing Baby, Swaddle Blankets, Baby Burritos, Baby Blankets, Diy Receiving, Baby Stuff
Baby Burritos- swaddling blankets
Baby blankets and quilt cute!
Baby Burritos -----DIY receiving blankets
Pinned from
funkyanddelightful.blogspot.com
maybe
Sock, Diy Sticks, Gifts Ideas, Stick Horses, Diy Gifts, Hobbies Horses, Kid, Christmas Gifts, Sticks Horses
DIY gifts for kids, DIY gifts, DIY stick horse
Stick Horse great christmas gift idea
DIY:: stick horse tutorial hobby horse
Derby Game/activity ... DIY stick horse, easy version - add plastic eyes ahead of time. Kids stuff socks and tied strands of yard together for hair. Moms glued hair on by the knots with glue gun (8 knotted 4-strand pieces works well). Kids cut out ears with kid's scissors and Moms glued them on. Tied leather straps on noses and heads onto sticks. Turned out super cute. Got wool socks (kid sock which is less costly - but makes smaller head) and sticks (cut in half to get 2 out of each) on Amazon.
Pinned from
lightbluegrey.blogspot.com
these would be easy to make... with some variance
Clip Pink, Buttons Hairclip, Candy Ideas, Felt Projects, Children Hairclip, Buttons Fun, Apples Bubblegum, Felt Hair Clips, Simple Felt
Childrens hairclips
Simple Felt Hair Clips Pink & Green . Gumdrop Trio in Strawberry Fields - geometric . Wool Felt Hair Clips grass apple bubblegum. $9.00, via Etsy.
button hairclips
baby mat
Buckwheat Plays, Buckwheat Baby, Organizations Baby, Baby Gifts, Baby Accoutrementsapminimalist, Organizations Plays, Baby Mats, Buckwheat Hull, Plays Mats
honeydumplings buckwheat play mat $139
BUCKWHEAT BABY MAT
Organic Play Mat - buckwheat hull. Possible DIY. Have DIY mama times?
Pinned from
fawnandforest.com
growth chart.. totally make a great version of this!
Babies, Diy Growth Charts, Real Baby Shower Growth Charts, Kids Growth Charts, Baby Gifts, Handmade Kids, Baby Shower Gifts, Handcrafted Growth, Gifts Giver
Handmade Kids' Growth Chart
Bump Smitten: Baby Shower Gift: Handcrafted Growth Chart
Pinned from
fawnandforest.com