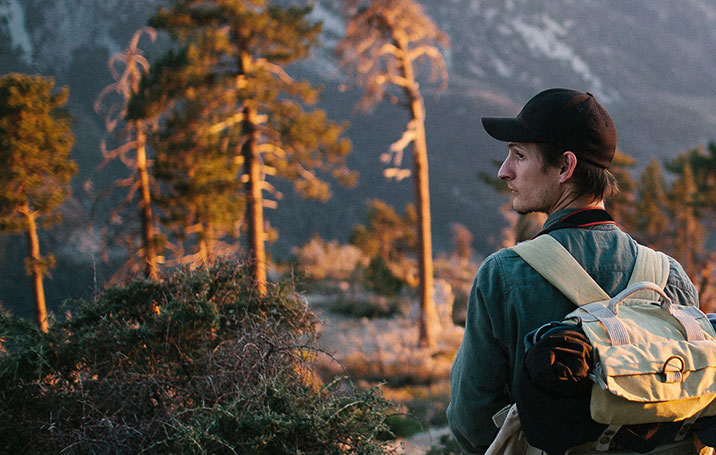 He used Pinterest to explore new campsites
Join Pinterest to discover all the things that inspire you.
50+
billion Pins
to explore
15
seconds to
sign up (free!)
Blue Sky Galleries Floor
Galleries Floors, Blue Sky, Texture 2 Close, Blue Skies, Stunning House, Sky Galleries
Blue Sky Galleries Floor
Galleries Floors, Rings, Waves Finding, Sky Galleries
Wave finding
Secret Lair
Cool Trees House, Tiny House, Canada, Dreams, Wood, Treehouse, Places, Kid, British Columbia
Joel Allen's HemLoft, British Columbia, Canada tiny house
cool tree house
Hemloft exterior. Joel Allen's treehouse is a secret. The former software developer built his egg-shaped structure, called HemLoft, on government-owned crown land in the woods outside of Whistler, British Columbia, Canada.
Treehouses for Kids and Adults
Treehouse dreaming
The Hemloft An aspiring carpenter who was living out of his car built this secret egg-shaped pod in a tree in the woods in Whistler, Canada, using free materials from various sources. The cat got out of the bag when Dwell Magazine featured the spectacular treehouse in their magazine, and now the young builder wants to know what he should do next to keep the Hemloft a special place, since it's built on land he doesn't own.
Hobbit house + tree house?! Yes please! Organic Architect Robert Oshatz's house ( Portland, Oregon )
My heart stopped when I saw this house. This would be my absolute dream house ❤️ Whimsical Wooden Tree House Brings Nature, Music to Life in Portland, Oregon - Architect Robert Harvey Oshatz : trendir
It took seven years for organic #architect Robert Oshatz to complete the Wilkinson residence in Portland, Oregon. The main level of the house emerges into the tree canopy, evoking the feeling of being in a tree house. Interior space seamlessly flows to the exterior via a natural wood ceiling floating along curved laminated wood beams and passing through a generous glass wall that engulfs the main living room.
Secret house in the woods. Shapes and more shapes...now this is a tree house!
Organizations Architects, Architects Robert, Wood, Tree Houses, Dreams House, Secret House, Trees House, Hobbit House, Portland Oregon
Log looking log cabin
House Design, Tiny House, Ecoperch, Guest House, Blue Forests, Wooden House, Trees House, Logs Cabins, Eco Perch
"EcoPERCH" is the latest concept from Blue Forest, acclaimed British purveyor of "sustainable buildings and luxury tree houses."
Eco Perch — wooden house, designed by Studio Blue Forest.
the eco perch – a luxury tree house: designed by east sussex-basd design, architecture and construction firm Blue Forest, the Eco Perch is basically a luxury tree house. using all natural materials, the house blends in with the surrounding environment – making it part of the landscape. the structure can be fully set up within five days and takes little site prepping beforehand. within the house, there is a kitchen, dining + living areas, and a bedroom.
Blue Forest: Eco-Perch - This is a really cool log cabin. johnmemig. I'd so put in an indoor pool and sauna.
prefab tiny houses cabins cottages | Amazing Tree House Eco-Perch by Blue Forest
The Cooper Wave house by Harry Gesner, 1959
Architecture Vision, Architects, Copper Roof, Cooper Waves, Beaches Home, Interiors Architecture, Design Interiors, Waves House, Harry Gesner
Houses of the Sundown Sea: The architectural vision of Harry Gesner | Architecture | Wallpaper* Magazine: design, interiors, architecture, fashion, art#Repin By:Pinterest++ for iPad#
The Cooper Wave house by Harry Gesner, 1959 - Houses of the Sundown Sea California Architect
Houses of the Sundown Sea: The architectural vision of Harry Gesner. Gesner designed the wave-like copper roof of the house in such a way that hidden, self-attaching tabs on each shingle would fit together as tightly as fish scales, and their texture and eventual patina would have subtle seaside connotations.
Houses of the Sundown Sea: The architectural vision of Harry Gesner #beach homes #beach living
Futuro House, 1968, by Matti Suuronen (b.1933), Finland. So 60's.
Matty Suuronen, Architects, Mobiles Home, Future House, Futuro House, Modern Home, Design, Architecture Models, Outer Spaces
Mobile home Futuro, by Matti Suuronen. Where is this? Saw something similar in Colorado.
The Futura House | I actually conserved an architectural model of this house. Super cool.
Ski in ski outer space
Futuro house The retro modern home of the future Finnish architect Matti Suuronen designed this UFO shaped dwelling in 1968, initially for use as a ski-cabin or holiday home. The idea behind the design reflects the optimism of the sixties. At the time people believed technology could solve all problems for the human race. The ideal was of a new era, a space-age, where everybody would have more leisure time to spend on holidays away from home. The Futuro house was completely furnished a
Future House Prototype by Matti Suuronen, c.1968
Blob VB3, 2009, by David Driesen, Tom Verschueren, & Thomas Denturck, of dmvA Architecture, Belgium. This is pretty nifty.
Favorite Places, Belgian Architecture, Offices Spaces, Eggs House, Guest House, Small Spaces, Architecture Firm, Desks Arrangements, Blob Vb3
Mobile egg house by Belgian architectural firm "dmvA".
This egg shaped guest house was designed by Belgian architectural firm dmvA. It includes a bathroom, lighting, a bed and several niches for storage. It can also be used as an office and is easily transportable.
The Blob vb3 was originally designed as exterior office space but it also has a shower and a toilet.
Says "U.K.," but then why are there palm fronds swaying in the background? Fun house, though. 'Great for kids, too.
Trees Trunks, Nice House, Unusual Trees, House In Trees, House Architecture, Trunks House, Architecture Trees House, Hobbit House, Unusual House
Tree Trunk house
9. Tree house- Unusual tree house in tree trunk
strange but nice houses - Yahoo! Search Results
unusual trees | An Unusual House in a Tree Trunk
Bing hobbit houses image | An Unusual House in a Tree Trunk
Free Spirit Sphere, by Tom Chudleigh. Is this the greatest tree house ever, or what?
Treehouse Hotels, Vancouver Islands, Canada, Trees House, West Coast, Spirit Sphere, Travel, Free Spirit, British Columbia
THE SEED: Free Spirit Spheres, Vancouver Island, #Canada #travel
Free Spirit House: This giant tree house on Vancouver Island in British Columbia, Canada, is suspended in the trees and billed as an "eco-resort." But don't expect bathrooms or plumbing — you'll have to do with the built-in sauna and a fairly good stereo system (outhouses are available for your comfort).
Welcome to the world of Free Spirit Spheres, set among the tall trees of the west coast rainforest of Vancouver Island, Canada. We invite you to experience a tree house for adults... 16 years and over. (liability considerations) We are open 12 months of the year; each season providing something unique.
Travel Porn: 6 Stunning Treehouse Hotels Around The World - The Frisky
Sculptured House, 1963, Colorado, by Charles Deaton, American. I saw this house featured in Woody Allen's movie "Sleeper," when I was in 8th grade. The movie was hysterical, & the house was sublime.
Spaces House, Spaceships House, Charles Deaton, Allen Movie, Sculpture House, Movie Sleeper, Architecture, Woody Allen, House Wa
Space House; Denver, Colorado ... that's what we always called it as kids, loved looking for it when we drove by heading west from Denver on I-70 ... it's actually called The Sculptured House, also known as the Sleeper House. It is a distinctive elliptical curved house built on Genesee Mountain in 1963 by architect Charles Deaton. It was featured in featured in the 1973 Woody Allen movie "Sleeper," MTV Extreme Cribs, HGTV's Home Strange Home, and an episode of American Guns.
Shell House, c. 2008, Japan, by Kotaro Ide. Imagine the day view.
Modern Home Design, Artechn Architects, House Design, Japan, Dreams House, Shells Villas, Pictures Galleries, Shells House, Modern House
Artechnic Shell House Nagano Prefecture Karuizawa Japan 2008
Shell Villa Homes Modern Japan by ARTechnic Architects
Shell House - Picture gallery
dream house
Nautilus House, 2006, Mexico City, by Javier Senosiain. 'Magical.
Unusual Home, Building, House Design, Sea Shells, Mexico Cities, Nautilus House, Home Design, Seashells, Stained Glasses
Built in 2006, in Mexico City, this house designed to look like a seashell was inspired by a family's desire to live in an unconventional style home. Mission accomplished. The Nautilus House was designed by architect Javier Senosiain of Arquitectura Organica.
10 Of the Most Unusual Homes in the World Giant Seashell House, Mexico
Nautilus House. Super amazing home design.
The Nautilus House. Perhaps what Gaudi would have envisioned if he were asked to decorate a sea shell, the Nautilus in Mexico City was completed in 2006 by architect Javier Sensonian of Arquitectura Orgánica. Sensonian practices what he calls "bio-architecture," and has designed buildings shaped like snakes, whales and other living things. Read more: http://www.thedailygreen.com
Looking at some designer's creations one can be astonished by the power and the creativity of the human mind. This can be said about the Nautilus house located near Mexico City. It is a unique shell shaped house designed by Mexican architect Javier Senosiain. The house design is very innovative, unusual and audacious. Javier Senosiain decided to bring the life aquatic into architecture. This house turns the form of the Nautilus shell and is wonderful to look at and to be in. The interesting feature of this huge shell is a striking entry cut into a wall of colorful stained glass. Inside it casts multi-colored spots of light onto walls. But it's not the only surprise you will find.