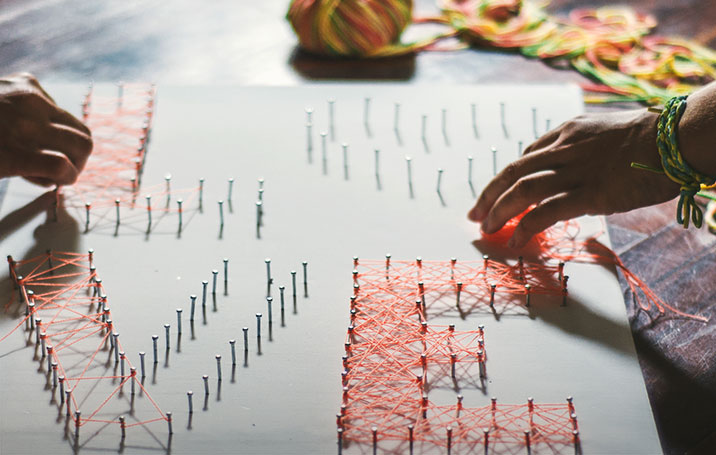 They used Pinterest to find new ways to DIY
Join Pinterest to find all the things that inspire you.
50+
billion Pins
to explore
15
seconds to
sign up (free!)
Cinematics from Pier Paolo
Classic Movie, Motiondesign, Movie Character, Motion Graphics, Classic Film, Pier Paolo, Motion Design, Famous Movie, Movie Theme
#cinema #2d #motion #design #movies
#ANIMATION #MOTIONDESIGN #2D
Made by Pier Paolo - motion graphics designer in Sao Paolo
"Cinematics" from Pier Paolo. Cinematics is a timeline of classic films and characters. It's a experimental project that I did in my spare time. Check the complete project: behance.net/gallery/Cinematics/14304321 All the sound was made by Marcelo Baldin (combustion.ws). He did a fantastic job remixing famous movie themes and blended altogether with a pinch of Aphex Twin's Donkey Rhubarb.
"Here's an adorably clever animation about famous movie characters called Cinematics by Pier Paolo. How many of these classic movies and characters do you recognize? It's fun to see famous films animated like this, you're staring at Charlie Chaplin and eventually it becomes Freddy Kreuger and you're wondering just how the hell did you get here."
Jaguar - British Villains 'Rendezvous' (Extended Version)
Villains Rendezvous, British Villains

by jaguaruk
Villa Savoye: The five points of architecture. This is a personal project to show the five points of a new architecture proposed by Le Corb...
Architecture Proposals, Villas Savoye, Personalized Projects, Architecture Videos, Le Corbusier, Videos Architecture, Andrea Stinga, Art Direction, Points
Villa Savoye: The five points of architecture. This is a personal project to show the five points of a new architecture proposed by Le Corbusier in 1926. We use his masterpiece, Villa Savoye, constructed in 1929 like an example of each point. Concept and animation: Andrea Stinga (www.ombuarchitecture.com) Art Direction: Federico Gonzalez (www.fedelpeye.tv) Music: Glasstop - Jon Hopkins
Body Language Tutorial by PolymorphicGirl.d...
Drawing Tutorials, Art Comic, Poly M Deviantart Com, Drawings People, Polymorphicgirl Deviantart Com, Body Language, Drawings Tutorials, Art Tutorials, Language Tutorials
Body Language Tutorial by PolymorphicGirl.deviantart.com ✤ #drawing #tutorial #line #art #comics #movement #tips #cartoon
So awesomre --> Super Mario Bros Gore!
Modern Mario, Videos Games, Modern Super, Mario Besser, Mario Brother, Gibt Super, Mario Games, Super Modern, Super Mario Bros
Super Mario Bros Gore!
Modern Super Mario Game
Super Modern Mario Bros. (E3 2012 gameplay) http://coolpile.com/media-magazine/super-modern-mario-bros-game-play-remake-with-modern-sound-and-visual-effects/ via CoolPile.com Cool Videos, Games, Gaming, Nintendo, Super Mario
Super Modern Mario Bros. (E3 2012 gameplay) #video #intendo #mario #gaming #nes #snes #violence

by Deloix
Rupture iPad App UI
Ui Interface, Design Inspiration, Ui Design, Ruptur Ipad, Ui Webdesign, App Ui, Ipad Ui, Interface Ui, Ipad App
ipad ui
Rupture iPad App UI #UI #interface
Stay up to date with daily web design news: http://www.fb.com/mizkowebdesign Rupture iPad App UI #webdesign #design #designer #inspiration #user #interface #ui #web
Animal Planet Rebrand by double g studios.
Animal Planets, Channel Invitations, Animals, Planets Rebrand, 3D Animal, Channel Animal, Funny Animal, Motion Animal, Invitations Double
Animal Planet Rebrand by double g studios. Discovery Channel invited Double G Studios to refresh it's channel Animal Planet.

by double g studios
The Paper Fox Project: The Goat by Jeremy Kool
Goats, Paper Foxes, Origami Animal, Illustration, Paper Art, Graphics Design, Paper Sculpture, Jeremy Kool, Character Design
Digital papercraft mountain goat by Jeremy Kool for the iPad childrens book "The Paper Fox."
Jeremy Kool is an Australian graphic designer and 3D artist who designed the project "The Paper Fox" an idea for an interactive storybook on iPad and Android. The paper sculptures shown here look like real origami animals are actually created digitally by Jeremy and are only a small portion of the amazing project. You can follow his blog for updates on his work.
Would love to see Jeremy Kools finished animated book! Love the #character #design!
Inside Pixar : What I would give to go around Pixar like this guy!
Toy Story 3, Toys Stories 3, Animacion Videos, Toys Story, Pensei Ems, Disney Pixar, Animal Videos, Mas Toys, Não Pensei
Dentro da Pixar 'Eu não pensei em nada, mas Toy Story 3 por quatro anos' |

by Maeturtle
Wonderwall by BRDG. SoundTrack : "Wonderwall " from "Wonderwall" EP.
Http Www Facebook Com Brdg Jp, New Music Videos, Yamamoto Music, Motion Graphics, Taiyo Yamamoto, Beautiful Motion, Brdg009, Experimental Videos, Graphics Pieces
Wonderwall by http://bridge.tokyomax.jp/ is a beautiful motion graphics piece with well done glitches.
Wonderwall: music video New music video for Japanese label BRDG's metome, directed and animated by Taiyo Yamamoto
[BRDG009] Wonderwall. SoundTrack : "Wonderwall " from "Wonderwall" EP. Label : +MUS( http://plumus.tokyomax.jp ) ---------------------------...
----------------------------------- Video : Taiyo Yamamoto Music : metome ----------------------------------- Produced by BRDG http://www.facebook.com/brdg.jp

by BRDG
HOLI – Festival of Colors 2012 Slowmotion Clip
Colour Fest, Beautiful Shorts, Colors Reference, Colors 2012, Colors, Colour 2012, Holy Festivals, Colors Festivals, Colors Holy
THE HOLI FESTIVAL OF COLOURS 2012 | Holi, India (Pics + Clip)
Fiesta del color en India.
Colour fest in India
Colorful Holy Land
Holi: Beautiful short film on the colors of India
color festival
NEW Cassette Boy Vs The News!
Boys Film, Boys Tear, News Mashed Up, Bbc News, Watches Bbc, Boys Rules, Red Ties, Cassette Boys, News Videos
i like his red tie.
Cassette boy tears it up again
Hilarious new Cassette Boy film vs the BBC News
Cassette boy rules!

by cassetteboy
Sooo excited for ME3 and with an epic trailer like this!!! Just hope it lives up to the hype!
Masseffect, Mass Effects, Videos Games, De Mass, Eschrichtius Gibbosus, Cinemat Trailers, Watches, Extended Trailers, Devilfish
Trailer completo de Mass Effect 3 #videogames #masseffect
Mass Effect 3 everybody will enjoy watch video and tell us what you think of it and repin it to your website.
Game - Mass Effect 3 : Official Take Earth Back Extended Trailer [HD]

by biowaremasseffect
Another fantastic video by OK GO!!!
New Music Videos, Needingget, Music Instruments, Chevy Sonic, Awesome Videos, Official Videos, Music Books, Rocks Bands, Okgo
OK Go - Needing/Getting - Official Video giant musical instrument played with car
\o/ \o/ Music by Car - OK Go - Needing/Getting - Official Video - The new music video from OK Go, made in partnership with Chevrolet. OK Go set up over 1000 instruments over two miles of desert outside Los Angeles. A Chevy Sonic was outfitted with retractable pneumatic arms designed to play the instruments, and the band recorded this version of Needing/Getting, singing as they played the instrument array with the car. The video took 4 months of preparation and 4 days of shooting and recording...
Ad No. 35 - Cool Ride American alternative rock band OK Go partnered with Chevrolet to play music through driving the Chevy Sonic in a desert with pianos, plastic drums, guitars, glass bottles placed along the route taken. The compact size of the car meant that other members in the car could fit into the camera frame nicely. The result is a breathtaking experience that takes the viewer on an exciting trip of music. Join in for this amazing ride to delight both your visual and auditory senses!
OK Go - Needing/Getting - Official Video AWESOME VIDEO!!!
OK Go - Needing/Getting - Official Video #OKGO looks like fun :D

by OkGo