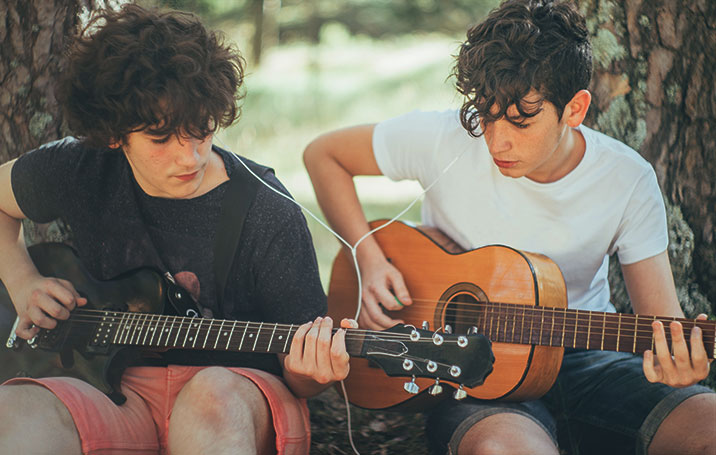 They used Pinterest to find new songs to learn
Join Pinterest to find all the things that inspire you.
50+
billion Pins
to explore
15
seconds to
sign up (free!)
In an extraordinary act of devotion to his art, sculptural artist Spencer Byles spent a year creating beautiful sculptures out of natural and found materials throughout the unmanaged forests of La Colle Sur Loup (where he lived with his family), Villeneuve Loubet and Mougins. The only way you'll see these work short of his photos is by going into the woods and finding them yourself.
Magic, Fairies, Forests Sculpture, Nature, Australia Travel, Faeries Magazines, Gardens Gates, French Forests, Circle
Circles in nature <3
I would train honeysuckle or morning glories around this and use them for garden gates
French Forest Sculptures
Ellie Davies still spent 7 years in forests of the UK slightly altering them to give a more fairy tale feel. The layers of meaning that man puts on nature is her passion and her work is supposed to evoke thoughts in that direction. Is the forest magical and spooky by itself, or because we believe it to be so?
Australia travels ... Frenches Forest NSW - sculptures frenchforestsculptures.blogspot.com
Faerie Magazine - forest sculpture
Artist Spent One Year In The Woods Creating Surreal Sculptures From Organic Materials
viralnova.com
zen
Buddhism, It Was, Yoga Meditation, Lighting Tattoo'S, Dream Catchers Art, Relaxing, 2008 Wwwartspaziospt, Free Spirit, Green Day
*simplicity #beautiful #zen #Asian #Buddhism
Peace / Love / hippie / Happiness / Dream Catcher / Art / Free / Flower / Hope / Moon / Universe / Light / Tattoo / Sky / Yoga / Meditation / Colors / Green / Day and Night / Free Spirit / Feathers / Eclipse / Nature / Surf /Zen / Relax / Calm
.
The Gardens, Zen Living, Zen Life, Zen Rocks, Zen Inspiration, Sands Gardens, Inspiration Idea, Crop Circles, Peace Zen
Sand garden
Zen life
Zen rocks
Zen Garden
Zen Living
crop circle zen....?
.
Spirals, Waterdrop, Macro Photography, Plants, Green Nature, Dew Drop, Dewdrop, Ferns, Water Droplets
Green nature, plant, photography, simply, spirally, stunning.
I have always wanted to capture the spiral of a fern! Let alone with the dew drops
Spiral plant tendril with dewdrops
Macro Photography Fern Frond with Water Droplets
Plant spiral with water droplets. Courtesy of jciv's flickr photostream.
Plants Waterdrop

by jciv
.
Wabisabi Articles, Wabi Sabi 侘寂, Sabi Orton, Orton Cyw, Artists Archetypes, Wabi Sabi Articles, Art Th, Japan Artists, Wabisabi 侘寂
wabi sabi orton (CYW) by Bruce Seltenright
.
Old Keys, Fengshui Styles, Feng Shui, Heart, Rivers Rocks, Color Splash, Zen Stones, Skeletons Keys, Zen Color
Skeleton Key
Zen Color
I love old keys
Zen stones
river rock
The heart is the key to peace......
The Nine Essential Feng Shui Adjustments
.
It Was, Quotes, Waterdrop, Decoration Idea, Dew Drop, Truths, Louis Hay, Dewdrop, Water Droplets
Water droplets..
Zen Decorating Ideas
dewdrops
waterdrops
To swim inside a dew drop... how bliss
Live my truth #wisdom #quote