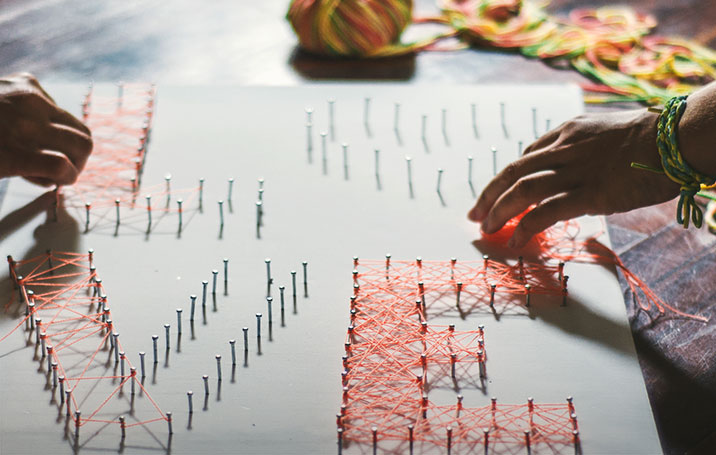 They used Pinterest to find new ways to DIY
Join Pinterest to discover all the things that inspire you.
50+
billion Pins
to explore
15
seconds to
sign up (free!)
Spaces We Love
Great open spaces that would be great workout spots
---
bluebird pilates studio munich - Google Search
Spor Pilates, Pilates Studio, Bluebirds Pilates, Large Windows, Color, Clinicalpilateshove Com, Mccormick Pilates, Pilates Munich, Photo
bluebird pilates studio munich
Option to have mat classes instead of tower. Spacious; neutral palette; large windows; garden.
colors
living room
Big Window, Coffee Tables, Pictures Window, Natural Light, Living Rooms, Open Spaces, Color, Lounges Rooms, Design File
Merricks Holiday Home via The Design Files - Living Room
picture window and coffee table stacks
living room with big window with my favorite colors turq and fusch!
perfect lounge room via the design files
living room, I love natural light
Living room - amazing picture window
Love the open space and natural light
Caramel's narrow CJ5 House in Vienna encloses a sunken courtyard garden
Narrow Cj5, Courtyards Gardens, Caramel Long, Caramel Architects, Cj5 House, Sunken Courtyards, Inside Outside, Concrete House, Gardens Dividers
Idea to have inside outside glass room
haus cj_5 by Caramel Architects
Caramel's long narrow CJ5 House in Vienna encloses a sunken courtyard garden
The Body Center - Our studio is a bright and warm loft like space in a charming historical building.
The Body, Body Center, Photo, Historical Building
Photos for The Body Center | Yelp
Pinned from
Uploaded by user
beautiful windows and everything else.
Big Cities, Colleges Life, Buckets Lists, Open Spaces, Blank Canvas, Dance Studios, The View, Window Panels, Great View
open spaces
great view
Floor To Ceiling Window Panels, Clean Walls and Hardwood Flooring.
blank canvas
Manhattan... I've always dreamed of living in a big city in a loft apt like this! :)
#Bucket list
the view!
Beautiful open apartment or perhaps a dance studio.
Aaaahhhhh. Ridge House by Bohlin Cywinski Jackson
Ridge House, Houses, Designsolo House, Interiors Design, House Architecture, Rural Canada, Architecture Design, Design Blog, Bohlin Cywinski Jackson
Canadian ridge retreat with bold but delicate architectural form | Designhunter - architecture & design blog
Valley Residence In Rural Canada Topping A Narrow Ridge: "this exemplary residence was created by Bobolink Wineskin Jackson...with both social as well as solitary space, the house invites sunlight in, but safeguards the inside from sun burn with the aid of large overhangs across its single sloped roof..."
Ridge House by Bohlin Cywinski Jackson
I could completely unwind if I lived here.
Dreams Home, Swim Pools, Pools House, The View, Dreams House, Places, Modern House, Modern Home, Infinity Pools
Just the view from my infinity pool #wishfulthinking
swimming pool
Infinity pool house. #home #home designs #interior decorating #modern home design #home interior design 2012 #modern house design
I want to go there!!!!
Living Rooms, Beaches House, Window, Resorts, The View, Interiors Design, British West Indie, Kelly Wearstler, Viceroy Anguilla
Hotels & Resorts, Luxurious Resort Interior Design Overlooking Caribbean Sea By Viceroy Anguilla: Living Room In Resort Diretly Overlooking ...
decor, interior, window, living room, house, palm tree,
Viceroy, Anguilla beach house
KELLY WEARSTLER . Caribbean . Viceroy Anguilla Resort . Living Room Interior
If you are that close to the beach you might as well enjoy the view with windows like these!
love the white bricks.
Dining Rooms, White Bricks, Idea, Open Spaces, Brick Wall, Interiors Design, Loft Spaces, Expo Brick, Design Studios
White brick! Loft in Bansko, Bulgaria by Fimera Design Studio #office design #design bedrooms #interior ideas #hotel interior design #architecture interior design| http://interiordesign996mike.blogspot.com
White Brick Walls loft space
High ceilings, white brick walls, simple open space
open space dining room, white brick, FAB!!!
A beautiful, clean open space.
Spirals Staircases, Studios Spaces, Floors, Open Spaces, Design Interiors, Interiors Design, Loft Spaces, Architecture, Black
great loft space, black framed windows, stairs, pillars
??#architecture interior design #interior design office| http://architecturejuston.blogspot.com
Empty white loft, hardwood floors, white kitchen, spiral staircase, black accents
Shelby - I like the openness and the white walls. I would probably add some color and the wood floors would be shinier and a lighter wood color. Also no black poles. There would be an open space. 6 lofts sucre
Bright white studio space with wood floors and black painted metal accents
Love this space.
Studios Loft, Cathedrals Ceilings, Open Spaces, Commercial Offices, Offices Spaces, Architecture Interiors, Interiors Design, High Ceilings, Warehousestudio Living
live/work... Slant Studios Loft 4
family living loft with commercial office space - my dream
Wooden beam framed high ceilings.
I like the idea of building living space inside a warehouse. So much open space...
Architecture & Interior Design
cathedral ceilings open beamwork