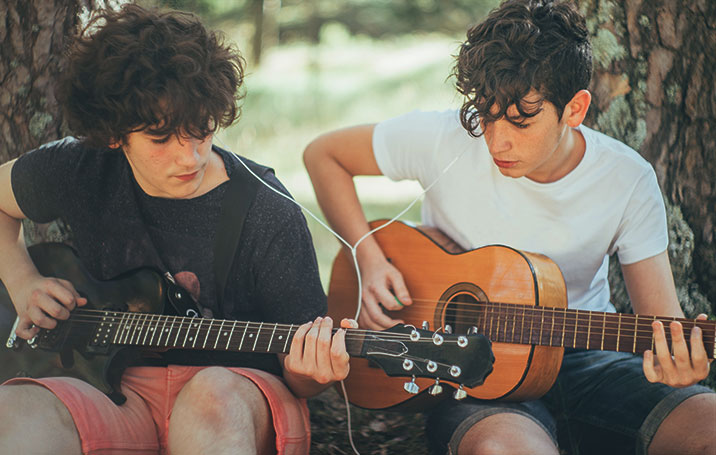 They used Pinterest to find new songs to learn
Join Pinterest to find (and save!) all the things that inspire you.
50+
billion Pins
to explore
15
seconds to
sign up (free!)
Stars from a Toilet Paper Roll...fun crafts for Christmas!
Crafts Ideas, Christmas Crafts, Toilet Paper Rolls, Toilets Paper Rolls, Tp Rolls, Rolls Snowflakes, Christmas Decor, Christmas Ornaments, Paper Towels
toilet paper roll snowflake #Christmas #decorating #glitter
Christmas craft ideas Snowflakes out of toilet paper rolls!
Save you empty paper towel and toilet paper rolls! Your going to need them! It is super easy to #upcycle them into beautiful #handmade Christmas ornaments from tp rolls
Christmas Craft for the Kids: toilet paper roll snowflakes
Pinned from
michellesjournalcorner.blogspot.com
No-sew edge for fleece blankets that is NOT knots... I like this better than knots looks much neater.
Crafts Ideas, Diy Crafts, Braids Fleece, No Sewing Blankets Ideas, Blankets Tutorials, No Sewing Braids, Fleece Blankets, No Sewing Edge, Braids Edge
No Sew Edged Fleece Blanket
New craft idea: Braided Fleece Blanket
no sew braided edge for fleece blankets instead of knots.
No-Sew "Braided" Fleece Blanket Tutorial. So much prettier than the knotted edges!
Pinned from
helpinglittlehands.blogspot.com
great way to showcase our pics from our travels
So Cute, Maps, Wedding, Cute Ideas, Pictures, Places, Honeymoons, Corner Shelves, Photo
Placing pictures by a map of where they were taken. Cute idea!! And the corner shelves
Placing pictures by a map of where they were taken. This would be cute with engagement photo, wedding photo, baby photo, etc.
Placing pictures by a map of where they were taken. Cute idea!! Proposal, Wedding, Honeymoon
Placing pictures by a map of where you got engaged, where you got married, and where you went on your honeymoon... this is so cute.
Pinned from
taraandjustinholmes.blogspot.com
Wooden letters glued to canvas and painted -- Love this idea
Wall Art, Letters Canvas, Wood Letters, Quote, Canvas Art, Puff Paintings, Wooden Letters, White Paintings, Letters Glu
Instead of paying the crazy $334 for this, I bet some wood letters, canvas, hot glue, and spray paint or stapled fabric would get the same results.
Wood letters glued to canvas then all painted a solid color! different color, different quote and this is my newest wall art! LOVE!
(wooden letters, white painted canvas, favorite quote)
Wooden letters glued to canvas and painted. or puff paint..
Canvas art
Pinned from
notonthehighstreet.com
halloween mason jar
Halloween Mason Jars, Masons, Jars Crafts, Halloween Crafts, Mason Jars Lanterns, Mason Jar Lanterns, Diy, Halloween Jars, Halloween Ideas
Halloween Mason Jar Lanterns : Daily source of DIY craft projects and inspiration, patterns, how-tos Craftzine.com
Halloween Mason Jars and other halloween ideas!!*
Mason Jar Luminaries mason jars, a little bit of tissue paper, a whole lot of mod podge, a tea light or two… & you have hallowen-inspired mason jar lanterns – perfect for your holiday monster mash, & a super easy halloween craft.
Halloween Mason Jar Craft - Bing Images
Pinned from
putitinajar.com
useful gadgets
Potatoes Chips, Good Ideas, Head Of Garlic, Chips Bags, Food, Cool Ideas, Genius Ideas, Great Ideas, Bags Cap
Again, genius idea. I'm a stickler for stale foods.
Bag Caps, Seal Food In Its Original Bag, Food Bag Seal | Solutions. What a great idea.
Bag Caps, Seal Food In Its Original Bag, Food Bag Seal | Solutions Such a good idea for the cereal
This is a cool way to close potato chip bags!
Chip Bag Cap - seals in the freshness of bagged foods without removing the item from its original packaging
Copco Bag Cap - seals in the freshness of bagged foods without removing the item from its original packaging. Really cool idea.
Clear Frames + Scrapbook Paper + Post-It + Ribbon and Tag = GIFT!
Teacher Gifts, Note Holders, Gifts Ideas, Inexpensive Gifts, Cute Ideas, Scrapbook Paper, Clear Frames, Posts It, Paper Ribbon
Such a cute idea for a teacher gift! Clear Frames + Scrapbook Paper + Post-It + Ribbon and Tag = Cute and Inexpensive Gifts!
Clear Frame Post It Note Holders. Great hostess or teacher gift idea.
Another gift idea the kiddlets can make and give away... clear frames from the dollar store, scrapbook paper, ribbon. Glue post it note pad on the front.
Pinned from
violetpaperwings.blogspot.com
valentines
Valentines Ideas, Gifts Ideas, Anniversaries Ideas, Valentines Day Ideas, Anniversaries Gifts, Cute Ideas, Valentines Gifts, Plays Cards, 52 Reasons
52 Reasons I Love You on playing cards - great gift idea! :))
52 Reasons (anniversary idea)
Done using playing cards! This is such a cute anniversary gift idea!
Love this! Playing card Valentines idea.
Cute valentines day idea! ;-) Not sure I've been married long enough to come up with 52 reasons though.. jks :-P
cute idea, would make a good anniversary gift
Valentines gift idea- 52 reasons I love you
Pinned from
limefishstudio.blogspot.com
Peeps Centerpiece. I've made these for my "peeps" before...they were so...Cute!
Holiday, Easter Centerpieces, Easter Table, Cute Ideas, Easter Decor, Jelly Beans, Flower, Center Piece, Easter Ideas
Peeps ,Jelly Beans, Flowers -- super cute easter centerpiece
flowers+ jelly beans + peeps= cute Easter center piece
Peeps ,Jelly Beans, Flowers EASTER IDEA :)
Peep + Flower + Jelly Bean Centerpiece #Easter #Decorations #Decorate #Decor #Peeps #Flowers #JellyBeans #Vases #Centerpieces
Cute idea! Peep Center Pieces - Here's what you need: 7 oz (about 1/2 a pound) of green jelly beans 10 pink bunny Peeps 1 14oz clear plastic cup 12 yellow gerbera daisies 1 4.5″ square clear vase
super cute idea for a Easter table centerpiece
How cute would this be with tulips? I've used jellybeans but never thought of peeps! #easter #holiday #peeps #jellybeans #flower #arrangement #vase Cute idea!
Pinned from
mixmingleglow.com
a great gift for grandparents ... each child and their spouse & kids!
Families Pictures, Wall Hanging, Gifts Ideas, Curtains Rods, Cute Ideas, Families Photo, Families Trees, Great Gifts, Pictures Wall
Gift idea: DIY family picture wall hanging - Made by mod podging individual family member pictures onto stained pieces of wood and hanging each block of wood with ribbon from a curtain rod. Each family belongs to its own block of wood beginning with the parents and followed by the children from oldest to youngest. (Great gift for grandparents)
Family Pictures Wall Hangings: Seriously love this! More than my family tree. ;o)
Family Pictures Wall Hanging, cute idea for a bedroom
Family Pictures Wall Hangings-I have always heard it's tacky to put family photos in the main house where guests will be.....but then what are photos for if no one sees them?
Pinned from
theidearoom.net
V-day gifts for grandmas, coming right up!!!
Valentine'S Day, Footprints Art, Ideas, Gift, Footprint Art, Foot Prints, My Heart, Footprints Heart, Crafts
footprint art. Great idea for Valentine's Day gifts from the kids
Foot Print Heart Idea - DONE. Created "super size postcards" for all the grandparents. Each girl had one foot painted (J was red and B was pink) which we applied to the front of the card. I outlined a heart with the paint and wrote the message for them (Happy Valentine's Day! yada yada yada). They attempted to write it with their crayons and colored pencils but it was pretty illegible :)
Handprint and Footprint Arts & Crafts: From the Bottom of my Heart to the Tips of my Toes.....Such a sweet idea!
Kids craft. From the Bottom of My Heart to the Tips of my Toes.... Valentine's Day Footprint Heart
Pinned from
funhandprintart.blogspot.com