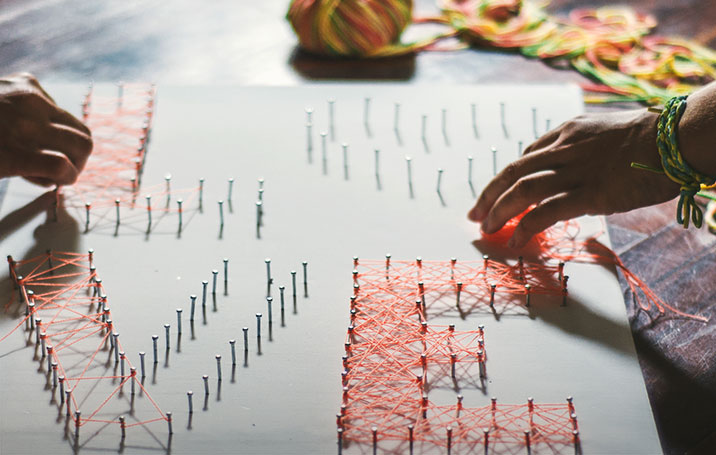 They used Pinterest to find new ways to DIY
Join Pinterest to find (and save!) all the things that inspire you.
50+
billion Pins
to explore
15
seconds to
sign up (free!)
window picture frames
Old Window Frames, Decor Ideas, Old Window Panes, Old Windows, Oldwindow, Families Photo, Picture Frames, Diy, Pictures Frames
use an oldwindow with panes to frame photos
old windows for picture frames by Cottage Instincts - perfect for family photos!
diy picture frames out of old window panes
Old Windows As Picture Frames home-decorating-idea - http://ideasforho.me/old-windows-as-picture-frames-home-decorating-idea-2/ - #home decor #design #home decor ideas #living room #bedroom #kitchen #bathroom #interior ideas
Have any old window frames hanging in the garage collecting dust?! 👀 Absolutely love this #DIY project idea of repurposing old window frames to become picture frames (similar to the one shown in the image above)! ☺️ For more repurposed furniture / household items to turn into creative #DIY projects, visit the "Modern Domestic Lifestyle" section of www.EverythingGirlsLove.com! #EGL #EGL2014 #EverythingGL #EverythingGL2014 #ModernDomestic #ModernDomesticEGL #Lifestyle #DIYProject #RepurposedFurniture #WindowFrames #DIYPictureFrame #PictureFrame #Picture #Frame #FamilyPicture #Family #FamilyPictureFrame
Pinned from
wecallitjunkin.com
Above the sofa
Families Pictures, Pictures Layout, Decor Ideas, Living Rooms, Photo Layout, Photo Arrangement, Photo Wall, Long Wall, Families Rooms
Picture layout, this is how i want to do my living room. I even have that exact word sign.
Nice use of long wall space- do this in the living room!
Love the photo arrangement, living room
Love this layout for above the couch!! - Family picture in the middle - one of each of the kids and one of mommy & daddy in the 4th . . . - maybe for the family room???
Family room photo wall
Living room decorating idea
Great photo layout for living room or bedroom.
Pinned from
littlemissmomma.com
Use the kids 'after bath' pics for the bathroom. cute!
Towel Racks, Kids Bathroom, For Kids, Cute Ideas, Towels Racks, Bathroom Ideas, Bathroom Decor, Bathroom Shelves, Kid Bathrooms
Kids' bathroom idea
cute idea for kids' bathroom
Towel rack for kid's bathroom.
Kids bathroom shelves w/ framed photos above.
Pinned from
theidearoom.net
nice twin poses
Nice Families, Families Pictures With Twin, Twin Pics, Families Poses, Families Photo Ideas With Twin, Twin Photography Families, Maternity Photo Twin, Nice Twin, Twin Poses
Twin pics :-)
nice family poses
nice twin poses @Lauren Jarman
Pinned from
Uploaded by user
Photo sizing for wall arrangements
Pictures Layout, Hanging Pictures, Photo Display, Photo Layout, Pictures Group, Hanging Photo, Photo Wall, Pictures Arrangements, Photo Arrangements
Hanging picture layouts
PICTURE ARRANGEMENTS-- Picture groupings
how to hang photos Walls, paint colors, organizers
Hanging photo layout ideas
Hanging photo display ideas.
How to hang picture groups
Hanging Photo Arrangements
Pinned from
reclaimingyourcastle.com
Buckeye helmet hat
Buckeyes Photo, Photo Opp, Ohio State
Love this buckeye photo opp!
OHIO STATE Helmet Hat Scarlet and Grey by HotOffTheHookCrochet, $30.00#Repin By:Pinterest++ for iPad#
Twins!
Idea, Twin Baby, Funny Pictures, Have Twin, Funny Stuff, Photo, Socute, Kid, Baby Stuff
Buy One Get One Free - Kids & Children Images & Photos
several friends have twins, great gift idea.
Funny Twin Baby Photo
I don't normally do "baby" stuff....
easter
Felicity Pascua, Easter Bunnies, Baby Bunnies, Diapers Covers, Easter Eggs, Easter Felicity, Photography Newborns, Baby Photography, Happy Easter
Baby Bunny
VERY cute diaper cover and hat set...must make this.
easter bunnies
Baby Photography; Easter; Eggs; Stump; Rabbit
Happy Easter -Felices Pascuas!!

by Paulin Photography by Paulin Ponder
Newborn Twin Photography
Newborn Twin Photography, Newborns Boys, Photo Ideas, Newborns Twin Photography, Twin Butts, Photography Twin, Baby, Newborns Photography, Newborn Twins
Newborn Photography
Photo ideas
Newborn Twin Photography Twins rule!!!!
twin butts!
newborn boy and girl with ribbons
Pinned from
lovelynewbornphotos.blogspot.com
newborn twin photography pose
Babies, Baby Twin, Newborns Pictures, Newborns Baby, Newborns Twin, Photo Ideas For Twin Baby, Baby Photography, Newborn Twins, Twin Photo
newborn twin photo ideas - Google Search
twin baby photography - Google Search
twin newborn pictures
Pinned from
jodieotte.com
awww! newborn twin feet!
Twin Newborns, Photo Inspiration, Twin Feet, Newborns Twin, Baby Photography, Children Photography, Newborns Photography, Photography Ideas, Photography Inspiration
awww! newborn twin feet! @Jacqueline Donat
Twin Newborn feet!

by allisonbos
Newborn Photography
Pictures Ideas, Newborns Baby Pictures, Newborn Photography, Baby Pics, Wedding Bands, Great Ideas, Newborns Photography, Photography Ideas, Newborns Toe
Newborn toes and wedding bands
Great idea for newborn baby picture!
Newborn Photography - @Erin Blinn
Photography idea.
Pinned from
sandywrightphotography.blogspot.com
Next years Christmas card
Cutest Christmas, Christmas Pictures, Cards Ideas, Photos Ideas, Cute Ideas, Cozy Coupe, Christmas Cards Photos, Christmas Photos, Christmas Trees
Such a cute idea for Christmas photos or cards!
cutest Christmas card idea.
Christmas tree on the Cozy Coupe! Great Xmas photo idea
Christmas card photo idea. Not that we have or want a Cozy Coupe, but there are other possibilities.
kids christmas picture ideas | Kids Christmas Photo Shoot Ideas Portrait ideas, playing grown
clever christmas photo idea of little boy | portrait ideas, playing grown up, kids portrait, christmas tree on toy ...
Pinned from
alittleglassbox.com