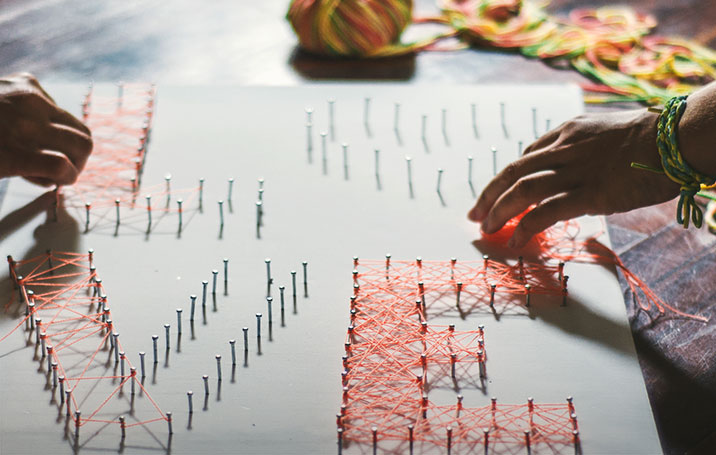 They used Pinterest to find new ways to DIY
Join Pinterest to find all the things that inspire you.
50+
billion Pins
to explore
15
seconds to
sign up (free!)
Narrowboat on Aqueduct Bridge in Britain
Aquaduct Bridges, Aqueduct Bridges, Pontcysyllt Aqueduct, Place Visit, Water Bridges, Rivers Dee, Britain, Narrow Boats, Llangollen Canal
Pontcysyllte Aqueduct in Britain - a water bridge. Strange concept!
Narrow boat on Aqueduct Bridge in Britain
The Pontcysyllte Aqueduct (Welsh pronunciation: [ˌpɔntkəˈsəɬtɛ], full name in Welsh: Traphont Ddŵr Pontcysyllte) is a navigable aqueduct that carries the Llangollen Canal over the valley of the River Dee in Wrexham County Borough in north east Wales. Completed in 1805, it is the longest and highest aqueduct in Britain, a Grade I Listed Building and a World Heritage Site.
British Print by oohprettyshiny
England, Bike, Red Phones, British Prints, Art, Red Bicycles, Color Photography, Telephon Boxes, Phones Boxes
British Print; makes me miss England.
telephone box photograph, cambridge, england photograph, red, red bicycle, bicycle photograph, travel photograph, color photography by oohprettyshiny on Etsy https://www.etsy.com/listing/120877922/telephone-box-photograph-cambridge
Red phone box
england photograph, red, telephone box photograph, bicycle, bike, cambridge, english, phone box, color photography
England
Favorit Place, Adventure, Buckets Lists, Things, Beauty, Big Ben, London England, Bigben, Wanderlust
The Big Ben *-* #London #England #BigBen #Westminster #Beautiful #City #Thames #BuckinghamPalace #TowerBridge #CamdenTown #LondonEye #Beatles
Why stay in one spot when there are so many beautiful things to go explore ? (:
Wanderlust
Can't wait to go back! My favorite place in the world. London, England
England must go to place when I can go on my dream European adventure <3
England
Secret Gardens, Rose Flower, Climbing Rose, Dreams House, Gardens Rose, Windows, Pink Rose, English Rose, Coton Manor
English rose bushes
Coton Manor, England by Roantrum, cozy little brick tutor style house window surrounded by bright pink rose or chrysanthemum flower bushes
Climbing roses!
kate and will's wedding pie
Pies Recipe, Weddings Pies, Meat Pies, Pot Pies, Baby Boy, Jamie Olives, Food Recipe, Jamie Oliver, Wedding Pies
Jamie Oliver - Kate & Wills Wedding Pie Recipe
This is a dedicated Royal Kate & Will's Baby Boy #Pie, by Jamie Oliver #Mashpotato
Jamie Oliver's Pot Pie
Jamie Oliver - meat pie
Ring, Ring, Ring, Ring
Designers Designerbaghub, Design Sunglasses, Fashion Styles, Cheap Affrod, Cheap Designerbaghub, Cheap Designers, Design Handbags, Design Designerbaghub, Affrod Price
I'm a little (#British ) teapot by kcovophoto, via Flickr
Bestbritbit Teas, Things Union, Bestbritbit Jubile, Jack O'Connel, London Call, Union Jack, Teas Things
I'm a little (British) teapot. All things union jack

by kcovophoto
England
England, Thirlmer, Travel Photo, Distant Peaks, Lakes District, Beauty Place, English Countryside, Lakedistrict, Vacations Travel
Day 2 - Manchester - Lake District Distant Peaks, Thirlmere, England
#LakeDistrict
See to me this is paradise! Out in English countryside; Thirlmere apparently. Interesting because I didn't know England had big mountains like these lol
England!!
Favorit Place, Buckets Lists, Big Ben London, Travel, Beauty, Londonengland, London England, Bigben, Wanderlust
london #wanderlust #travel
Currently my Favorite Place in the world London, England.
London #london #bigben #travel
London, London! Travel bucket list.
London, England. Who doesn't want to travel to London? It is one of the world's oldest cities and holds so much history and architectural beauty.
Travel And See The World: Big Ben, London, England (45 photos)
Beautiful coloring and lighting and beautiful city. Love it! #photography #LondonEngland
England
Pin, War Hors, Cakes Place, Places, England Click, England Place, Pirates Cakes, Superb Pics, England Kudo
pirate cake places
England places
england
Buckets Lists, Telephon Booths, Red Telephon, British, Phonebooth, England Stockings, Place, Phones Booths, Telephon Boxes
Bucket List: Make a call in a red telephone booth.
Welcome to the British red telephone box gifts and merchandise page. If you re looking for a unique red telephone boxes gift. Here you can find...
Phone Booth . Would look nice inside the house . Not sure what for , though . Maybe as a quiet place you can use your cell phone without annoying people you live with .
British Phonebooth
British Phone Booth
England, This England.
Telephon Booths, Red Telephon, England Baby, Countryside Uk, British Countryside, England Uk, Phones Booths, English Countryside, Telephon Boxes
Red Phone Booth... where else? The English countryside <3
The red telephone box.
England, nothing beats the British countryside
england,england,england,england,
Favorit Place, Buckets Lists, Beauty England, Adventure Novels, Ahh England, London England, London Bridges, Towers Bridges, 15 Years
Ahh england
London Bridge
Tower Bridge, London, England
england,england,england,england,# 6 on my bucket list
My favorite place
15 year Wedding Anniversary